Wind Integration: Incremental Emissions from Back-Up Generation Cycling (Part V: Calculator Update)
By Kent Hawkins -- February 12, 2010
Why has California expressed concern over the EPA holding up approvals for natural gas-fired power plants?
Answer: because state regulators know that California's gas plants are crucial for establishing new wind and solar projects. After all, firming intermittent power sources is essential short of employing cost-prohibitive battery packs to continuously match supply to consumption.
But the analysis can go a step further. What if the gas backup actually runs more poorly in its fill-in role than if it existed in place of the wind and/or solar capacity? It does run less efficiently, in fact, creating incremental fuel use and air emissions that cancel out the fuel/emissions "savings" from wind.
Thus California should go a step further than just allowing new natural gas capacity. Regulators should rethink the rational of wind per se and block its new capacity–if only by removing the government subsidies that enable industrial wind power in the first place.
Background
Parts I to IV (links provided at end) introduced an analytic framework and calculator as a working hypothesis to assess the impact of industrial-scale wind on fossil fuel consumption and CO2 emissions. This post, Part V, provides an update to the calculator. The methodological framework has not changed, and the need for confirmation from actual performance data using extensive real-time local dispatch analysis at finely grained time intervals capable of accurately and sufficiently assessing how wind affects all the variables within the electricity system remains. In summary, the calculator:
(1) refines the emissions rates for the fuel plants modeled;

(2) improves the manner in which fossil fuel consumption is calculated, which increases the amounts previously reported; and

(3) adds a coal plant scenario.
This update also includes examples of the use of some of the input parameters to incorporate subtleties not considered in Part I and Part II.
A number of phrases can be used to reflect the wind shadowing/backup issue, for example "wind mirroring" and "wind balancing". For ease of continued reference the terms "wind firming" will be used, and for the combination of wind firming plus wind the term, "firmed wind". An illustration of this relationship was provided in Part II, Figure 1. Wind proponents claim that this relationship is "frictionless" and does not provide significant inefficiencies. The updated calculator continues to demonstrate that the introduction of wind power into an electricity system increases the fossil fuel consumption and CO2 emissions beyond levels that would have occurred using efficient gas plants alone as the providers of electricity equivalent to the firmed wind.
Derivation of Fossil Fuel and CO2 Emissions Increases
The same method is used as before and is represented graphically in Figure 1. It is derived from information in Reduction in Carbon Dioxide Emissions: Estimating the Potential Contribution from Wind Power and shows the effect on percent increases in CO2 emissions due to reductions in generation plant efficiency (heat rate penalty). To illustrate: a 20% loss in efficiency produces a 21% increase in CO2 emissions for CCGT plants; a 29% increase, 29% for OCGT plants; and a 28% increase for coal plants using bituminous coal. One change, the refinement, is to determine the percentage for all CO2 emissions increases from the top end of the efficiency for each plant type. This produces slightly lower values than previously used.
With respect to coal plants there are a number of variables that require assessment, such as identifying the kind of coal used and the type of plant deployed. To avoid becoming too complex, the behaviour of only bituminous coal plants is evaluated.
Figure 1 – Fossil Fuel and CO2 Emissions by Plant Type and Efficiency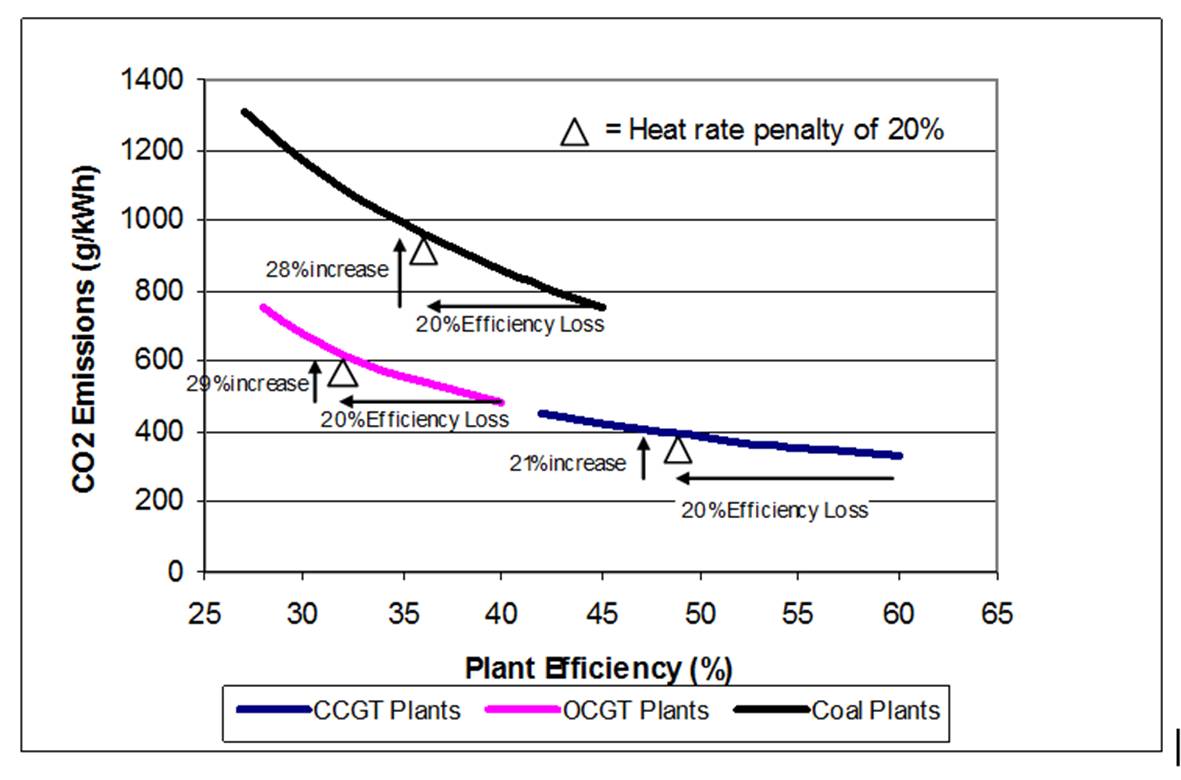 Table 1 shows the increases in CO2 emissions and fossil fuel consumption (as it is in direct proportion to the CO2 emissions) of the three plant types for a range of efficiency losses derived from Figure 1.
Table 1 – Fossil Fuel Consumption and CO2 Emissions Increase for Plant Efficiency Loss
There is inevitably some controversy about this. There are studies that show these effects are small, but close scrutiny finds them to be limited or lacking in some important way. Examples are those relying on macro analyses of a nation's energy use, with the assumption that the introduction of wind provides little or no inefficiencies at lower levels of analysis. This is the main reason why I emphasize the need for a comprehensive framework at the appropriate grid level, and have attempted to provide one. The next step remains the detailed analyses to reflect the real-time effects as described in the introduction.
To illustrate that there is a very notable impact on fossil fuel consumption and CO2 emissions from fossil fuel plants mirroring wind's frequent and extensive volatility, consider the dramatic difference in miles per gallon of gas (and resulting emissions) when driving in the start/stop, speed-up/slow-down conditions in the city versus driving at a steady rate on the highway.
In spite of this driving analogy, if you take the view that these effects are zero to negligible (and rely on studies that "establish" this), then the calculator will show results accordingly. On the other hand, there are others who will argue for higher efficiency losses than Table 1 shows, for example 40%. For the calculator runs below, mid-range values between these two opposite views were selected, rightly or wrongly assuming that this is where the action takes place.
Applying Efficiency Loss and Other Factors to Calculator Runs
The calculator starts with a specified amount of wind capacity and calculates the electricity produced over a year (MWh/y) assuming operation at 100% capacity, ignoring scheduled and unscheduled maintenance. 100% is used as wind production can vary over its full range of capacity. This represents firmed wind electricity, which is comprised of wind (20-30%) and wind firming (70-80%) generation. The calculator compares the effect on fossil fuel and CO2 emissions of this firmed wind production to that of same generation from CCGT plants operating alone, that is, without the presence of wind in the electricity system ("no wind" case). No conclusions are made about the gas plant capacities involved.
Table 2 provides the input parameters used in the two calculator runs shown in the next section. Because wind production tends to be low for about half of the year (typically warm months) and high for the remainder (typically cool months), the calculator allows for input parameters to be different for these two periods. The proportion of the year for each and the amount of wind production in each can be varied.
Other considerations, not attempted in Parts I and II, can be looked at. For example:
The CCGT:OCGT mixes can be altered in more detail.
With sufficient production from fast reacting OCGT plants, CCGT plants in the wind firming role might be able to operate at higher efficiencies. In this case the calculator input for the fossil fuel and CO2 emissions increases for CCGT plants can be set at lower values, especially as the wind capacity factor decreases.
Table 2 – Input Parameters For Calculator Runs Used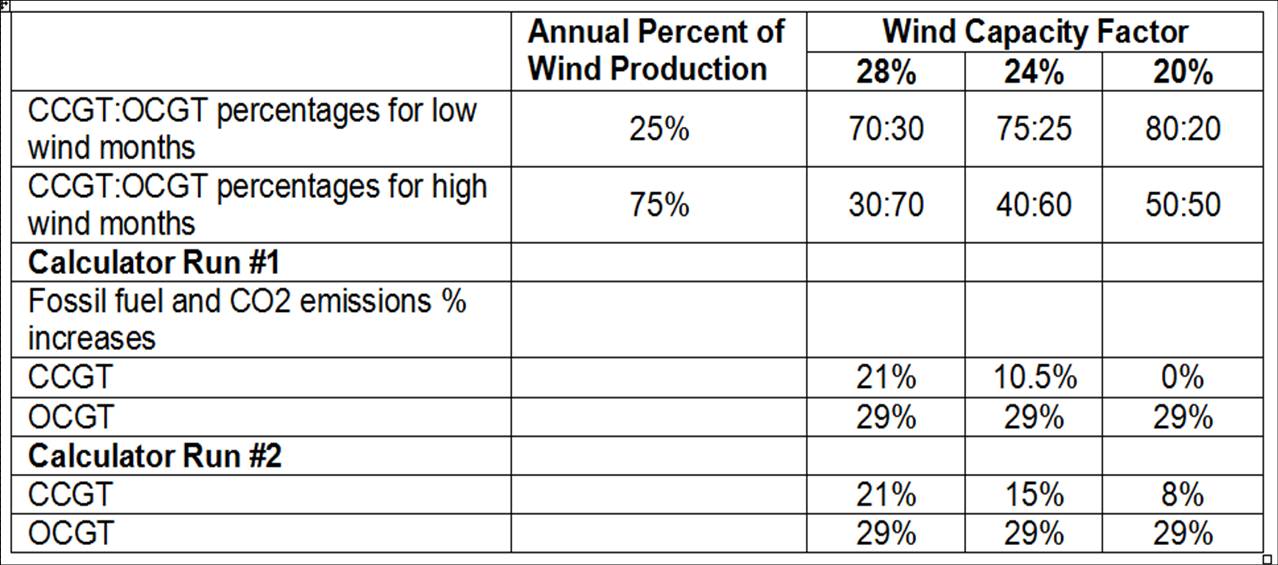 As wind capacity factor is decreased it is reasonable to assume that wind volatility will also be reduced, in part due to wind curtailment during its highest and most volatile periods. This is reflected in:
The higher percentages of CCGT in the mix
The reduced percentage factors for fossil fuel consumption and CO2 emissions for CCGT plants.
It should be remembered that the typical wind proponent claim for fossil fuel plants in a wind firming role, based on simplistic considerations, is that there is no need for (1) efficiency loss considerations and consequently no fossil fuel and emissions increases over efficiencies experienced in "normal" operations; or (2) the introduction of faster-reacting gas plants, such as OCGT.
Gas Plant Results
Figures 2 and 3 show the results of the calculator runs for the Table 2 parameters. In all cases the fossil fuel consumption and CO2 emissions show an increase with the presence of wind (negative values in the charts).
As might be expected the increased gas consumption and CO2 emissions with the presence of wind increases as the wind capacity factor increases. This reflects the increased amount of volatility of wind production, especially during high wind production periods.
Figure 2 – Fossil Fuel Savings Compared to "No Wind" Case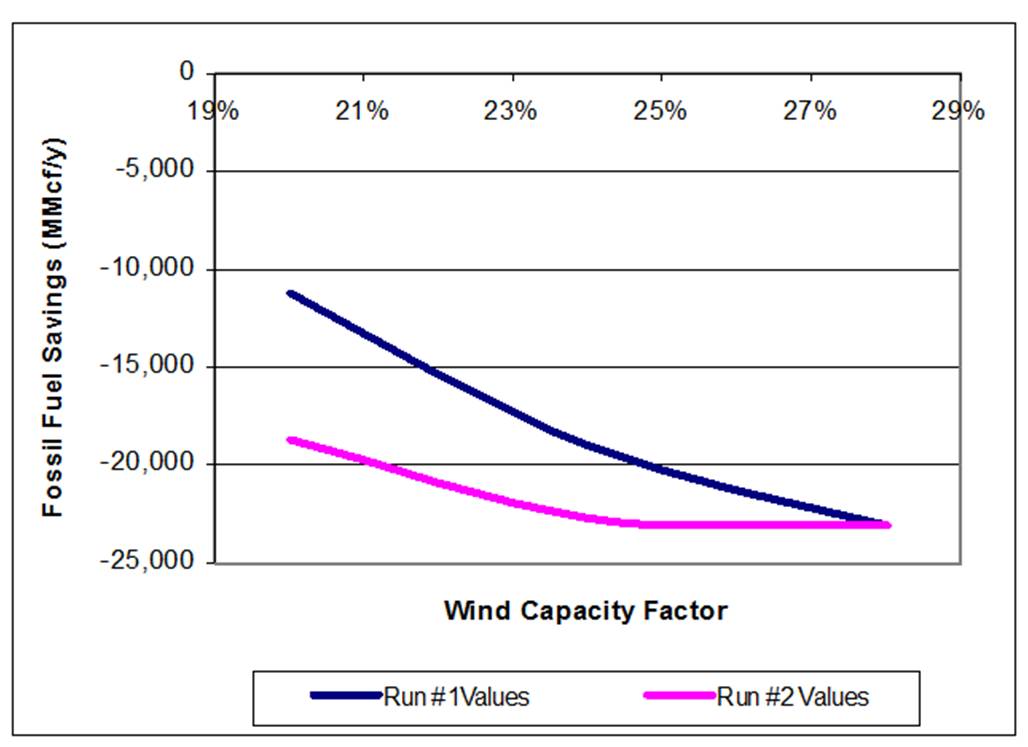 Figure 3 – CO2 Reductions Compared to "No Wind" Case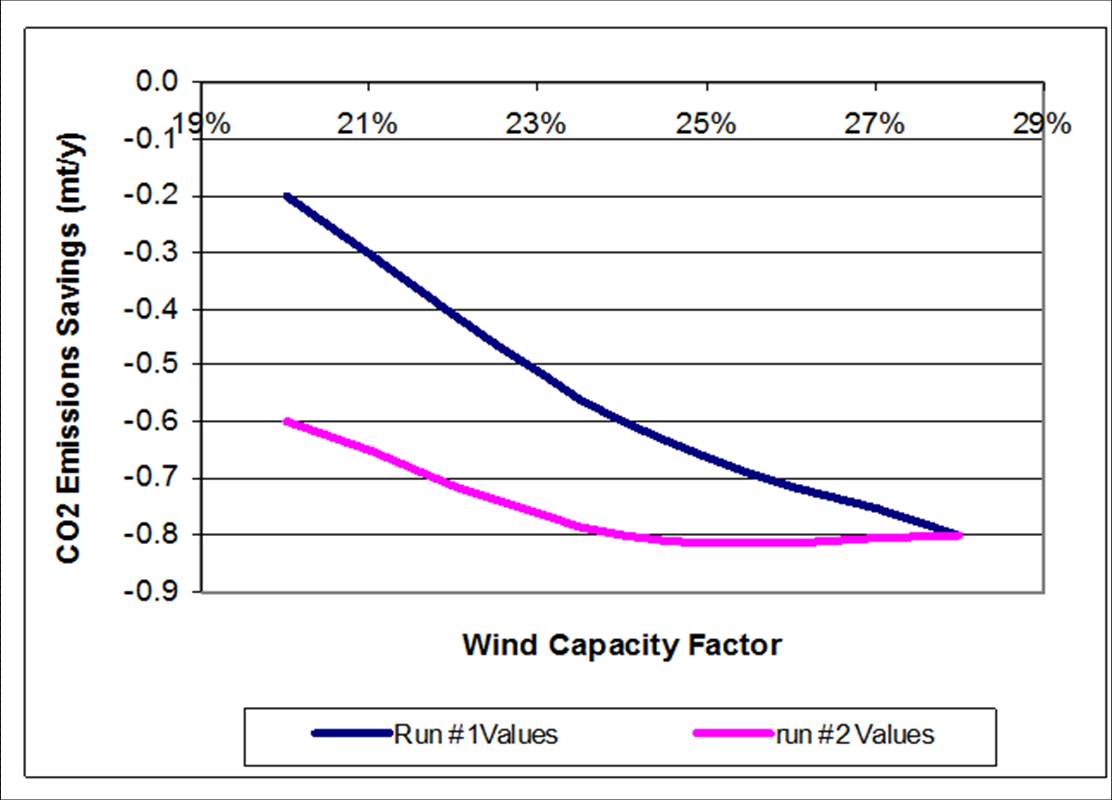 If it is assumed that the CCGT plants in the wind firming mix are somehow able to operate normally throughout the year, then the results show a fairly consistent level of savings of about -0.2 mt/y of CO2 emissions over the range of wind capacity factor shown.
Coal Plant Results
Figure 4 shows the CO2 emissions from coal plants under several circumstances:
The first case is a coal plant capacity operating alone providing electricity at the capacity of prospective wind plants. In these circumstances the coal plants emit 21.3 million tonnes of CO2 per year (mt/y) assuming 0.76 tonnes/MWh (t/MWh) at an efficiency of 45%.
The following scenarios show the CO2 emissions as a result of introducing wind plants of the same capacity. So wind and coal are sharing the associated electricity generation, with wind's proportion set by the wind capacity factor. A capacity factor of 100% is used for coal because it is presumed to be a portion of the total coal plant capacity in the electricity system. Now this sub-set of coal plant(s) is operating in a wind firming role, assuming for this illustration that they are capable of doing so. A range of coal plant efficiency losses (heat rate penalties) is used as well as wind capacity factors (CF) is shown. Arguably heat rate penalties of even 40% might apply.
The calculator shows that any reductions in CO2 emissions at the point of wind plant generation are effectively offset by the reduced efficiency of the coal plants. Note the y-axis scale has already been shortened.
Figure 4 – CO2 Emissions for Coal Plants Alone versus Acting as Wind Shadowing/Backup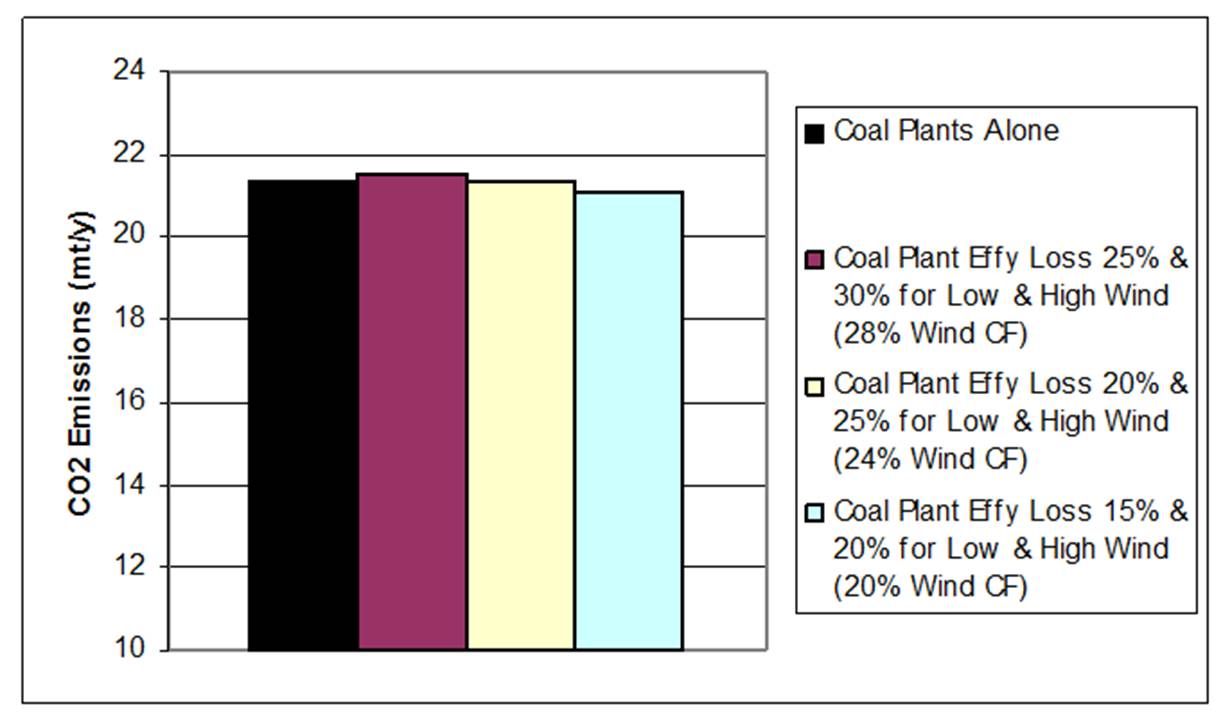 The following section extends this view of total CO2 emissions to include the effects of introducing gas turbine plants in the wind firming role.
Summary of a Range of Scenarios for Displacement of Coal Plant Production
Many jurisdictions have an electricity generation profile showing a large proportion of coal, some gas, perhaps some nuclear, and often little hydro. The conventional wisdom is that wind power can be used to replace/reduce the coal production. To put this into perspective the following scenarios are used.
The base case shows the CO2 emissions from the coal plant production being displaced, as shown previously in Figure 4. The coal plant production is the equivalent to the proposed firmed wind plant production over a year.
This shows the affect of adding wind using coal acting alone as the wind firming generation, also as shown previously in Figure 4. The question is: are coal plants are able to do this over the full range of wind volatility? Wind proponents claim that, with the introduction of wind, the coal plant CO2 emissions will be reduced by the amount of wind production. The calculator shows otherwise.
OCGT plants are added to the mix to assist coal in the wind firming task. The coal/OCGT mix used is shown in Table 3.
To eliminate the coal production a combination of CCGT and OCGT gas plants is used for wind firming.
Finally, the result of replacing the coal production using CCGT plants alone is shown (no wind case).
In all cases the wind production is set by its capacity factor, and the wind firming production is the balance.
Table 3 shows the input parameters used to produce the results in Figure 5 for scenarios 2, 3 and 4. Scenarios 1 and 5 are the CO2 emissions for coal and gas plants respectively, operating normally and producing steady electricity.
Table 3 – Input Parameters for Figure 5
Figure 5 – Comparison of Coal Replacement Scenarios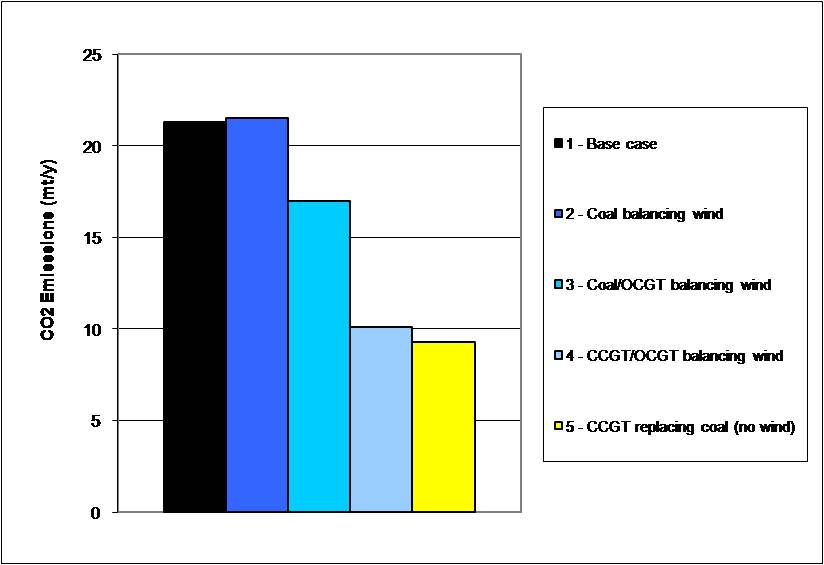 This illustrates the point that the important question with respect to the effect of the introduction of wind is not what electricity production means is being displaced, but what is acting in the wind firming role. This is shown by the result that the wind firming generation would be more effective without wind. In effect, wind is displacing the firming production, and the firming production is displacing coal.
There can be an exceptions to this, for example with the availability of sufficient impounded hydro supply to firm wind as discussed in Big Wind: How Many Households Served, What Emissions Reduction? (Part 2). However, most jurisdictions do not have this luxury.
Conclusions
It is not my intention here to advocate a specific generation means for any jurisdiction, but rather to illustrate the effects of wind penetration on fossil fuel consumption and CO2 emissions across a range of probable policy choices. What emerges from this analysis is that in electricity systems that must choose among fossil fuel-fired means of integrating wind volatility, no plausible scenario seems to exist where wind can play a positive role as the means to achieve fossil fuel or greenhouse gas emissions savings.
Appendix: Links to Previous Parts of this Series
For a copy of the calculator contact the author at kenthawkins@rogers.com.