Power Density Primer: Understanding the Spatial Dimension of the Unfolding Transition to Renewable Electricity Generation (Part IV – New Renewables Electricity Generation)
By Vaclav Smil -- May 13, 2010
Editor's note: This is Part IV of a five part series that provides an essential basis for the understanding of energy transitions and use. The previous posts in this series can be seen at:
Part I – Definitions
Part II – Coal- and Wood-Fired Electricity Generation
Part III – Natural Gas-Fired Electricity Generation
Photovoltaic Electricity Generation
Satellite measurements put the solar constant – radiation that reaches area perpendicular to the incoming rays at the top of the atmosphere (and that is actually not constant but varies with season and has negligible daily fluctuations) – at 1,366 W/m2. If there were no atmosphere and if the Earth absorbed all incoming radiation then the average flux at the planet's surface would be 341.5 W/m2 (a quarter of the solar constant's value, a sphere having four times the area of a circle with the same radius: 4?r2/?r2). But the atmosphere absorbs about 20% of the incoming radiation and the Earth's albedo (fraction of radiation reflected to space by clouds and surfaces) is 30% and hence only 50% of the total flux reaches the surface prorating to about 170 W/m2 received at the Earth's surface, and ranging from less than 100 W/m2 in cloudy northern latitudes to more than 230 W/m2 in sunny desert locations.
For an approximate calculation of electricity that could be generated on large scale by photovoltaic conversion it would suffice to multiply that rate by the average efficiency of modular cells. While the best research cells have efficiencies surpassing 30% (for multijunction concentrators) and about 15% for crystalline silicon and thin films, actual field efficiencies of PV cells that have been recently deployed in the largest commercial parks are around 10%, with the ranges of 6-7% for amorphous silicon and less than 4% for thin films. A realistic assumption of 10% efficiency yields 17 W/m2 as the first estimate of average global PV generation power density, with densities reaching barely 10 W/m2 in cloudy Atlantic Europe and 20-25 W/m2 in subtropical deserts.
PV panels are fixed in an optimal tilted south-facing position and hence receive more radiation than a unit of horizontal surface but the average power densities of solar parks are low. Additional land is needed for spacing the panels for servicing, for access roads, inverter and transformation facilities and for service structures, and only about 85% of a panel's DC rating will be transmitted from the park to the grid as AC power. Olmedilla de Alarcón, the world's largest solar park in Spain, has installed capacity of 60 MW of peak power (MWp) but its annual generation of 85 GWh (or 9.7 MW of electricity as an average annual rate) translates to capacity factor of just 16%. Portuguese Moura (46 MWp, 88 GWh or 10 MW of average annual generation) has the capacity factor of nearly 22% and the capacity factor for Germany's largest solar park (Waldpolenz rated at 40 MWp) is only 11%. Power density of Olmedilla is only 9 W/m2, that of Moura almost 8 W/m2 while Waldpolenz rates just above 4 W/m2.
Olmedilla 85 GWh/year = 9.7 MW 9.7 MW/108 ha = 9 W/m2
Moura 88 GWh/year = 10 MW 10 MW/130 ha = 7.7 W/m2
Waldpolenz 40 GWh/year = 4.56 MW 4.56 MW/110 ha = 4.1 W/m2
The largest solar PV parks thus generate electricity with power densities that is roughly 5-15 times higher than for wood-fired plants but that is at best 1/10 and at worst 1/100 of the power densities of coal-fired electricity generation. Again, if only 10% of all electricity generated in the US in 2009 (395 TWh or about 45 GW) were to be produced by large PV plants, the area required (even with average power density of 8 W/m2) would be about 5,600 km2. No dramatic near-term improvements are expected either in the conversion efficiency of PV cells deployed on MW scale in large commercial solar parks or in the average capacity factors. But even if the efficiencies rose by as much as 50% within a decade this would elevate average power densities of optimally located commercial solar PV parks to no more than 15 W/m2.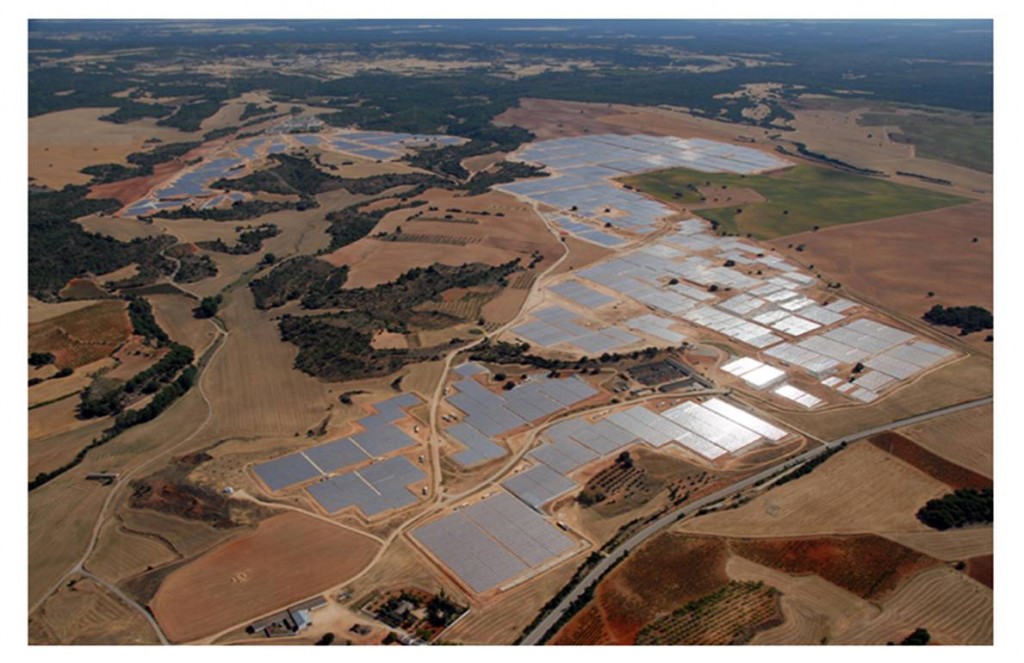 Olmedilla PV plant with 162,000 panels and 60 MWp generates electricity with average power density less than 9 W/m2 of its total area.
Concentrating Solar Electricity Generation
Concentrating solar power (CSP) projects use tracking parabolic mirrors in order to reflect and concentrate solar radiation on a central receiver placed in a high tower. This technique has several technical advantages compared to PV, above all: higher conversion efficiencies (thanks to a conventional steam-powered generation) and the possibility to augment the solar-heated steam by fuel combustion. Still, power densities of CPS are not all that different from PV generation.
Europe's first commercial solar tower, PS (Planta Solar) 10, completed by Abengoa Solar in Sanlúcar la Mayor in 2007, is rated at 11 MWp. With annual generation of 24.3 GWh (87.5 TJ, 2.77 MW), its capacity factor is 25%. Its heliostats occupy 74,880 m2 (624 x 120 m2), and the entire site claims about 65ha; the facility's power density is thus about 37 W/m2 factoring in the area taken up by the heliostats alone, and a bit more than 4 W/m2 if the entire area is considered. PS20 (completed in 2009) is nearly twice the size (20 MWp; 48.6 GWh or 175 TJ/year at average power of 5.55 MW and capacity factor of nearly 28%). Its mirrors occupy 150,600 m2 and hence the project's heliostat power density is, at 36.85 W/m2, identical to that of PS10 but, with its entire site covering about 90 ha, its overall power density is higher at about 6 W/m2.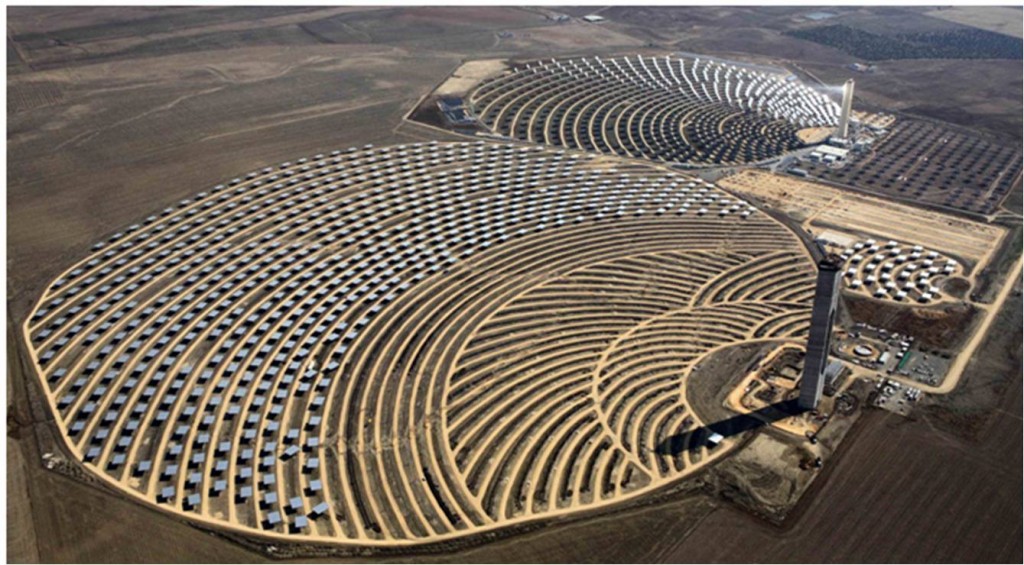 Abengoa's two large CSP plants near Sanlúcar la Mayor (Sevilla), PS10 in operation and PS20, in the foreground, shown still under construction.
Bright Source Energy's proposed Ivanpah CSP in San Bernardino, CA should have an eventual rating of 1.3 GWp and it is expected to generate 1.08 TWh (3.88 PJ) a year and deliver on the average 123.3 MW with a capacity factor of just 9.5%. Heliostat area should be 229.6 ha and the entire site claim is 1645 ha. This implies power densities of 53.75 W/m2 for the heliostats and 7.5 W/m2 for the entire site. Again, no stunning improvements of these rates are expected any time soon and hence it is safe to conclude that optimally located CSP plants will operate with power densities of 35-55 W/m2 of their large heliostat fields and with rates no higher than 10 W/m2 of their entire site area.
Wind-Powered Electricity Generation
Wind turbines have fairly high power densities when the rate measures the flux of wind's kinetic energy moving through the working surface (the area swept by blades) of this now so popular energy converter. In the windiest, mid-continental regions of America this power density is commonly above 400 W/m2 – but power density expressed as electricity generated per m2 of the area occupied by a large wind farm is a small fraction of that high rate. This is primarily due to necessarily generous spacing of wind turbines (no less than five and up to ten rotor diameters) that is required in order to minimize wake interference. As a result, even a wind farm composed of large 3 MW Vestas turbines with a rotor diameter of 112 m and spacing of six diameters apart will have peak power density of 6.6 W/m2 and even a relatively high average capacity factor of 30% would bring that down to only about 2 W/m2.
Actual power densities vary with average wind speeds and turbine sizes. Altamont, America's pioneering large wind farm in California, rates only 0.6 W/m2, Puget Sound Energy's Wild Horse (with a high capacity factor of 32%) has power density of 2 W/m2. The world's largest offshore wind installation, London Array in the outer Thames estuary – designed to have a capacity of 1 GWp, annual generation of 31 TWh (354 MW) and an area of 245 km2 – will have power density of just 1.44 W/m2. A good approximation of expected power densities for large scale wind generation (year-round average, not the peak power) should not be thus higher than 2 W/m2. If 10% of the US electricity generated in 2009 (395 TWh or 45 GW) were to be produced by large wind farms their area would have to cover at least 22,500 km2, roughly the size of New Hampshire.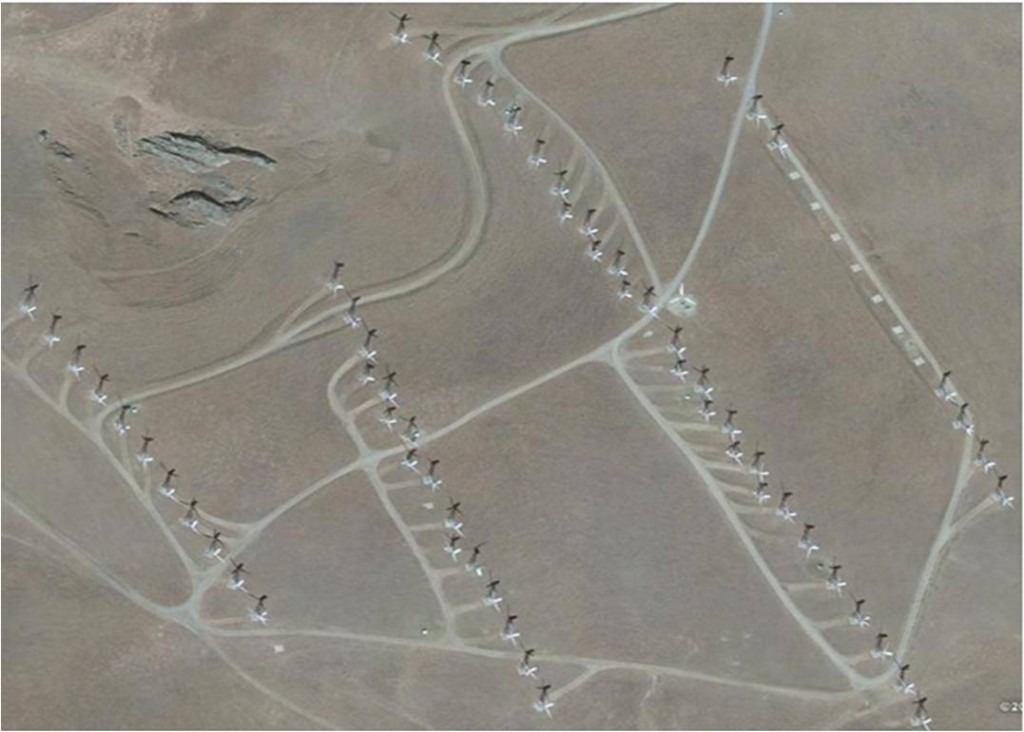 Spacing of wind turbines and access roads at the Altamont Pass wind farm in California.