Big Wind: How Many Households Served, What Emissions Reduction? (A Case Study, Part 1 of 2)
By Kent Hawkins and Donald Hertzmark -- January 27, 2010
In the midst of a bitter winter in North America and Europe, General Electric has announced a large wind project to be built in Oregon. Press reports in the Financial Times and USA Today describe a project of 338 machines of 2.5 MW each, giving a total capacity of 845 MW.
With power grids strained due to heating demand, increments to generating capacity are to be welcomed. But along with the usual hoopla about homes served and CO2 emissions savings, it is time for some "devil's advocacy" by asking: – how much energy and capacity will this project really create? How much CO2 will be saved? And when the chips are down will consumers and grid operators be pleased that their funds have gone into wind rather than into some other generating source?
We strongly suspect that neither consumers nor grid operators will benefit greatly from this plant. Our brief analysis of this announcement shows that the claims for houses served and carbon saved are not supported, though some incremental, useful energy supply may be possible under some circumstances. All such claims depend on the system operator's ability to use the wind farms' output to offset hydro generation, the key generation resource in the Northwest United States (NW).
Contributing to Capacity: The Sine Qua Non of Power Generation Investments
In the service area where the new wind project will be located, total generating capability is 84 GW. Hydro accounts for 60% of this total (nominally). Current peak demand in the NW power pool, into which the wind project will inject energy, stands currently at just over 60 GW, about the same size as the UK grid. In the winter season provisions for other claims on the water (irrigation, flood control, endangered species protection, etc.) reduce the available capacity of hydro by some 7 GW. The pool's own capacity assessment notes that "A severe weather event for the entire Power Pool area will add approximately 6,000 MW of load while at the same time reduce [sic] the capability by 7,000 MW."
In other words, when the chips are down, hydro's contribution to meeting a larger peak demand may fall by as much as 7 GW, with another 6 GW less capacity from other generation sources. Let's do the arithmetic: the "normal" winter peak (50% probability) is 61 GW, generating capability (not the same thing as firm capacity) is 84 GW. Comes the storm and the peak rises to 67 GW, while the "capability" falls to 71 GW, providing just a bit more than the minimum reserve requirement of 5 GW.
How likely is it that wind can add to capacity in the midst of a winter demand surge and capacity restriction?
From recent UK experience, not bloody likely. The following table was taken from the UK system operator website for the first week of January 2010; most days since the middle of December 2009, when winter weather gripped the nation, have looked similar.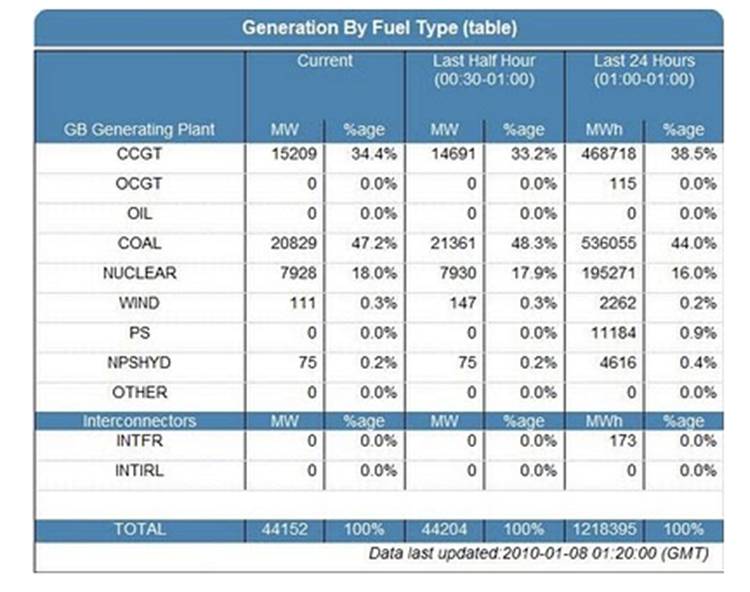 The outstanding performer is gas-fired CCGT technology, ~34% of capacity and 38-40% of output. Coal and nuclear supply almost all the rest of the capacity and energy. So where is the wind? The UK, with more than 4 GW of wind generation capacity (~6% of total), saw essentially no help from wind in meeting demand during this entire period. With wind's contribution to capacity ranging from just over 100 MW to about 500 MW for much of the crisis period, about a 2.5 – 9% capacity factor, and with wind's contribution to energy at less than 1% for days on end, one would be hard-pressed to attribute much of a peak contribution to a large wind project in Oregon.
235,000 Homes Served? Is This Claim Likely or Even Possible?
The claim is that the project will provide enough energy to power 235,000 households. Assuming a generous capacity factor of 30 per cent this yields a reasonable average annual household use of:
845 MW x 1,000 (convert to KWh) x 0.30 x 24 (hours per day) x365 (days per year) / 235,000 = 9,450 KWh per household
A reduction in capacity factor to 25 per cent reduces the households served to about 176,000. Is this a reasonable consideration? Recent experience world-wide shows that capacity factors are often less than that.
But these calculations rely on a measure that reflects the aggregate annual consumption. A more realistic representation would be based on meeting the peak demand per home, which is estimated to be approximately 1.5 kW. How do wind plants perform on this basis? Using the more applicable measure of capacity value (sometimes called capacity credit and explained further below), the proposed project will theoretically generate enough energy to meet the needs of about 49,000 households, at a cost of more than $2 billion for initial investment. Over a 20-year lifetime that electricity will cost the NW Power Pool about 17 cents/kWh for "average" power, and some of the costs can be made to "disappear" through the use of state and federal tax credits and other subventions. It is not easy to calculate a "firm" supply cost for wind, given the absolute reliance on backup, but this is in addition to the above 17 cents/kWh. For the kind of money that wind costs the pool could supply diesel generators to neighborhoods for an investment of less than $600 million and contribute a firm 845 MW at about 20 cents per kWh (including fuel). Those diesel units could reliably meet the peak demand needs of more than 563,000 households as follows:
Given an average peak requirement of a household, equal to about 1.5 kW, and assuming a coincident peak, then a firm 845 MW of generation, as supplied by the diesel units, can meet the needs of about 563,000 households.
i.e., 845 MW x 1,000 / 1.5 = 563,333 households
Even using the possibility that some of the diesel units would be unavailable, probably 2-3%, the number of households that could be served at peak reliably would still be more than 546,000 (97% plant availability at peak).
Wind cannot be relied upon to provide firm generation at full capacity coincident with peak demand. Wind might be capable of contributing to the peak demand requirements of the system at some times. However, this will rarely happen, and when it does it will be for brief periods. In these circumstances, the expectation of the number of households served will be just over 49,000. To calculate this it is necessary to introduce the factor representing the statistical expectation of wind production at peak demand times. This is capacity credit, or capacity value, which brings a number of considerations into play, but typical experience, and the figure used by the Texas system operator, is 8.7 per cent.
i.e., 845 MW x 1,000 x 0.087 / 1.2 = 49,010 households
In spite of all statistical expectations of output from wind generators, these households will not be served reliably in any manner that meets their needs. Taking this out of the comparatively benign case of households, can you imagine a hospital, a school or a business relying on an electricity supply dominated by wind? Calculations that are based on aggregations summed over a year and averages do not reflect the real world, which operates in real time.
For significant periods of time, no households will be served, as was demonstrated by the UK data. For almost all of the time, the electricity supply will be so unreliable as to be useless. If there were some way to store the wind-plant electricity produced, then some of this would make sense. Even granting such a widely available storage capability, there would be considerations of the relationship between the storage being filled compared to the draw on it, again in real time. Annual aggregations and averages are not a reasonable way to look at the fluctuating performance of industrial-scale wind power.
The message that emerges from both the calculations and experience is that claims regarding homes served by industrial wind power are not valid measures of wind's value. The true measure of value is the displacement of hydrocarbon fuel and reduction in CO2 output by the power generation system. As shown in previous articles, the need for shadowing and backup generation to ensure that load can be met despite fluctuations in wind output may result in little or no net decrement to fuel use or emissions.
However, our analysis shows that under some circumstances integration of industrial scale wind may permit small reductions in shadowing and backup fuel use, provided there is sufficient excess hydro capacity. For the Oregon wind farm case, wind would seem to be specifically excluded from meeting winter peak demand. However, wind may be able to contribute somewhat to meeting energy demand in the off-peak seasons.
In Part 2 we consider under what conditions and to what extent an industrial wind facility may save fuel or reduce CO2 emissions.