Evaluating Wind Impact (Part III — Fuel Consumption and Emissions Evaluation)
By Kent Hawkins -- August 11, 2016
"The best approach to understanding wind's impact appears to be that properly structured 'bench' tests should be performed, and results made publically available, on actual fossil fuel plants under the full range of conditions experienced in balancing the effect of the presence of wind's generation behavior."
Part I on Tuesday and Part II yesterday focussed on the greater range of variations and the increased ramping levels caused by wind in short time intervals of a few minutes or less, and introduced some of the complexities involved in analysis of the impact of wind in an electricity system.
This post looks at the analysis of published fossil fuel consumption and emissions information and addresses two major issues:
(1) the questionable nature of the published information, and
(2) the questionable attempts by external analysts (those outside the information publisher organizations) using this information to determine the cause and effect relationship between wind production and fossil fuel consumption and emissions leading to the determination of savings with wind.
If information publishers were rigorous to the necessary degree in their determination, further analysis would be substantially reduced. This is not an easy task for either, and largely explains why it has not been done.
Published Fuel Consumption and Emissions Information
Unless you know otherwise, these should be viewed as estimates based on simplified assumptions, averages, aggregations over time and space, some measurements and limited algorithms that appear not to take fully into account the dynamic aspects of the ramping requirements as introduced in Parts I and II.
Fuel and emissions calculations that start with electricity production data and from there calculate back to arrive at results for these based on static-oriented generation plant efficiencies and other simple assumptions are particularly suspect. [1]
There appears to be a broadly accepted practice of using such simplified approaches. The advantage to this is that it may be somewhat useful in making rough comparisons between jurisdictions and time frames if the same method is used, but not in determining absolute values.
Factors Impacting Fossil Fuel Consumption and Emissions
Examples of factors affecting fossil fuel consumption and emissions include:
Changes in the generation plant fleet profile at any point in time. This also includes scheduled and unscheduled maintenance with might remove/add plants at different efficiency capabilities. An interesting example could be sometimes running the more efficient CCGT as OCGT gas plants. Also included would be plant closures and new plant implementations within the time frame studied.
Changes in net interchange activity. Although many jurisdictions will have lower levels of activity than the BPA, even levels at a small per cent of the total generation will be notable. Further, it is important to separate the export/import flow except perhaps at short time intervals, to properly understand their impact, which can be considerable even at low net For an example see the paragraph entitled Power Imports: The Missing Piece at OVERBLOWN: Getting to the Facts on Emissions .
Changes in quality of fossil fuel used from time to time. This is more obvious with coal, but caloric content per unit volume of natural gas can also vary.
Changes in level and nature of economic activity.
Grid events that may be responded to differently from time to time depending on the availability of generation plants suitable to the task at hand.
Balancing activities that take place at regional levels within a grid, versus assuming balancing on total grid aggregate levels.
Statistics General
Statistical approaches are questionable because the real world events with wind present do not conform to a normal distribution, which is typically implicitly assumed. An important aspect of this is the assumed number of outliers for 3-4 standard deviations is very small (0.03-0.01 per cent of the total respectively), but this is not what happens with wind present in electricity systems.
Assuming that any notable 'outliers' would be as expected in a normal distribution contributed considerably to the failures in financial institutions and markets in recent history.
Table 1 summarizes the data shown in Part II to illustrate the large number of ramping events exceeding a range of standard deviations, loosely termed 'outliers'. In this table, 'Load and Wind Combination' is ABS(L-W) – ABS(L), where ABS is the absolute value, as explained in Part II.
Table 1 – Load and Wind Combination Ramping Events versus Normal Distribution Expectation for January to June 2015

Comments on Table 1:
For total events see Part II, Tables 1 and 2.
Although the load and wind combination shows fewer events exceeding one standard deviation overall, in the range of greater than two standard deviations, there are a significantly greater number of them than is expected for a normal distribution. This is a notable number of surprises.
A questionable use of statistics is to imply a single standard deviation (27 MW in this case) represents the effect of wind, perhaps to suggest that it is very benign. See National Renewable Energy Laboratory report (Figure 3), and commented on here (in paragraph commencing with 'Figure 3 should have displayed…')
Correlation
Some analyses rely on these, for example, to determine a cause and effect between wind production and reported emissions. If so, it is necessary to separately demonstrate that no other factors are influencing emissions production, even if all other factors appear to be accounted for.
For numerical correlation to demonstrate cause and effect, the simple approach of a time series plot of the two variables can be used. The degree to which the two variables do not match in timing and proportion (if the two variables are different entities) will indicate how much other factors are at play. Paul-Frederik Bach, who was a senior executive in the Danish electricity system, illustrates this clearly in "Wind Power Variations are exported" in the third chart on page 3. This is reproduced with permission as Figure 1.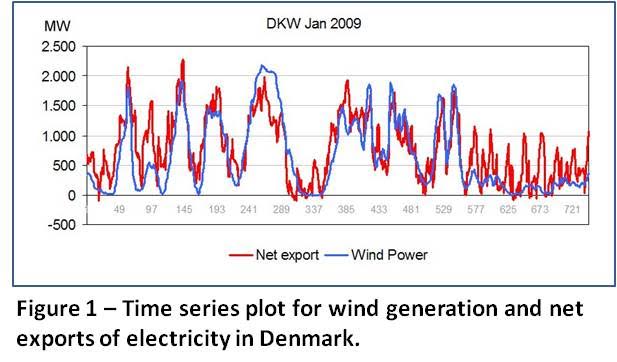 Figure 1 shows wind production and net exports in the Danish system for one month. Actual exports would be a better measure, but this information may not be readily available. The close tracking in timing for much of the period up to about point 550 supports the case for a close cause and effect relationship between the two time series variables. A negative correlation would show a mirror image. Proportion is not a factor here because both variables are the same entity – electricity.
There are some other factors at play in this illustration  – in the ranges 0-50, 75-100 and 250-300. After about 550, with little or no wind present for days, exports are drawn from other resources, for example (1) from within Denmark, or (2) as Denmark is a conduit between Norway/Sweden and other European countries, it is acting as a pass-through. [2]
I have seen a claim of "mission accomplished" using such a chart that showed only the slightest correspondence between wind generation and emissions. It really showed that many other factors not accounted for were involved. So do not accept a claim of a cause and effect relationship for two time series variables in any analysis that does not clearly demonstrate this with a plot as shown in Figure 1. In addition, the source of the data, especially emissions data, must also be questioned.
Regression
Regression based on a plot of emissions versus wind production over a period of time is another approach used to analyze a jurisdiction with wind installed. The results typically show a decline of emissions as wind increases. If specific emissions are used then this will increase as wind increases. In general, this is inconclusive because of the nature of the emissions data on which it is based, as discussed, and many other factors that might affect emissions, as described above.
Further, as there are periods of no wind electricity production, the implied assumption is that the no-wind-at-the-moment case is the same as it would be if there was no wind installed in the electricity system. Here is one possible illustration of the difference. During the periods of no-wind-at-the-moment, CCGT plants could operate in their normal mode and the more flexible OCGT plants may now be employed at some level of loading to respond to the reappearance of more wind generation.
These OCGT plants (or CCGT plants in OGT mode) would not be required in the no-wind-installed case, which represents the proper baseline. The additional use of OCGT in the no-wind-at-the- moment case would produce more emissions and higher specific emissions than the no-wind-installed case, which would lower the proper start point on the graph.
During periods when wind is generating a notable amount of electricity, the underlying data is not capturing the full dynamic effect of the continuous ramping imposed, as discussed in Part II. Both the emissions and specific emissions should be increasingly higher as wind increases than plotted using the published data, probably to a greater degree than the adjustment for no-wind-at-the-moment. [3]
Both considerations will contribute to rotating the graphs considerably counter-clockwise, showing a much less attractive view of total emissions and specific emissions results for wind as shown in Figure 2. [4] The size of the arrows is intended to show the likely degree of change.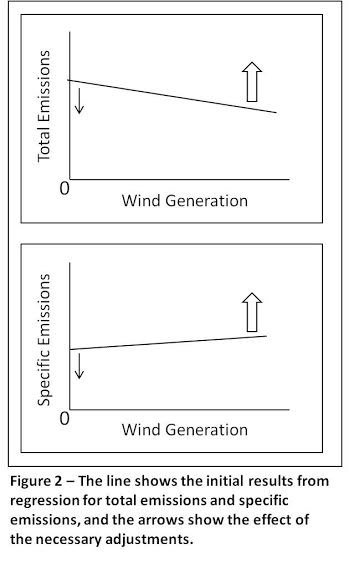 Now add back in all the considerations of questionable emissions data and other factors influencing emissions as discussed above. 
Conclusions
It is very difficult for any theoretical analysis to adequately deal with all the issues touched on here, plus many others not identified.
The best approach to understanding wind's impact appears to be that properly structured 'bench' tests should be performed, and results made publically available, on actual fossil fuel plants under the full range of conditions experienced in balancing the effect of the presence of wind's generation behavior. [5] It is reported that something like this has been done by KEMA, an international consulting firm based in the Netherlands, but the results are not publically available. [6]
Such tests would likely still not reflect the effects of any total grid aggregation. However, as grids are often balanced regionally, the effects of aggregation would likely be relatively small compared to the test results, and would have the benefit of better isolating the effect of wind.
I expect the 'bench' test results would be adversely surprising for wind, which might explain why this has not been done.
—————————
[1] Based on a quick review of my previous posts, here are some references for what I have found on this issue.
I have attempted at least twice to obtain details of how fossil fuel consumed and emissions are determined for electricity systems in separate jurisdictions. In both cases my request was not responded to. So if anyone can provide detailed descriptions of how any jurisdiction does this, this information would be welcome. In summary, in using this data in analyses you should ensure you fully understand how it was developed.
[2] Denmark's case is fairly complex. For more detail see the MasterResource series "Peeling Away the Onion of Denmark Wind" at http://www.masterresource.org/false-claims/denmark-part-i-intro/ .
[3] Further, some CCGT plants may have to operate in OCGT mode to meet flexibility needs. The assumed emissions for the CCGT plants may be based on the normal CCGT specifications at all times.
[4] Total emissions are in tonnes and likely for the total electricity system. Specific emissions, tonnes per MWh, may be for the total system or for identified generation plants that are balancing wind.
[5] The actual specifications for the tests would require considerable development. As an example of some of the considerations are the following four general scenarios: (1) a constant load baseline, (2) responding to up and down steady trends simulating twice daily intermediate and peaking demand, (3) a straight frequency regulation role, and (4) finally to the addition to a wind component in cases 2 and 3.
[6] It is reported that KEMA showed that the cycling of fossil fuel plants from a normal full load to reduced load and back to normal over one hour resulted an increase of more than 1% fuel consumption over operating normally for the same period. See paragraph 4.a Cycling at http://www.clepair.net/windSchiphol.html. This means that this limited cycling of fossil fuel plants increases emissions over their steady state condition, and it is reasonable to expect that continuous frequent cycling would increase this even more. This cycling already occurs in load following in the short term and the same, but to a greater degree, when balancing wind. Note that when cycling less electricity is produced over the hour than normal, steady state. This strongly suggests that the fuel consumption and emissions increases with the presence of wind. So simply relating emissions to electricity generation with simplified efficiency assumptions is a questionable approach to analyzing wind emissions performance.