Primary Energy Consumption (Part III—Emissions)
By Kent Hawkins -- October 14, 2015
 "The current strategies major implementations of 'clean' energy sources, largely depending on wind and solar, to address concerns about climate change are seriously misguided, and should be abandoned."
Part I (total usage) and Part II (electricity) showed that fossil fuels dominate primary-energy consumption–and will continue to do so. This expectation comes from a range of official forecasts–but really from the imbedded inertia of the system where oil-powered transportation dominates and power generation is wed to fossil fuels with nuclear in the mix.
The electricity sector is projected to grow to about 50 per cent of the total by 2035; Part III today will attempt to quantify the emissions impact within a range of primary-fuel scenarios along with the associated capital costs.
Wind, Solar Mirage
Regarding the power market, wind and solar will actually play a minor, even inconsequential, role in reducing emissions by 2035. Worst still for those that believe human-caused CO2 emission are responsible for disastrous climate change, other reasonable options now available will not have a timely effect. Adaptation, and using wealth diverted from inappropriate energy policy, is a key public-policy takeaway from this series.
Removing wind and solar from the mix planned for 2014–2035 will reduce investment costs by almost $3 trillion globally, with very little, if any, increase in CO2 emissions. What does become clear is that there is only one approach, apart from aggressive conservation, that would have had any chance of greater impact on human-caused emissions. So what should we do?
Statistical Background
Table 1 shows global emissions levels for 2014 and projected to 2035 from three sources – BP plc, the U.S. Department of Energy/Energy Information Administration (EIA) and the Organisation for Economic Co-operation and Development (OECD). Not surprisingly, because of the complexities involved, there are differences among sources. As well, Table 1 shows a baseline for further analysis, calculated to allow the impact of changing the use of some primary energy sources in the electricity sector.
Table 1 – Samples of Different Determinations of Global CO2 Emissions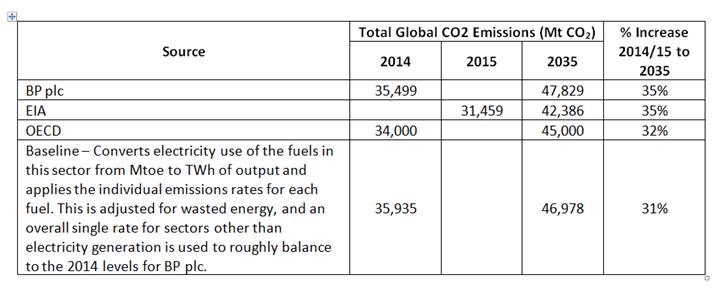 Further explanation of Table 1:
The first three rows are relatively self-explanatory. The EIA appears to consistently show notably lower levels than BP plc, and the OECD, which is roughly between the two. This underlines the unreliability of reported emissions data, which are estimates based on calculations using simplifying assumptions, not measurements, and the inevitable "looseness" in any analysis based on them. However, it is still possible to draw reasonably robust conclusions.
Row four sets a baseline to start evaluating the emissions effect of varying fuel inputs to electricity generation, a focus of much of the policies today that (as already mentioned) also encompasses almost the total use of wind, solar, hydro and nuclear. Roughly balancing to the 2014 emissions levels for BP plc is consistent with the assumption made in Part II that overall primary-energy consumption is not increased by including the wasted energy component in the electricity sector. The use of primary energy is reallocated between the electricity and other sectors.
Scenario Analysis
The adjustments then made to the above are as follows (see Table 2):
Scenario A – Fuel consumption deemed the input energy to wind and solar is added in varying degrees to natural gas to illustrate a range of the effect of the wasted energy, or friction, attributed to the presence of these erratic new renewables. It remains possible that the wasted energy exceeds this.
Scenario B – Wind and solar are removed from the mix to show the impact.
Scenario C – Coal is eliminated in electricity generation by increasing natural gas and nuclear by about twice the 2014 levels. The resulting nuclear level is about the same as the upper forecast of the World Nuclear Association, so it would appear to be feasible from an implementation point of view. The doubling of natural gas generation is more arbitrary but provides the additional production to complete the elimination of coal. This expansion in use of natural gas plants is likely feasible because of shorter implementation times and lower capital costs per megawatt. It is assumed that an adequate supply and delivery of natural gas is feasible.
Table 2 shows the effect of these changes, which falls far short of the level of omissions savings that are claimed to be necessary.
Table 2 – Emissions for a Range of Electricity System Primary Fuel Scenarios (A, B and C)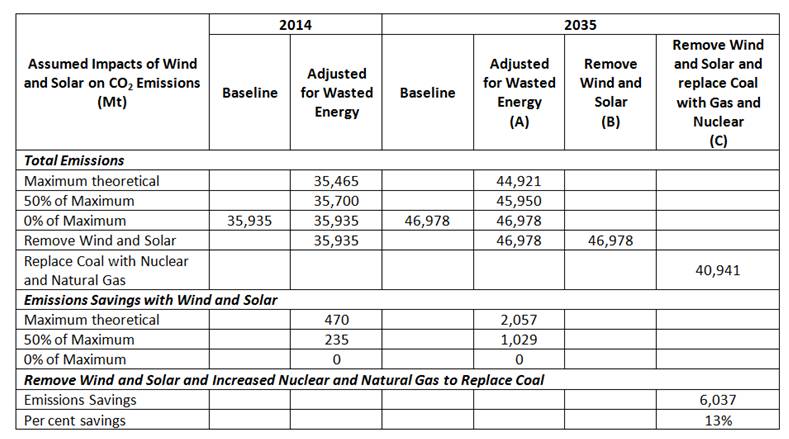 Table 3 shows the costs of the various options for the period 2014–2035, including the emissions savings in 2035.
Table 3 – 2035 Emissions Savings and Associated Capital Costs in 2014 Dollars for 2014-2035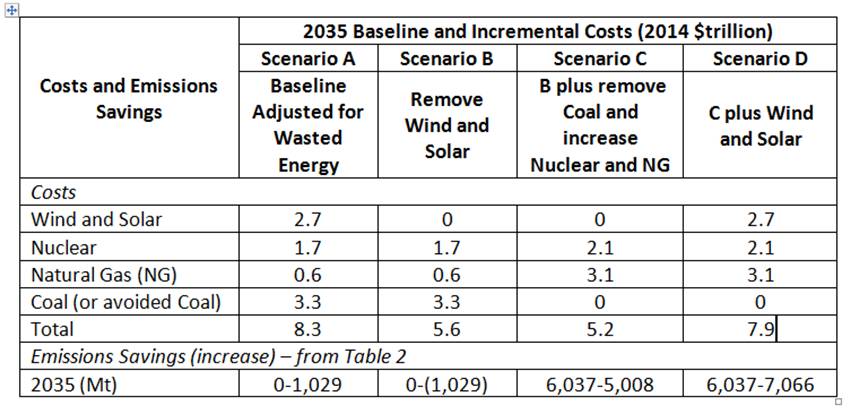 This illustrates that wind and solar are not an effective means of reducing emissions. The second values in the last line of Table 3 are the emissions savings based on wind and solar delivering 50 per cent of the theoretical maximum. Even at the unlikely level of 50 per cent of maximum theoretical savings, the no-coal, wind or solar scenario saves about five times the emissions (5,008 Mt versus 1,029 Mt) .More likely, wind and solar savings are closer to zero, and both may also increase emissions if wasted energy is higher than that shown here.
Scenario C produces the most emissions savings at the least capital cost.
Leaving wind and solar in the mix in Scenario D will produce very little if any additional emissions savings at about a 60 per cent greater capital investment as in Scenario C.
None of these scenarios will provide the necessary emissions savings claimed as needed to prevent catastrophic global warming, assuming that this is human-caused. We have likely "missed the boat" in most developed countries by turning away from nuclear as we have done.
The range of climate outcomes is:
Traumatic climate change resulting in high global warming.

Human emissions caused – The best policy approach is to abandon wind and solar and use the funding to best prepare us to adapt.
Not human emissions caused – Again the best policy is as above.

Traumatic climate change resulting in high global cooling – The best policy is as above, although adaption approaches will likely be different, so it would appear wise, initially at least, to plan for both.
Climate change is not traumatic – The best policy is as above. Possibly the adaption strategies will provide otherwise not realized benefits for future generations.
The conclusions are:
The current strategies major implementations of "clean" energy sources, largely depending on wind and solar, to address concerns about climate change are seriously misguided, and should be abandoned.
It is important to keep the big picture in mind.
Bibliography
The bibliography in Part I still applies and some of it is repeated here for ease of reference.
BP plc (2015). Statistical Review of World Energy 2015 http://www.bp.com/en/global/corporate/about-bp/energy-economics/statistical-review-of-world-energy.html
OECD (2011). OECD Environmental Outlook to 2050. Prepared by the OECD Environment Directorate and the Netherlands Environmental Assessment Agency. http://www.oecd.org/env/cc/49082173.pdf Approximate values estimated from graph on page 15.