US Electric Vehicle Report Card: 2017
By Donn Dears -- February 5, 2018
"Since 2010, the approximate introductory date for electric vehicles, US sales have totaled 753,886. Assuming none have been scrapped, this represents a minuscule 0.3 percent of all light vehicles on the road in the United States."

"… only brute-force mandates will force car buyers out of their vehicles to rely on (more expensive) for-hire transportation or (less convenient) mass transit. But this raises ethical questions of hurting the middle class to achieve statist energy goals."
The goal of the keep-it-in-the-ground, anti-fossil-fuel lobby is electrification where renewable energy not only captures the electricity market but also the transportation market. The latter is quite challenging: while 15 percent of US power generation comes from renewables (and about 7 percent non-hydro renewables), virtually none of the motor-fuel market does, outside of (environmentally incorrect) ethanol. [1]
Mass electrification (aka deep decarbonization) must substitute for natural gas/fuel oil in home heating and industrial uses, as well as for gasoline/diesel in transportation.
Electric vehicles (EVs) is the politically correct, government-subsidized initiative of the day. But as Steve Goreham warns:
Electrification calls for a massive societal transformation from gasoline to electric vehicles, from traditional power plants to wind and solar generators, and from gas heating to electric and heat pump systems. There is no evidence that this transition will have any measurable effect on global temperatures. But electrification will produce substantially higher energy prices.
Electric Vehicle Sales
In 2017, plug-in electric vehicles (PHEV) sales increased by 24 percent, while battery powered vehicles (BEV) increased by 22 percent (see chart below). Despite this growth (starting from a very low base), total sales remain just over one percent of total vehicle purchases in the United States.
Quarterly sales are shown here: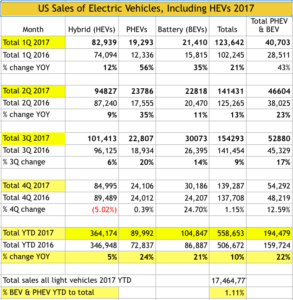 Source: Electric Drive Transportation Association.
The two major stories in 2017 were:
Production of the Tesla Model 3 fell far short of the 5,000 per month rate predicted by Elon Musk.
The Chinese government is subsidizing and otherwise supporting the sale of BEVs. Their motivation is to cut smog in major cities and to achieve a leadership position in battery technology.
Small-base Growth
Since 2010, the approximate introductory date for electric vehicles, US sales of PHEVs and BEVs have totaled 753,886. Assuming none have been scrapped, this represents a minuscule 0.3 percent of all light vehicles on the road in the United States. California easily leads all states with about 40 percent of this market.
There are not yet enough PHEVs or BEVs on the road in any state to have created a need for upgrading the power generation or distribution system to accommodate these vehicles. And far from emission-free, two-thirds of US electricity is generated from fossil fuels, making EVs two-thirds dependent on either natural gas (34 percent), coal (30 percent), or oil (1 percent).
Major unresolved issues:
Will the average person, other than the rich and famous, buy BEVs if the purchase isn't government subsidized?
Can the cost of batteries come down to where BEV prices are comparable to gasoline & diesel powered vehicles?
Will CO2 emissions be reduced sufficiently to achieve the primary motivation for developing BEVs? (Power plants generating the electricity needed for recharging batteries will continue to be fueled by fossil fuels.)
Will ancillary costs, such as replacing distribution transformers with larger units, unduly increase the cost of replacing traditional vehicles with BEVs? (The public will pay for these additional costs either directly trough taxation or indirectly through the price of the product.)
The prospects for EVs rest on government intervention to make the uneconomic less so–and for the elite. Other than this, only brute-force mandates will force car buyers out of their vehicles to rely on (more expensive) for-hire transportation or (less convenient) mass transit. But this raises ethical questions of hurting the middle class to achieve statist energy goals.
[1] Seven percent (non-hydro renewables) of three tenths of one percent (total US EVs) equates to two hundreths of one percent (.021 percent).
Appendix: Types of Electrified Vehicles
Fuel cell vehicles use a fuel cell pack to generate electricity rather than using batteries. (These vehicles are experimental and are not included in the above data.)
BEVs are vehicles powered entirely by battery power.
PHEVs use the battery to travel the first 35 miles, then switch to an internal combustion engine to extend its range.
HEVs are essentially battery-assisted vehicles that use the internal combustion engine to power the car. (Note: batteries don't provide the motive power for the vehicle.)