Big Wind & Avian Mortality (Part II: Hiding the Problem)
By Jim Wiegand -- March 15, 2013
"The cold reality is that honest, scientific, accurate mortality studies in the Altamont Pass area would result in death tolls that would shock Americans. They would also raise serious questions about wind turbines throughout the United States, especially in major bird habitats like Oregon's Shepherds Flat wind facility and the whooping cranes' migratory corridor from Alberta, Canada, to Texas."
Part I yesterday examined the sober findings and admissions of a 2004 study by the California Energy Commission (CEC) on bird carnage at the Altamont Pass Wind Resource Area (APWRA).
Developing Methods to Reduce Bird Mortality in the Altamont Pass Wind Resource Area also looked at the placement of carcasses in relation to turbine types. It documented that the distances carcasses were found from turbine towers increased significantly as turbine megawatt ratings and blade lengths increased. Based on a sample of about 800 carcasses, the report revealed that birds were found an average of 94 feet (28.5 meters) from 100Kw turbines on towers 81 feet (24.6 meters) high.
Obviously, taller turbines with longer blades and faster blade-tip speeds will catapult stricken birds much further. Figure 1 below shows how a turbine 2.5 times larger will result in an average carcass distance of 372 feet (113.5 meters) from the tower. The wind industry is acutely aware of this.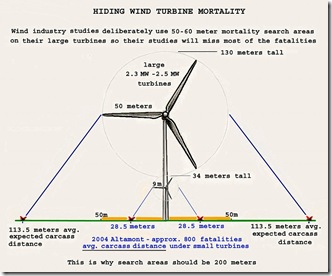 That is why it has restricted search areas to 165 feet (50 meters) around its bigger turbines. This ensures that far fewer bodies will be found – and turbine operators will not need to explain away as many carcasses.
Recent mortality studies like those conducted at the Wolfe Island wind project (2.3 MW turbines) and Criterion project in Maryland (2.5 MW turbines) should have used searches 655 feet (200 meters) from turbines, just to find the bulk (75-85%) of the fatalities. Of course, they did not do so. Instead, they restricted their searches to 165 feet – ensuring that they missed most raptor carcasses, and could issue statements claiming that their turbines were having minimal or "acceptable" effects on bird populations.
Later Altamont Pass Study: More Hiding
Other methods and biased formulas allow the industry to exclude or explain away carcasses.
ALTAMONT PASS WIND RESOURCE AREA BIRD
FATALITY STUDY, BIRD YEARS
2005–2010
The latest Altamont Pass studies found far more bird carcasses, but Altamont operators still claim mortality declines by using new adjustment formulas and other exclusionary factors as shown in Figure 2.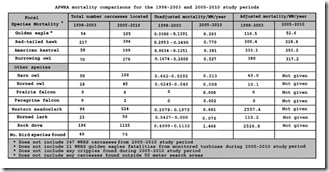 For example, industry analysts:
· Exclude certain carcasses. The 2005–2010 WRRS data show that 347 carcasses (primarily raptors) – plus 21 golden eagle carcasses – were excluded from mortality estimates, because industry personnel claimed they were found outside standard search procedures, said the "cause of death was unknown" (even when the birds' heads had been sliced off), or removed carcasses ahead of a scheduled search.

· Exclude mortally wounded or crippled birds found during searches, even if they display turbine-related injuries. Even though many birds hit by turbine blades die within days, if they are still breathing when found, they are considered mobile – and thus not fatalities.

· Avoid searching near some of the most dangerous and lethal turbines. The industry justifies this exclusion by claiming that "the number of turbines monitored was reduced and spatially balanced for a randomized rolling panel design." That this "reduction and balancing" excluded the most deadly portion of the Altamont facility was presented as coincidental or part of a proper scientific methodology.
The cold reality is that honest, scientific, accurate mortality studies in the Altamont Pass area would result in death tolls that would shock Americans. They would also raise serious questions about wind turbines throughout the United States, especially in major bird habitats like Oregon's Shepherds Flat wind facility and the whooping cranes' migratory corridor from Alberta, Canada, to Texas.
The techniques discussed here help ensure that "monitoring" studies match the facility operators' desired conclusions, and mortality figures are kept at "acceptable" levels.
Time for Truth
Not only has the wind industry never solved its environmental problem. It has been hiding at least 90% of this slaughter for decades. In fact, the universal problem of hiding bird (and bat) mortality goes from bad to intolerable beyond the Altamont Pass boundaries, because studies in other areas across North America are far less rigorous, or even nonexistent, and many new turbines are sited in prime bird and bat habitats.
The real death toll, as reported by Paul Driessen and others, is thousands of raptors a year – and up to 39 million birds and bats of all species annually in the United States alone, year after year! This is intolerable, and unsustainable. It is leading to the inevitable extinction of many species, at least in many habitats, and perhaps in the entire Lower 48 States.
Meanwhile, assorted "experts" continue to insist that the greatest threats to golden eagles are other factors like hikers getting too close to their nests, even when most abandoned nests in Southern California are nowhere near any hiking trails and wind turbines continue to slaughter eagles.
It is essential that people realize that no energy source comes anywhere close to killing as many raptors as wind energy does. No other energy companies are allowed to pick up bodies of rare and protected species from around their production sites on a day-to-day basis, year-in and year-out. No other energy producer has a several thousand mile mortality foot print (the highly endangered whooping cranes' migratory corridor) similar to what wind nergy has.
Once people understand all of this, they will rightfully demand that the wind industry obey the same environmental rules that all other industries must follow. This will require that wind turbines be sited only where the risk of bird deaths is minimal to zero; that turbines be replaced with new designs that birds recognize as obstacles and thus avoid; that fines be levied for every bird death, as is done with other industries; and that industrial wind facilities not be permitted where these requirements cannot be met.
America's wildlife, and proper application of our environmental laws, require nothing less.
___________
Jim Wiegand is an independent wildlife expert with decades of field observations and analytical work. He is vice president of the US region of Save the Eagles International, an organization devoted to researching, protecting and preserving avian species threatened by human encroachment and development.