Category —
Environmental Elitism
"Privately, scientists and analysts within national environmental organizations are appalled that celebrity fractivism could get in the way of the coal-to-gas shift. They say the fractivists undermine green credibility, and are disturbed by the failure of their movement's leadership."
Mainstream environmental groups used to support natural gas, which offers significant public health and climate benefits over coal and is a "bridge fuel" to a clean energy future. But celebrity activists like Mark Ruffalo, who has a house in the Catskills, and Robert F. Kennedy Jr. have led the movement astray with NIMBY opposition to fracing in areas such as upstate New York.
Over the last year, celebrities such as Yoko Ono, Sean Lennon, Robert Redford, Mark Ruffalo, Mario Batali, Scarlett Johansson, Alec Baldwin, and Matt Damon have spoken out against the expansion of natural gas drilling. "Fracing kills," says Ono, who has a country home in New York. "It threatens the air we breathe," says Redford.
In fact, "gas provides a very substantial health benefit in reducing air pollution," according to Daniel Schrag, director of Harvard University's Center for the Environment. There have been "tremendous health gains" from the coal-to-gas switch, MIT economist Michael Greenstone told The Associated Press. Indeed, air pollution in Pennsylvania has plummeted in recent years thanks to the coal-to-gas switch. "Honestly," added Greenstone, "the environmentalists need to hear it." [Read more →]
March 7, 2013 7 Comments
When you fly overnight from Johannesburg to Europe the lights become thin just north of Lusaka, Zambia, a few more in Zambia's Copper Belt and then nothing (and I mean nothing) until the North African coastline. For most of this 11-12 hour flight there are no artificial lights below. From the Sahara on south, but excluding South Africa, a region that is home to more than 400 million people consumes less electricity than New York City.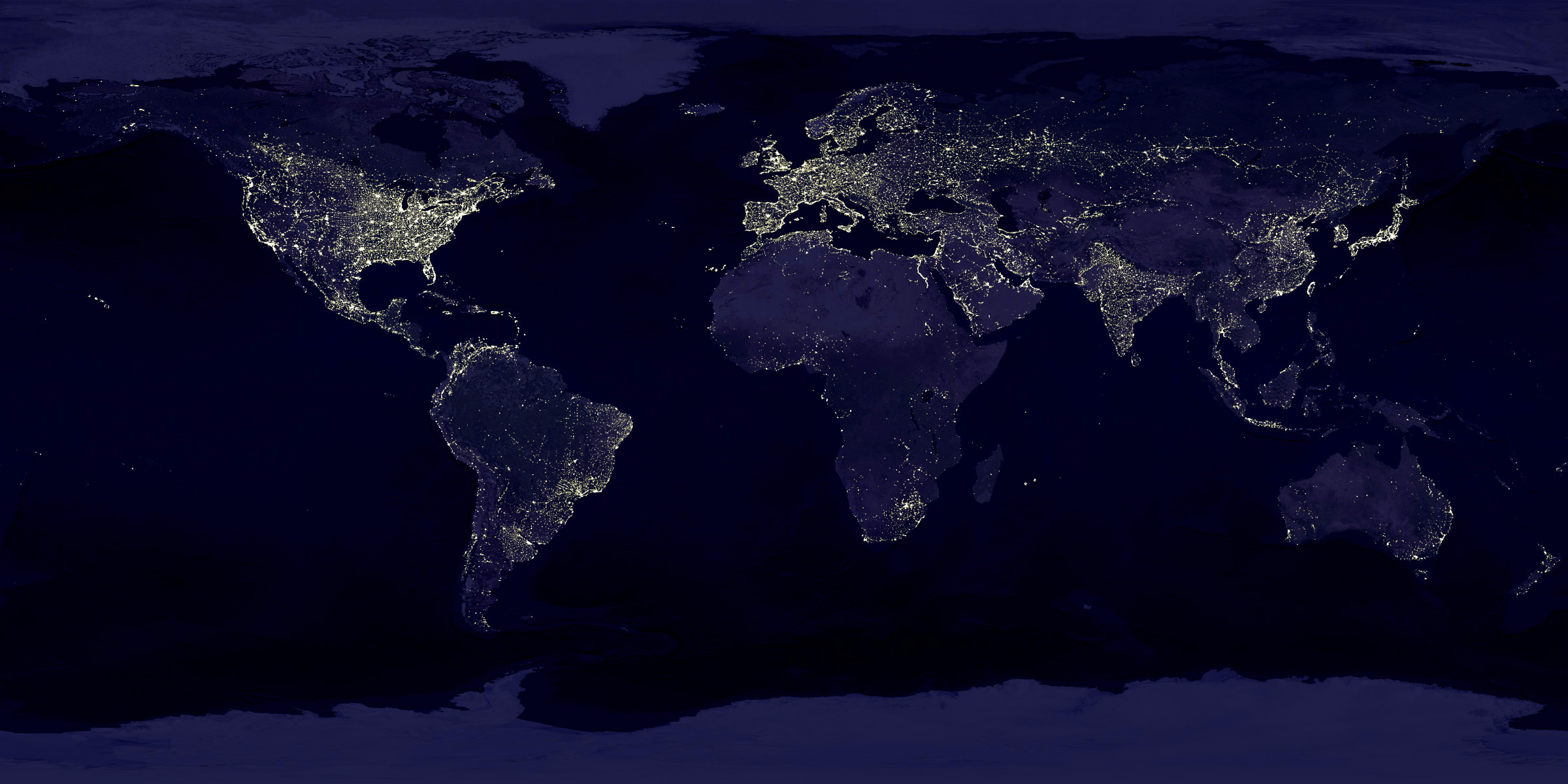 The World At Night (courtesy of Bert Christensen. Click to enlarge.)
And yet this area includes major oil producers:
Nigeria produces 2.1 million b/d oil and consumes 19 billion kWh/y
Angola produces 2.0 million b/d oil and consumes 3.2 billion kWh/y
Equatorial Guinea produces 0.36 million b/d and consumes 26 million kWh/y
Other sub-Saharan Africa oil producers supply more than 1 million b/d to world markets.
New York City produces 0 b/d oil and consumes 75 billion kWh/y
Apparently some are bothered by the prospect that Africa could light up.
We Don't Want What You Have (Wanna Bet?)
Many of those who would save the earth from the scourge of modern energy want us to believe that it is no big deal that as many as 1.5 billion people, more than three fourths of the population of the world's poorest countries, lack any access to modern energy. They still use wood and charcoal for cooking, and sometimes a bit of kerosine for lighting. For most of these people the only realistic way to gain access to modern energy is to leave the village or town and move to the city. [Read more →]
December 9, 2009 2 Comments
The New York Times chief foreign affairs correspondent, Thomas Friedman, has finally come out of the closet as a fascist wannabee. Harsh words, but consider the evidence.
Here is the pertinent section from his recent op-ed, "One Party Democracy" [with commentary]:
One-party autocracy certainly has its drawbacks [like the secret police and labor camps?]. But when it is led by a reasonably enlightened group of people, as China is today [that's why they need all those internet filters], it can also have great advantages [such as locking away dissenters]. That one party can just impose the politically difficult but critically important policies needed to move a society forward in the 21st century [no need to find out what people want, just tell them what to do].

It is not an accident [or, as Marxists.org puts it: "It is not mere coincidence . . ."] that China is committed to overtaking us in electric cars, solar power, energy efficiency [not quite, China uses more than twice as much coal as the US and almost three times as much energy per unit of output, by 2030 China will generate more CO2 than the rest of the world can save, even with the most draconian "green" policies], batteries, nuclear power and wind power.

China's leaders understand that in a world of exploding populations and rising emerging-market middle classes, demand for clean power [such as all that coal and CO2?] and energy efficiency is going to soar. Beijing [!] wants to make sure that it owns [italics added] that industry [can't we give then Chrysler and GM, too?] and is ordering the policies to do that, including boosting gasoline prices, from the top down [Chinese gasoline prices are still below world market levels, we do not worry about that because we have markets].
Green Fascism
Friedman quotes approvingly that renowned defender of freedom, Joe Romm, who notes that "China is going to eat our lunch and take our jobs on clean energy . . . and they are going to do it with a managed economy we don't have and don't want." You are certainly right about that, Joe and Tom.
If this were just an aberration, we could forgive them. But it is not. [Read more →]
September 11, 2009 8 Comments