"New York's Thousand Islands Are Being Ruined" (Letter to Sen. Schumer on the blight of government-dependent windpower)
By
Roger Donway
-- April 19, 2009
ALBERT H. BOWERS III
NAVAL ARCHITECT & MARITIME CONSULTANT
P.O. BOX 177 – 11891 ACADEMY STREET
CHAUMONT, NY 13622
BERTNA@TWCNY.RR.COM
April 17, 2009
Senator Charles E. Schumer
Washington, D.C.
New York's Thousand Islands are being Ruined
Dear Senator Schumer:
We need your help. We and many neighbors in surrounding communities have been concerned for the past several years about the arrival in northern New York of very aggressive developers seeking to build large industrial wind turbine facilities in our small communities. In neighboring Ontario, these large wind turbines have recently been installed on Wolfe Island, just across the river from Cape Vincent, New York. Below is a photo, taken previously, of the Tibbits Point lighthouse in Cape VIncent, marking the point where Lake Ontario flows into the St. Lawrence River: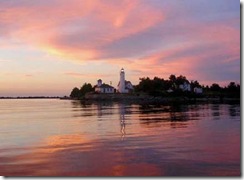 Unfortunately, this beautiful scene will not be visible in this form again due to the construction of large wind turbines, visible in the following photo, just across the river on Wolfe Island in Ontario. Similar wind turbine developments are now under consideration for Cape Vincent, Clayton and Lyme, New York as well as surrounding communities: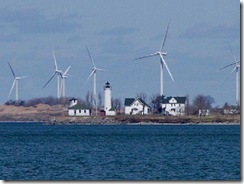 Please act to save our communities from such insensitive and destructive development. As you know, the Thousand Islands area is a prime vacation destination, due to its natural beauty. Many people from other areas summer here to enjoy the peace and tranquility that has always been a feature of the region. Many local businesses are supported principally by the summer residents and tourists, drawn by the beauty of the islands and the availability of scenic tours, fishing, and other water based recreation.
Northern New York needs the income it earns from summer residents and tourists. If we permit the area to become an industrial zone, overrun with large and noisy wind turbines, who will want to summer here? I have asked Governor Paterson to enact an immediate moratorium on wind turbine development pending an investigation, , and development of a sensible plan for the proper siting of such facilities.
Sincerely,
Albert H. Bowers III