Texas's Solyndra: Will CREZ Launch Cruz to the U.S. Senate? ($7 billion wind transmission project a defining intra-Republican issue)
By Robert Bradley Jr. -- June 1, 2012
"The state's Public Utility Commission, or PUC, approved the CREZ concept in 2008 in response to a directive [mandate] from the [Texas] Legislature in 2005."

– Kate Galbraith, "Texas' Wind Transmission Project Keeps Rolling," The Texas Tribune, September 8, 2010

"Lt. Governor David Dewhurst was the largest recipient of [CREZ] contractor funds with $419,250 from January 2005 through February 2010. …. The CREZ project has turned out to be a money-making opportunity for many politicians and companies."

– Dan Byfield, "The Politics of Transmission Lines."  San Angelo Standard Times, June 29, 2010.
A political fight of national import is on in Texas for the U.S. Senate between Tea Party favorite Ted Cruz and Republican-establishment favorite David Dewhurst. Voting this week has put these two in a runoff come July 31st for the Republican nomination. The winner between newcomer Cruz and Lieutenant Governor Dewhurst is widely expected to beat the Democrat on November 6th. [1]
Candidate Dewhurst has some explaining to do to those of us who advocate free-market capitalism in place of political capitalism (aka crony capitalism). Obama has his Solyndra, the busted solar company to which Obama's DOE lost $535 million; Dewhurst has CREZ. On paper, at least, CREZ is a thirteen-times-bigger problem for Texas ratepayers than Solyndra turned out to be for federal taxpayers.
CREZ, which stands for Competitive Renewable Energy Zones, is a $5 billion-turned-$7 billion project to get (uneconomic) wind energy from nowhere (where the wind regularly blows) to somewhere (population centers). Some of the wind capacity the line is counting on to carry may never be built due to the low cost of natural gas. [2] It will cost every Texas electricity ratepayer north of $5 per month for years to come on each electricity bill.
Critics may call the surcharge the Dewhurst electricity tax before this election is over. After all, it was under his direction that the Texas senate in 2005 enacted the mandate to launch CREZ. [3]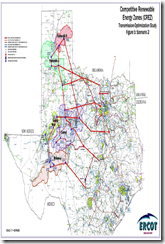 I have previously implicated Gov. Rick Perry in this project, a decision that he undoubtedly would like to have to do over. Here is some history according to Texas's State Energy Conservation Office:
In October 2006, Texas Governor Rick Perry announced commitments of $10 billion from private companies to increase wind generating capacity in the state by 7,000 megawatts, contingent on the Texas Public Utility Commission (PUC) approving construction of additional transmission capacity to windy areas of the state. In July 2007, the PUC announced its approval for additional transmission lines that could deliver 10,000 more megawatts of renewable power by 2012. New transmission infrastructure will allow all Texans to access the state's vast wind resources.
As I previously stated at MasterResource:
Mr. Windpower [Perry] could not have done Barack Obama and the Environmental Left a bigger favor. And thus Gov. Perry joins Ken Lay and George W. Bush as the fathers of the Great Texas Windpower Malinvestment.
Questions for Dewhurst
Candidate Dewhurst:
Why is this project good rather than an example of the proverbial "throwing good money after bad"?

How did this pr

oject go from $5 billion to $7 billion (and counting), and why should Texans pay for the extra $2 billion.

On what rationale is

promoting an industry on the backs of national taxpayers and state ratepayers good government?

Why should R

epublican politicians in Texas be promoting the centerpiece of President Obama's anti-fossil-fuel energy agenda?
And many want to know: what happened to the fiscal conservatism of the Republican Party in matters such as these?
And Questions for Cruz
Candidate Cruz:
What is Texas's windpower industry all about? Where did it come from, and what led the state to 'double-down' with CREZ? (Hint: Enron Wind Corporation).

Why is windpower more costly than conventional power, and what does its 'intermittency' mean for capacity and hot summer days when the demand for electricity peaks?

If elected, how can Senator Cruz avoid the 'Republican disease' of cronyism in Washington, D.C.?
Citizens, ratepayers, and now voters want to know.
——————————–
Appendix: Dan Byfield, "The Politics of Transmission Lines." San Angelo Standard Times, June 29, 2010(excerpt).
…  People should be angry with our governor, their legislators, the state and the utility companies not only because of the destruction these new power lines will cause, but because it appears this was all done for the age old reason of greed and power – and I'm not talking about electric power. All you have to do is follow the money trail to see who is behind this and why.

According to a March 15, 2010 report published by the Texans for Public Justice, a political watchdog, individuals and political action committees associated with electric transmission companies paid nearly $4.5 million to political campaigns of several Texas elected officials with up to $45 million spent on lobbying for wind energy in Texas. No surprise.

To build the Texas grid of electric transmission lines, the PUC awarded contracts to seven contractors worth nearly $5 billion in March of 2009. Those contractors and their partners started lobbying legislators. Look who benefited.

Lt. Governor David Dewhurst was the largest recipient of contractor funds with $419,250 from January 2005 through February 2010. In that same time period, Governor Rick Perry was the second highest with $416,000 and State Senator Troy Frasier received $88,233. Other statewide officeholders like Comptroller Susan Combs was given $91,000, Speaker of the House Joe Straus $76,622, and Attorney General Greg Abbott $62,500 proving all you have to do is follow the money. Guess the electric industry covered all their bases – politically that is.

The CREZ project has turned out to be a money-making opportunity for many politicians and companies. Unfortunately, good people are getting trampled in the race to build transmission lines to connect a power source that will be inconsistent and produce only a nominal amount of electricity.

Yes, I hate to be the bearer of bad news, but wind doesn't blow all the time, even in West Texas. Those wind turbines are going to have to be supplemented by natural gas engines to keep electricity flowing so there are no interruptions in electric flows. It has actually been estimated that 65 percent of the green wind energy will actually be gas propelled, but enough of that drivel.
[1] Author note: I did not vote in the Republican primary and do not intend to vote in the runoff.  I do not give money to political candidates, personally or otherwise. This post is intended to educate about energy issues, although its free-market implications may favor one candidate over another, Republican or Democrat.
[2] See Elizabeth Souder, "Senator Asks Electricity Regulators to Trim Wind Power Line Project," Dallas Morning News, November 17, 2011.
[3] As explained in Wikipedia: "The lieutenant governor, elected statewide separately from the governor, presides over the Senate, while the Speaker of the House is elected from that body by its members. Both have wide latitude in choosing committee membership in their respective houses and have a large impact on lawmaking in the state." Both Dewhurst and Speaker of the House Strauss supported CREZ and were rewarded proportionally by the project's contractors."