Spanish Renewable Giant Iberdrola Enters Texas with a Thud
By
Bill Peacock
-- August 5, 2020
One of the telltale signs of how broken the Texas electricity market is: The number of corporations with multi-billion dollar market caps coming here in pursuit of billions of dollars of renewable energy subsidies. The Spanish multi-national electric utility company, Iberdrola, which describes itself as "the utility of the future," is the latest.
July 08, 2020 – Iberdrola Texas today announced its entrance into the Texas marketplace, offering customers a more affordable, renewable energy option that's 100% sourced within the state. Texas is the number one state for wind production in the U.S., and Iberdrola's presence in Texas will meet the demand for reliable and competitive green energy options. Iberdrola Texas sets itself apart by providing consumers with wind energy generated from its Iberdrola group-owned Texas wind farms. …

All electricity plans from Iberdrola Texas include fixed prices, no hidden fees and energy sourced exclusively from Texas wind farms. Competitively priced plans can save customers up to $500, and include 12-, 24- and 36-month options.
Iberdrola is a Spanish-based electricity utility that is the world's "number one producer of wind power." Through 2016, Iberdrola's wind production had already generated $2.7 billion from U.S. taxpayers through the Production Tax Credit (PTC). If the level of credits it received in 2016 ($301 million) has continued, that number would have reached close to $4 billion today.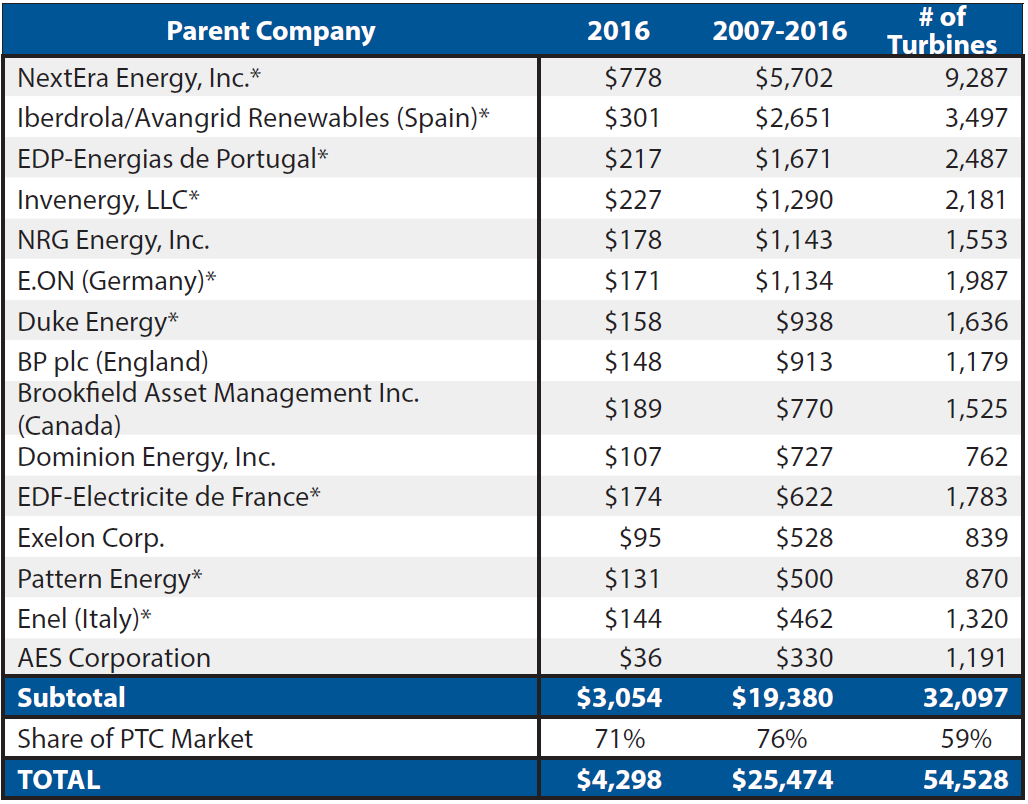 Now it wants to further profit from renewable subsidies by selling "100% pure Texas wind energy" directly to consumers. Unfortunately, there are two claims that Iberdrola makes in its promotional materials that could easily mislead Texas consumers.
Claim #1
100% pure Texas wind energy is all that's used to power our customers' homes, and every last kilowatt that's delivered is produced and supplied by our own Texas wind farms.
First, this is a physical impossibility. The electrons flowing through the electric grid are indiscriminate; no one can identify the source of the electricity powering one's house. Iberdrola acknowledges this in a disclaimer: "You will not have energy from a specific generation facility delivered directly to your service address."
For clarity's sake, let's put these two statements side by side:
[E]very last kilowatt that's delivered is produced and supplied by our own Texas wind farms

You will not have energy from a specific generation facility delivered directly to your service address.
Even if you give the company a pass on this, the disclaimer further shows that Iberdrola has no plans to provide "100% pure Texas wind energy" to its customers:
Iberdrola Texas will match 100% of your annual paid usage with Renewable Energy Certificates (RECs) purchased from Avangrid Renewables Wind facilities or another wind plant in Texas.
The disclaimer makes it clear that Iberdrola has no obligation to actually purchase enough "100% pure Texas wind energy" to power the homes of all of its customers.
Instead, it will close the gap from the electricity from wind farms it does purchase to its customers' actual use with RECs, certificates that companies get through programs like Texas' Renewable Energy Credit (REC) trading program, established by the Texas Legislature.
A wind (or solar) farm earns one REC for each kilowatt it generates. At that point, the wind farm can sell BOTH the electricity and the REC (a nice deal if you can get it). So rather than purchase enough wind energy to provide "100% pure Texas wind energy," Iberdrola commits only to purchasing government-sponsored certificates.
And no wonder. It is virtually impossible for a company of any size to purchase enough wind energy to guarantee the energy it uses or sells is 100% from wind. For the simple reason that the wind doesn't blow all the time. If the wind is not blowing, or not blowing enough, there cannot be enough wind energy to meet the needs of every virtue signaler claiming to be powered by 100% wind or renewable energy.
Again, Iberdrola acknowledges this in the fine print:
Renewable resource availability varies hour to hour and from season to season, as does our customers' use. We will rely on system power from the grid to serve our customers' minute by minute consumption
Iberdrola is not alone when it comes to the discrepancy between loud public proclamations of being 100% renewable and the real world. Pick any major corporation, city, or other entity claiming to be 100% renewable and you'll likely find they are not actually purchasing enough electricity from renewables to back up that claim. Georgetown, TX is a perfect example. They all rely on the fake setup the renewable industry and the government have promoted to hide the fact that renewables are more about taking our money than saving the planet.
Claim #2
Competitively priced plans can save customers up to $500, and include 12-, 24- and 36-month options.
If you went to the Ibderdrola homepage on July 10 and entered a Houston zip code, this is the price quote you got: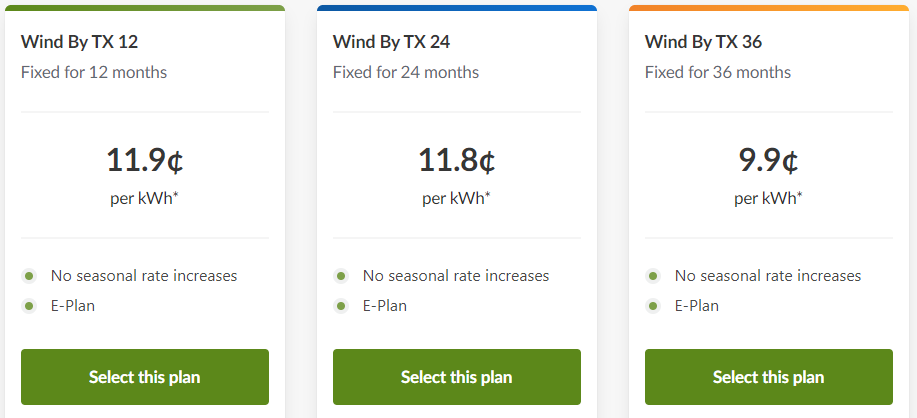 All of these prices are higher than the average price of same-term, non-100% renewable offers from other providers in the Houston area.
Iberdrola's Houston prices were a bit lower on July 11 but still higher than average: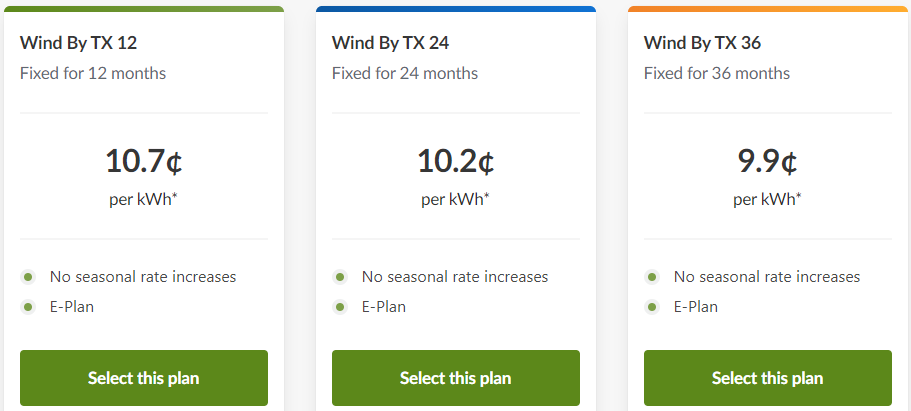 And slightly lower in the Dallas area (July 11):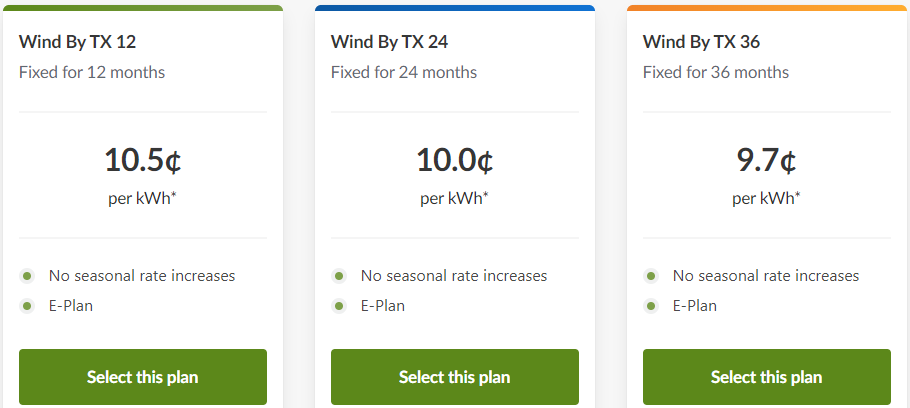 Here is what the math shows for Houston: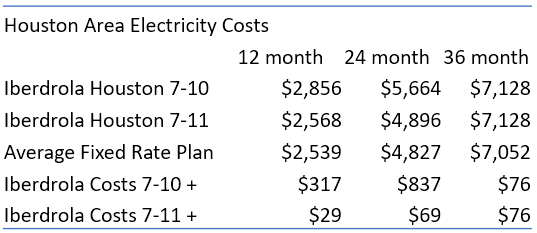 On July 10, Iberdrola's 12-month plan cost $317 more than the average offer in Houston. The 24-month plan came at an $837 premium.
Are there electricity plans in the Houston and Dallas areas that are more expensive that Iberdrola's? Absolutely. So is it possible that consumers might save $500 by switching to an Iberdrola plan? Sure. However, it is more likely that Iberdrola's plans will cost the average consumer more money.
Wind and solar generators often sell below the "market price" to force their product into the market. But they do so not because their costs are lower but because they are making millions (or billions) off of renewable subsidies.
Retailers like Iberdrola claiming to be 100% renewable, though, face a more difficult time of being cost competitive.
Iberdrola is buying its electricity from the same place everyone else is, the Texas electricity market. However, they have an expense non-renewable providers don't have; they have to buy enough renewable energy certificates to cover 100% of their customers' use in an attempt to make good on their "pure Texas wind" claim. The costs of the RECs on top of the cost of the electricity make it very difficult for them to be cost competitive with other retail electric providers in Texas offering non-renewable plans.
Conclusion
The fact that Iberdrola's "more affordable renewable energy option" is priced higher than the average non-100% renewable plan lays bare the falsity of the claims from the renewable energy industry that wind and solar generation is cost competitive with traditional generation sources like coal and natural gas.
There is nothing affordable about renewable energy. It is inefficient and unreliable. This means that the cost of generating electricity from wind and solar power will almost always be more expensive than generation from coal or natural gas. And it won't save the planet either. The sooner Texans can eliminate renewable energy subsidies and 100% renewable energy plans the better off and wealthier we will be.
———————-
This post originally appeared at Mr. Peacock's blog, Excellent Thought. His other energy posts are here.