Power Density Primer: Understanding the Spatial Dimension of the Unfolding Transition to Renewable Electricity Generation (Part V – Comparing the Power Densities of Electricity Generation)
By Vaclav Smil -- May 14, 2010
Editor's note: This is the conclusion of the series that provides an essential basis for the understanding of energy transitions and use. The previous posts in this series can be seen at:
Part I – Definitions
Part II – Coal- and Wood-Fired Electricity Generation
Part III – Natural Gas-Fired Electricity Generation
Part IV – New Renewables Electricity Generation

America's dominant mode of electricity generation is via combustion of bituminous and sub-bituminous coal in large thermal stations. All such plants have boilers and steam turbogenerators and electrostatic precipitators to capture fly ash, but they burn different qualities of coal that may come from surface as well as underground mines, have different arrangements for cooling (once-through using river water or various cooling towers) and many have flue gas desulfurization to reduce SO2 emissions. Consequently, these conversions of chemical energy in coal to electricity feature widely differing power densities: for the power plants alone they are commonly in excess of 2 kW/m2 and can be as high as 5 kW/m2. When all other requirements (coal mining, storage, environmental controls, settling ponds) are included, the densities inevitably decline and range over an order of magnitude: from as low as 100 W/m2 to as much as 1,000 W (1 kW)/m2.
In contrast, compact gas turbines plants (the smallest ones on trailers and larger facilities that can be rapidly assembled from prefabricated units), which can be connected to existing gas supply, can generate electricity with power density as high as 15 kW/m2. Larger stations (>100 MW) using the most efficient combined-cycle arrangements (with a gas turbine's exhaust used to generate steam for an attached steam turbine) will operate with lower power densities, and if new natural gas extraction capacities have to be developed for their operation then the overall power density of gas and electricity production would decline to a range similar to that of coal-fired thermal generation or slightly higher, that is in most cases to a range of 200-2000 W/m2.
Photosynthesis is an inherently inefficient energy conversion process, and production of biomass has large space requirements. Even with an intensively cultivated plantation of fast-growing trees, a wood-burning electricity generation plant would not have power densities higher than 0.6 W/m2, and for most operations the rate would be below 0.5 W/m2.  Space demand for such facilities, then, would be two to three orders of magnitude (100 to 1,000 times) greater than for coal- or gas-fired electricity generation.
Photovoltaic plants can generate electricity with much higher power densities than wood-burning station — converting solar radiation to new biomass has overall efficiency no better than 1% while even relatively inefficient PV cells have efficiencies around 5% and today's best commercial facilities go above 10%. Taking only the PV cell area into consideration, this translates to power densities of mostly between 10-20 W/m2. But when all ancillary space requirements are included, the typical density range declines to 4-9 W/m2, an order of magnitude higher than for wood-powered generation but one to three orders of magnitude lower (that is demanding 10 to 1,000 times more space) than the common modes of fossil fueled electricity production.
Power densities for central solar power are slightly higher, with rates as high as 45-55 W/m2, when only the area of heliostats is considered, but with overall power densities (including spacing, access roads and the tower facilities) on the order of 10 W/m2. Finally, wind-driven electricity generation has power densities similar to, or slightly higher than, wood-burning stations, with most new installations using powerful (1-6 MW) turbines fitting into a range between 0.5-1.5 W/m2.
Power Source
Power Density (W/m2)

Low

High

Natural Gas

200

2000

Coal

100

1000

Solar (PV)

4

9

Solar (CSP)

4

10

Wind

0.5

1.5

Biomass

0.5

0.6
Implications of these differences are manifold. Changing the power density-determined infrastructure of energy systems that were created over more than a century for electricity generation from fossil fuel combustion will not be easy. A fossil-fuelled civilization has been securing the supply of its most flexible form of energy by "shifting downward," that is by generating electricity with power densities 1-3 orders of magnitude higher than the common power densities with which electricity is used in buildings, factories and cities. In a civilization that would rely only on renewable energy flows, but that would inherit today's urban and industrial systems, we would produce electricity at best with the same power densities with which they would be used –- but more often we would have to concentrate diffuse flows of solar radiation, wind, and biomass in order to bridge power density gaps of 2-3 orders of magnitude.
This new energy infrastructure would increase fixed land requirements and preempt any other form of land use in areas devoted to PV cells, heliostats or fast-growing wood plantations. Most of the area occupied by large wind farms could be used for crops or grazing but other land uses would be excluded, and large areas dotted with wind turbines would require construction and maintenance of access roads as well as the creation of buffer zones not suitable for permanent human habitation. And in all cases of renewable energy conversion, much more land would be needed for more extensive transmission rights-of-way in order to export electricity from sunny and windy regions, or from areas suited for mass-scale biomass production, to major urban and industrial areas.
As a result, these new energy infrastructures would have to be spread over areas ten to a thousand times larger than today's infrastructure of fossil fuel extraction, combustion and electricity generation: this is not an impossible feat, but one posing many regulatory (environmental assessments of affected areas, rights-of-way permission and inevitable lawsuits), technical and logistic challenges. Higher reliance on renewable energies may be desirable (mainly because of perceived environmental and strategic reasons) and technical advances would also make it an increasingly appealing economic choice –- but inherently low power densities of these conversions will require a new system of fuel and electricity supply that will be able to substitute for today's dominant practices only after decades of gradual development.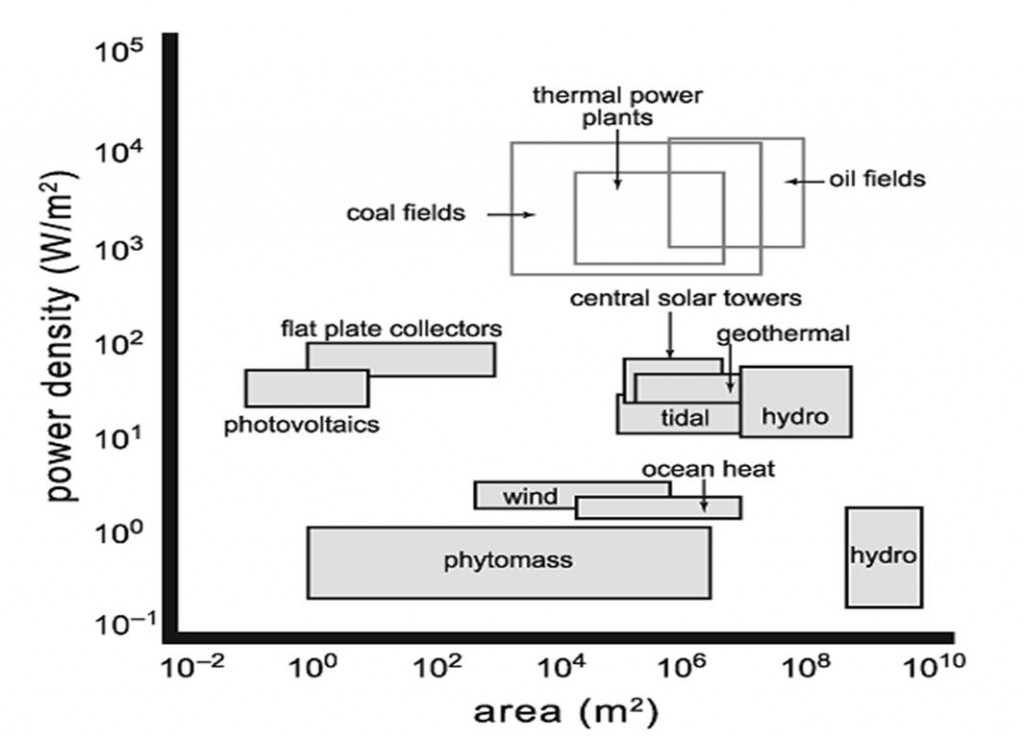 Power densities of fossil fuel extraction, thermal electricity generation and renewable modes of electricity production. Reproduced from: V.Smil Energy Transitions: History, Requirements, Prospects (Praeger: 2010).