New Oil & Gas Drilling: A Schematic ('Time for Tiramisu')
By Jim Scherrer -- September 17, 2019
"Current technology liberates, at best, 5 percent of the available oil in shale so continued technology advances would significantly improve future resource recovery."

Oil and gas drillers continuously evolve and enhance their drilling techniques. Their more recent revolutionary technique to drill horizontally along the rock formation has come to be known as "unconventional" drilling.

To illustrate, we can compare the confectionery jelly donut to tiramisu, which is a delicious Italian dessert that coincidentally means, "carry me up" or "lift to heaven."

Versus prior drilling, new generation hydrocarbon production provides an "energy lift" as illustrated below.

Conventional Drilling: Jelly Donut
Basic Vertical Penetration; Limited Formation Contact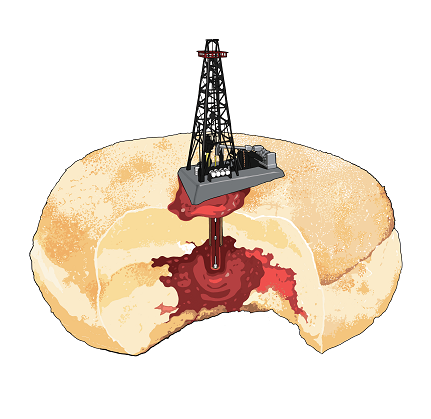 Illustration © James Scherrer
New Drilling: Tiramisu
Sophisticated Horizontal Penetration; Extensive Formation Contact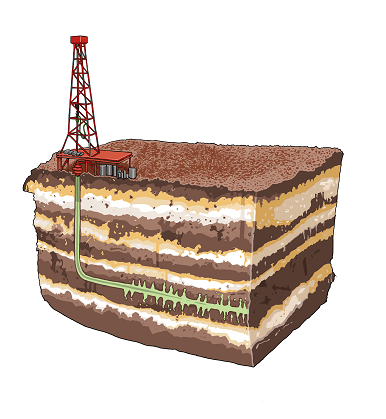 Illustration © James Scherrer 2014

What's So Unconventional About it?
Oil and gas resources are commonly divided into two distinct types, conventional versus continuous or unconventional.
Conventional resources are characterized by structural or stratigraphic traps or pockets in which water and gaseous liquid hydrocarbons are separated into layers by their immiscibility and relative buoyancies.
Continuous accumulations, also known as unconventional resources, are regional stratigraphic accumulations of hydrocarbons, generally gas, which commonly occur in layer-like sedimentary deposits such as coal, shale rich in organic material, and low porosity sandstones.
Unconventional sediments are not segregated into discrete fields; instead, these continuous accumulations produce hydrocarbons in very small amounts in multi-storied stacks. Often these multiple layers are drilled, perforated and completed within a single well.
It's Time to Ramp Up Unconventional Drilling
Unconventional drilling (think tiramisu) has been going on for quite some time, but has been accelerating by technology improvements. The U.S. land market has completed a record number of hydraulic fracturing (fracking) stages this year, driven by horizontal drilling efficiencies.
The rapid rate of drilling in Ohio's Utica Shale play has midstream companies working hard to catch-up with exploration and production companies that have a backlog of wells waiting to come online. The venerable Permian Basin, where conventional drilling production peaked in the 1970s, has come back to life bigger and stronger with horizontal drilling.
Getting to Tiramisu
Oil reservoirs that are accessible by vertical drilling are nearly complete.
Source rocks, such as shale where oil originates, are abundant.
Technology advances in drilling allow the well bore to work on a horizontal basis.
Technology advances in using pressurized water and sand during drilling enhances the application to shale source rocks in horizontal wells to extract both gas and oil.
Current technology liberates, at best, 5 percent of the available oil in shale so continued technology advances would significantly improve future resource recovery.
—————
Jim Scherrer ( JSScherrer@AOL.com) provides analytical services to energy, power and information technology industries. "Time for Tiramisu" is a trademark of NuSERV, Inc., an energy company providing information, technology, engineering and professional services to the market.