Stanford's Jacobson Spins Energy Misinformation (100% renewables fantasy)
By Steve Everley -- January 7, 2016
Environmental groups frequently claim that replacing fossil fuels with renewables will lead to more job opportunities. But according to a study that those same groups frequently cite, it's not that simple.
According to research compiled by Stanford University professor Mark Jacobson, whose recent study outlines a "roadmap" for transitioning to 100% renewable energy, replacing fossil fuels with renewable technologies like wind and solar would actually cause a net loss of 1.2 million long-term jobs.
Jacobson's data break out the number of long-term jobs that would be eliminated by sector. In transportation, more than 2.4 million men and women would be put out of work. Over 800,000 people working to produce oil and natural gas would lose their jobs. Nearly 90,000 jobs connected to coal mining would be wiped out. All told, more than 3.8 million long-term jobs would be lost, far more than the nearly 2.6 million long-term jobs that Jacobson estimated would be created.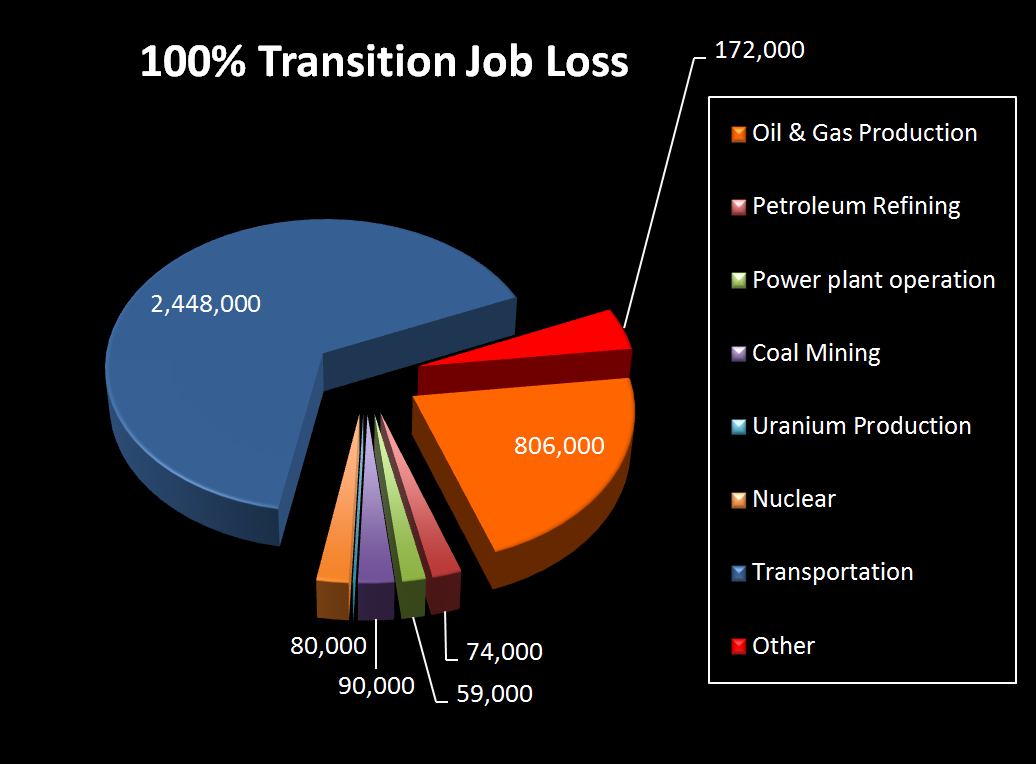 Jacobson does not dispute that millions of jobs would be lost by transitioning to 100% renewables, but he has nonetheless argued passionately that more jobs would be created and sustained under the new energy regime.
Opportunity for Green Activists
For years, so-called "climate activists" have struggled to gain traction, as the general public is far more concerned about creating jobs than climate change. A recent poll found that 63 percent of Americans believe job creation is more important than trying to stop global warming, which was "consistent with regular surveying for over two years now," according to the pollster.
As a result, advocates for a renewables-only energy portfolio have begun emphasizing job creation, recognizing that citing economic benefits could potentially attract new supporters. When leaders from San Diego, Calif., announced recently that they would be transitioning to 100 percent renewable energy, the New York Times reported the city's Republican mayor "sold the plan to a conservative base in part by saying that transforming the electric grid would drive the economy and create jobs."
In a 2013 interview with Scientific American, Jacobson was asked how he would "sell" his 100 percent renewables plan (at the time, he was only looking at data for New York). Jacobson claimed that "more jobs would be created than lost" by transitioning entirely to renewables.
In a recent interview with CNN, Jacobson said three times that transitioning the world entirely to renewables would create "22 million more jobs" than it would destroy. He even conceded that "one does not need to believe in climate change to want to transition energy," due to the supposed economic benefits.
Unsurprisingly, environmentalists are using Jacobson's claims about net job creation to try to sell their vision on economic terms, even if the details contradict that message.
For example:
Jacobson's research was a key part of Gasland Part II, the sequel to director Josh Fox's widely criticized Gasland. In announcing his "Solutions Grassroots Tour" in September 2014, Fox said: "Renewable energy can benefit culture and democracy as well as being the next major economic development force." Fox added that "we can run the planet on 100 percent renewable energy."
The Sierra Club has used Jacobson's research to push for a transition to 100 percent renewables, arguing it would yield "positive environmental, social, and economic benefits," including "new jobs and sources of revenue."
An Earthworks staffer recently claimed that wind and solar "create more jobs" than fossil fuels.
350.org encouraged its San Francisco-area supporters to "promote legislation based on Mark Jacobson's California Plan" for 100% renewables.
Greenpeace has also touted a 100% renewables plan as "the answer to alarming climate science," referencing Jacobson's claim that it will "eliminate most all air pollution and global warming, create jobs, and provide energy stability and energy price stability."
In an op-ed declaring that "an economy based on renewable energy is both economically and technically feasible," the executive director of Food & Water Watch cited Jacobson's plan explicitly. The op-ed was co-signed by Sandra Steingraber, one of the founders of New Yorkers Against Fracking. Steingraber's advocacy against energy sector jobs has been controversial, having previously compared women who work in the industry to "hotel maids and prostitutes."
Actor Mark Ruffalo recently touted Jacobson's plan on The Daily Show. Ruffalo also claimed that the "era of fossil fuels is over," calling for a global transition to 100 percent renewables by 2050. In 2012, Ruffalo called Jacobson a "Renewable energy Super Hero."
On the campaign website for Bernie Sanders, the socialist U.S. senator running for president, Bill McKibben promoted Jacobson's 50-state transition plan, which he said shows how states "could be easily and affordably producing all their power renewably by 2030."
Job Loss or Job Gain?
If the plan will result in a net loss of 1.2 million long-term jobs, then how can Jacobson and his supporters claim that transitioning to 100 percent renewables will create more jobs than it will destroy?
Jacobson's data show approximately 5.3 million "Construction" jobs being created as a result of the renewables-only transition. After subtracting the 1.2 million net long-term jobs that will be lost, Jacobson's data show "Net Total Jobs" at a little over four million. Even though Jacobson's own chart shows a net loss of "Long Term Jobs," he claims that the construction jobs – which his study classifies as "temporary" – are also long-term.
To be clear, creating new jobs for construction workers should always be welcome news, just as any additional economic opportunity should typically be encouraged. But according to many of the prominent environmental activists who have promoted Jacobson's work, construction jobs aren't "real jobs."
In comments submitted to the U.S. Department of State by the Natural Resources Defense Council, Friends of the Earth, 350.org, and the League of Conservation Voters, environmentalists derided the "temporary jobs" to be created from construction of the Keystone XL pipeline as "minimal." The groups also claimed it was a "myth" to suggest that the pipeline would result in significant job creation.
The Sierra Club trashed the construction jobs associated with Keystone XL, claiming they were only "temporary" and they "would be low-wage jobs." The Club's Keystone XL pipeline fact sheet also focused on the supposed lack of permanent jobs, arguing that "we should be investing in renewable sources of energy that will provide more jobs."
In a 2012 interview about the Keystone XL pipeline, activist Bill McKibben suggested it was lying to tout construction jobs at all:
"Probably the biggest single lie that they [fossil fuel companies] have promulgated over and over again is that this would create, depending on whom you asked, tens of thousands or even hundreds of thousands of jobs." (emphasis added) 
A year earlier, on the Colbert Report, McKibben similarly downplayed the significance of construction jobs in relation to Keystone XL. "There'd be temporary jobs for a while," McKibben said, "and then the point of a pipeline is, once you've got it, no one ever has to work there again." He went on to claim that "the real jobs come when we get off Big Oil."
How can environmental groups who have spent so much effort downplaying the significance of construction jobs now claim that the same types of jobs are worth promoting?
Conclusion
Many scientists have expressed doubt about whether Jacobson's plan is even technically possible. Several published articles in scientific journals have found that he and his co-authors "do not present sufficient analysis" to show the feasibility of the plan, or that they only "give superficial treatment to relevant constraints on energy system transformations."
More bluntly, Dr. James Hansen, one of the world's most famous climate scientists, says that promoting a rapid transition to renewables is a mythical belief:
"Can renewable energies provide all of society's energy needs in the foreseeable future? It is conceivable in a few places, such as New Zealand and Norway. But suggesting that renewables will let us phase rapidly off fossil fuels in the United States, China, India, or the world as a whole is almost the equivalent of believing in the Easter Bunny and Tooth Fairy." (emphasis added)
Those technical limitations only exacerbate the economic concerns of such a plan: For millions of American families, a transition to 100% renewables would be a costly endeavor.