Wind Growth after PTC Expiration
By
Lisa Linowes
-- September 24, 2018
"The US Treasury estimates the PTC will cost taxpayers $40.12 billion in the period from 2018–2027, making it, by far, the most expensive energy subsidy under current tax law."

"After billions in public hand-outs, the wind industry has never been able to stand on its own and there's no reason to believe this will change. Tax credits are now a required component of the industry's economics. The outcome of an expired PTC is evident: wind installations will crawl to a near stop."
Just twelve months after the PTC phase-out [1] went into effect, the wind industry boasted that thousands of new megawatts were under construction or in advanced stages of development. Confirming specifics is challenging since the industry tends to bloviate, but reports put the number of safe-harbored turbines between 30 and 70 thousand megawatts with the majority expected to be in service before the end of 2020.
Thanks to relaxed IRS rules governing tax credit eligibility, the phase-out is more akin to a 5-year PTC extension, meaning most of these megawatts will earn full PTC treatment.
The US Treasury estimates the PTC will cost taxpayers $40.12 billion in the period from 2018–2027, making it, by far, the most expensive energy subsidy under current tax law. [2]
It's About Tax Credits, not Energy
Recent development patterns in the United States show that the PTC is the leading driver of new wind development in the country. Sixty-six percent of the total wind megawatts installed since 2014 were located in Texas, Oklahoma, Kansas, and Iowa, four states where renewable energy mandates were either already met or where none were in effect. [3]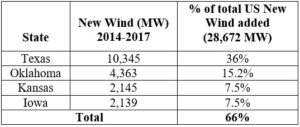 Texas, in particular, has a glut of wind generation with more planned. Federal subsidies, coupled with available land, no permitting requirements, and a public willingness to commit billions for wind-related grid upgrades, have kept the project pipeline active. Despite low natural gas prices and competition from other renewables putting downward pressure on the value of Texas wind, ERCOT reports new proposals of up to 33,799 MW – a 160% increase over the 21,190 MW of wind capacity in operation as of June 1, 2018! [4]
This aggressive development is directly attributable to the high value of the PTC as a percent of project cost. With lower construction prices and higher project output, tax equity now averages over 50 percent of project capital costs, [5] making the industry immune to market signals. Developers are targeting Texas, Oklahoma, Iowa (et al.) because these states offer the cheapest, quickest path to getting turbines in the ground and maximizing tax credits during the PTC phase-out.
But what happens when the PTC drops to zero after 2019?
Life After the PTC
The wind industry insists that technology advances have reached a point where growth will continue without public handouts. That may be true in areas with excellent winds and a willing buyer, but even the Department of Energy's latest report suggests an uncertain future without the PTC.
Under the title Future Outlook, the report offers a description of what to expect. We cite each statement from that section below with short commentary immediately following.
DOE:  "Energy analysts project that annual wind power capacity additions will continue at a rapid clip for the next several years, before declining, driven by the five-year extension of the PTC and the progressive reduction in the value of the credit over time."
As stated earlier in this essay, the loss of the PTC will have a direct impact on future development. Once the project pipeline is flushed, there will be little incentive to continue building.
DOE: "Additionally, near-term additions are impacted by improvements in the cost and performance of wind power technologies, which contribute to low power sales prices."
Newer, more efficient turbines mean lower construction costs and sale prices but project owners will have to fill the project-finance void left when the PTC expires. Turning to conventional project finance could mean raising prices making wind power less competitive.
DOE: "Other factors influencing demand include corporate wind energy purchases and state-level renewable energy policies."
Corporations pay less, buy less, and negotiate tougher terms than utilities who are trying to meet RPS requirements. Also, as stated earlier, most of the new wind capacity since 2014 was sited in states where the mandates were already met or where none were in effect suggesting that current RPS policies are insufficient for driving more wind development.
DOE: "As a result, various forecasts show additions increasing in the near term, from more than 8 GW in 2018 to roughly 10–13 GW in 2020. Forecasts for 2021 to 2025, on the other hand, show a downturn in wind capacity additions in part due to the PTC phase-out."
The forecasted additions are due to the PTC and the sole reason for an expected downturn is its expiration.
DOE: "Expectations for continued low natural gas prices, modest electricity demand growth, and lower demand from state policies also put a damper on growth expectations, as do limited transmission infrastructure and competition from natural gas and solar energy."
Low gas prices, reduced RPS demands, flat/no load growth, and limited transmission have been the norm for years and the status of each is unlikely to change dramatically in the coming years so again, the drop in wind energy development will be due to the expiring PTC.
DOE: "At the same time, the potential for continued technological advancements and cost reductions enhance the prospects for longer-term growth, as does burgeoning corporate demand for wind energy and continued state RPS requirements."
Tech advancements and cost reductions were what elevated the profile of the PTC for wind financing which means losing the PTC will have a much greater impact on future development. Wind prices will likely rise and dampen both corporate and state interest.
DOE: "Moreover, new transmission in some regions is expected to open up high-quality wind resources for development."
While new transmission will help deliver more wind to market, without the PTC, the price of that energy may be higher than buyers are willing to pay.
DOE: "Given these diverse and contrasting underlying potential trends, wind additions—especially after 2020—remain uncertain."
We agree! After billions in public hand-outs, the wind industry has never been able to stand on its own and there's no reason to believe this will change. Tax credits are now a required component of the industry's economics. The outcome of an expired PTC is evident: wind installations will crawl to a near stop.
———
[1] Under PATH (Protecting Americans from Tax Hikes Act of 2015, Pub. L. No. 114-113, Div. Q, 129 Stat. 2242), facilities that begin construction before January 1, 2017, are eligible to receive 100% of the PTC. After that, projects that start construction in 2017, 2018 and 2019 could receive 80%, 60% and 40% of the wind PTC respectively, after which the PTC is eliminated.
[2] The energy investment tax credit (ITC) which largely applies to solar installations was a distant second at $18.36 billion.
[3] In Texas and Iowa, the mandates are still on the books but were met, and far exceeded, years ago. Kansas repealed its RPS mandate and replaced it with a voluntary target.
[4] Texas has the most wind capacity in the United States. Oklahoma is a distant second with 7,495 MW installed.
[5] Industry investors report that for typical wind projects, the value of tax equity dropped by roughly 8 percent under the new tax law.