Okay, Joe Romm: How about a Wager on $65 Oil? ('peak-oil' bull or closet bear?)
By
Michael Lynch
-- October 21, 2009
[After publication of my New York Times Op-ed on peak oil, Joseph Romm posted a response—and a challenge—on his website, and later expanded it on The Huffington Post. Below is Michael Lynch's response.]
Thank you very much for your invitation to a wager on the price of oil, Joe, which I take to be serious, even though you made no effort to convey the wager to me personally. (If you were simply making a "'pr" effort, feel free to withdraw it.) I would warn you that for most of my career I have been referred to as a 'heretic' or 'contrarian' and have repeatedly outperformed other forecasters by explaining (in a number of academic publications) why the forecasting of oil price and supply has been so deficient. That you appear to have been more prescient than me no doubt gives you confidence. But success can be misleading: in the long run, it's better to be smart than lucky.
Parenthetically, bear in mind that I regard myself as a technocrat, not an ideologue, and my denigration of 'peak oil' theory comes from a careful reading of the 'research' as well as decades of research on the subject of oil and gas supply. I do not regard oil, gas, solar, nuclear or dung as 'good' or 'bad' except as the situation dictates.
In fact, for some years, I lived car-free, working and residing in the Boston area, dependent on the subway. Owing to an unfortunate editing error, my op-ed implied that I disapproved of conservation, which is most certainly not the case. Conservation can be one of the cheapest energy 'sources' around, depending on the circumstances. (Conservationism is another story.)
Back to 1996
Regarding our appearance at the Congressional hearing in 1996 (for which your post criticizes me): You neglected to mention that I also supported energy R&D but opposed Congressmen and -women steering money to their districts. (You might recall that 'jobs' was a mantra of some of those attending the hearing, it being an election year. One individual in particular made repeated references to the 40 jobs in his district involved in electric bus research.) Possibly you didn't read the entire transcript (I couldn't download it; too big), but it should serve as a warning about making unqualified statements. I don't claim credit for preventing the cuts in renewable R&D, though.
(Oh, speaking of which, you stated in your article that "The goal of the [Partnership for a New Generation of Vehicles] is to design and construct by 2004 a prototype clean car that has three times the fuel efficiency of existing cars and very low emissions…" Do you feel that this succeeded, or at least any better than Amory Lovins' hypercar?)
That aside, you hardly indicate why you think that more money for research on renewable energy would have prevented the recent oil price rise. Gas prices haven't dropped because of wind power, but because of more supply. And T. Boone Pickens not withstanding, wind and solar don't replace oil usage, but coal, gas, or nuclear.
Several objections to your arguments must be made. First, you seem to feel that, in the conflict of our views during 1996 you proved to be prescient, compared to my expectations of long-term price stability. However, careful perusal of that document (and your accompanying article, "Mideast Oil Forever," which I have before me) demonstrates a more nuanced picture.
You foresaw a continuing crisis reflecting resource scarcity, and in particular, the rapid growth of market power in the Middle East, predicting that the Arabian/Persian Gulf market share would reach 60% by 2010. On the other hand, I described a situation where abundant resources would be developed at costs that would keep markets stable and prices relatively low.
In fact, neither of us described the situation as it evolved, namely that the price collapse of 1998 would inhibit upstream investment, especially in non-OPEC areas, or that political instability in oil-producing areas (especially those outside the Middle East) would grow. Prices have been high this decade because of instability in production, and the effect of the 1998 price collapse, not because of rising market power in the Middle East. The implication is that you were lucky, not right.
Peak Government, Not Peak Oil
"Resource scarcity" might have been less evident without the convergence of the following: terrorist attacks of September 11, 2001, and the subsequent (ill-informed) invasion of Iraq in the spring of 2003, which reduced Iraqi oil production by somewhere on the order of one million barrels a day; the strike against PDVSA and the dismissal of half of its employees in early 2003, which reduced Venezuelan production by about half a million to a million barrels a day over the next five years (of admittedly low-quality oil); the unrest in Nigeria in early 2006, which caused a loss of about 600 thousand barrels/day of high quality oil; and the massive and unprecedented damage from Hurricanes Katrina and Rita in 2005, which not only took about 150 million barrels off the market but, more important, diverted tens of thousands of workers to repair activities from capacity expansion.
While you attack my forecasting record (as other peak oil advocates have attacked me and Dan Yergin), you provide no context. The vast majority of oil industry analysts had similar expectations. Indeed, the survey of forecasts in DOE's Annual Energy Outlook for 2005 foresaw prices stable to 2025. And you neglect to mention that peak oil advocates have horrible track records, particularly in forecasting supply and estimating resources. Again, the problem is that you are not very familiar with this issue and obviously all too willing to accept uncritically arguments and findings that conform to your biases (a danger we all face).
Your prediction of rising reliance on Persian Gulf oil was, in fact, incorrect, as I warned (then and elsewhere). Since approximately the time of the Iranian Oil Crisis, nearly all forecasts of non-OPEC oil have predicted a near-term peak and decline. The U.S. Department of Energy forecasts, on which you relied (but went even further than) predicted that OPEC market share would rise from about 40% to 55% of world oil production by 2010. My own forecast was for it to rise much more gently, but still to rise. However, as you can see, I was too pessimistic. But faster than the other hiker, as in the joke about the bear and the sneakers.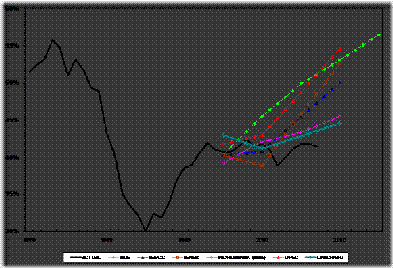 Source: DOE Annual Energy Outlook 2006.
Also, your claim that "real prices more than double[d]" after our appearance is hardly precise. They were high in 1996; fell sharply in 1998, partly due to soaring Venezuelan production (triggering a price war) and partly due to the Asian recession; recovered in 1999; rose sharply in 2000, reflecting partly strong economic growth but also the loss of supply due to the price collapse in 1998. Subsequently, the combination of the 9/11/01 attacks which induced economic weakness and soaring Russian production saw prices drop to $17 per barrel, before they began a rise that was induced mainly by the strike in Venezuela, the invasion of Iraq, hurricane Katrina and the unrest in Nigeria.
Certainly, at the hearing in 1996 I did not discuss the possibility of short-term problems in the market (that I recall). In fact, it is normally taken for granted by oil price forecasters including myself and DOE, that prices might, in the short term, rise sharply because of political disruptions of supply. However, in other publications, including your alumni magazine Technology Review ("The Next Oil Crisis, November/December 1987), the shift in the market from one of surplus capacity to tightness was described as causing much greater price volatility—on the upwards side of course. This matches what has been seen in the past five years, I would argue, as opposed to the permanent change you foresaw due to resource scarcity or growing OPEC or Persian Gulf market power.
And, although many have taken exception to my description of peak oil advocates as neophytes, I would argue that you are an excellent example. To my knowledge you have no training in resource economics and no particular expertise in the oil industry, or in forecasting. Nor have you ever produced a detailed oil market forecast to my knowledge, and certainly not a successful one. (Arguing in 1996 that oil prices would rise is rather like predicting that long-term crop prices would rise, and then pointing to a later drought as evidence of your foresight.)
A Wager on Oil Prices: How Does $65 per Barrel Sound?
Realizing that you are not an economist, it nonetheless should be obvious that price levels are not proof of peak oil, as they have fluctuated quite a bit historically and long before peak oil ever occurred (even assuming it has now). A wager on price is, first and foremost, a wager on the perceptions of many industry players on the value of oil, not on the value of oil. (This was something Keynes discovered, to his regret, after losing money on his investments.) Many of those investing in oil and related instruments are not particularly cognizant, and even if they were, they correctly realize that money can be made by wagering on the misperceptions of others. I would recommend the excellent book, Devil Take the Hindmost, for a discussion of profiting from bubbles and how momentum trading can take prices far beyond what the fundamentals of the industry imply are valid.
It is good to see that you have not repeated the egregious mistake of Paul Ehrlich in his famous 1981 wager against Julian Simon, when he bet that mineral prices would rise over the coming decade after a period of heavy inflation had just occurred. However, please assume that I am not so arrogant as to neglect your own writings, particularly where you predict $100 by mid-2010, and argue that a price under $200 is not sufficient to balance markets in the long-term (2030) citing the IEA. More recently, you seem to be applauding Deutsche Bank's prediction of $175 by 2016.
Obviously, you prefer to wager on the most advantageous terms that you can achieve, so I will not hold you to the $100+ target, but suggest instead, we choose a midpoint, say $65? per barrel adjusted for inflation. And I'll give you even odds.
Beyond that, of course, there are any number of events which could affect the price (although I am grateful that you have not suggested a wager on a single date, recognizing that a single day's price is not indicative of much of anything).
Still, I am willing to accept the concept of a wager on prices during the 2010–2015 period, albeit not at the price level you suggested. Not to accept my offer of $65 per barrel, indeed, makes you a closet oil bear, not a peak-oil bull. It should be an easy one for you to accept.