Offshore Headwinds for Biden
By
Allen Brooks
-- March 23, 2023
"Last year, every offshore wind equipment manufacturer reported substantial financial losses as raw material costs, order delays, labor problems, and antiquated manufacturing plants overwhelmed their revenue gains. Correcting these problems necessitates higher equipment prices, reduced manufacturing capacity, and/or relocating to lower-cost countries. These steps can set back delivery times and delay project start-up dates. Developers are also finding that building Jones Act-compliant installation and support vessels are taking longer and costing more, further challenging their projects' economics."
On Day One, Joe Biden canceled the Keystone XL pipeline construction permit issued by the Trump administration, costing union jobs. He rejoined the Paris Agreement on Climate Change so John Kerry could have a job.  It was no secret where this administration was heading. 
Days later, Biden issued an Executive Order calling for the nation to build "a new American infrastructure and clean energy economy that will create millions of new jobs." Its focus was the offshore wind industry, with a secondary effort on building an electric vehicle battery charging network. 
Two months later, the Biden administration convened a government and industry meeting to establish a target to build 30,000 megawatts (MW) of offshore wind by 2030 that would employ tens of thousands of workers. With this mandate, the administration was off and running – approving offshore wind leases, throwing money at developers to build offshore wind farms, and accelerating investment in modifications and upgrades to East Coast ports as staging points for building the thousands of wind turbines demanded.
The Pipeline For U.S. Offshore Wind Development Projects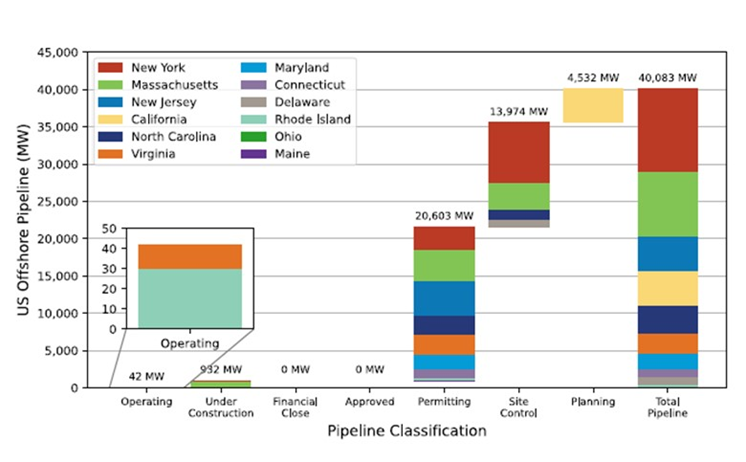 Source: DOE
Last August, the Department of Energy issued its 2022 Offshore Wind Market Report. The report highlighted the growing pipeline of offshore wind projects. Included in the pipeline were the two operating wind farms totaling 42 megawatts (MW), two projects under construction totaling 932 MW, and 18 projects in the permitting phase totaling 18,581 MW. It was only when planned projects were included that Biden's goal would be reached. The reality is that not all this capacity can be constructed within the next seven years. However, Biden will declare victory by counting the 20,000-plus MWs of planned projects.
Pushback To Offshore Wind
The timing of this substantial expansion of offshore wind generating capacity is questionable with the emergence of new headwinds.  These include challenging project economics as development costs are rising due to expensive raw materials needed for the turbines and power cables. Developers are finding support vessels and labor for construction and maintenance are more costly. Recently, Native Americans began pushing back on certain projects in their historical territorial waters. The more topical headwind is the mystery of the sharp increase in whale deaths in areas where offshore wind projects are being developed.  While not new, there is always opposition from coastal communities over the siting of wind turbines and the landings of offshore power cables, which is growing. 
When the first offshore wind farm (Cape Wind) was proposed in Nantucket Sound in 2001, wealthy Massachusetts coastal residents, including Kennedys, Kochs, and sitting U.S. senators, began lobbying against their location because they are an eyesore. Coastal communities dependent on tourism are concerned that visible offshore wind turbines will drive visitors away.  Moving them further away is the solution.  Put them beyond the horizon so they cannot be seen from shore.  For developers, it means increased construction and maintenance costs and more challenging wind farm economics. This additional cost is added to the cost inflation from more expensive raw materials, issues with their supply adequacy and more expensive labor to manufacture equipment and install the wind farms. 
Last year, every offshore wind equipment manufacturer reported substantial financial losses as raw material costs, order delays, labor problems, and antiquated manufacturing plants overwhelmed their revenue gains. Correcting these problems necessitates higher equipment prices, reduced manufacturing capacity, and/or relocating to lower-cost countries. These steps can set back delivery times and delay project start-up dates. Developers are also finding that building Jones Act-compliant installation and support vessels are taking longer and costing more, further challenging their projects' economics.
Another Party Wants Its Fair Share
Last month, the National Congress of American Indians, the largest national organization of American Indian and Alaska Native tribal governments, called on the Biden administration and the Department of the Interior's Bureau of Ocean Energy Management to pause offshore wind projects. The tribes want to be included in project planning, ensuring that measures are put in place to protect their environments and cultural heritages. 
The Native Americans do not want offshore wind farm projects to go forward unless "fair compensation" has been negotiated for the use of their lands and resources. Tracey Moriarty, chief of the Office of Communications at BOEM, responding to a reporter, wrote in an email, "We agree with NCAI that Tribes must have a seat at the table." She went on to write, "We are always working to improve the consultation process to engage Tribes in a respectful way." 
This new demand could become a problem for offshore wind farm developments as the Biden administration has made commitments to consult tribes and respect Indigenous knowledge in forming governmental policies. Could the administration go against such a commitment? 
Such a step is further complicated by Secretary of the Interior Deb Haaland, a member of the Pueblo of Laguna tribe and the first Native American to become a cabinet secretary, having previously stated that tribes should "have a seat at the table for every decision that impacts them and their communities." 
The Whale Problem
Much of 2023's environmental news has been focused on the jump in the number of whale deaths and whether the increase is related to offshore wind development activity. Since December 2022, twenty-three whales have washed ashore along the East Coast, with 12 having landed on the New York and New Jersey coasts. 
With each whale death, the blood pressure of offshore wind critics rises.  This has led to demands offshore wind development activity be paused until the whale deaths can be investigated and a cause identified. So far, BOEM and the National Oceanic and Atmospheric Administration have claimed there is no linkage between whale deaths and offshore wind activities. That conclusion was supported by a recent report by the Marine Mammal Commission, an independent federal agency charged with protecting whales, dolphins, and other marine mammals by overseeing science, policy, and management actions. 
The MMC noted that while there had been 16 humpback whale deaths this winter, 10 or more humpback whales have died every year since 2016, with a high of 34 in 2017. These agencies dismiss claims of a historical increase in whale deaths in recent months. 
Echoing the conclusions of NOAA and BOEM, the MMC commission said, "Despite several reports in the media, there is no evidence to link these strandings to offshore wind energy development." Previously, NOAA stated: "At this point, there is no evidence to support speculation that noise resulting from wind development-related site characterization surveys could potentially cause mortality of whales, and no specific links between recent large whale mortalities and currently ongoing surveys." It went on to state, "We will continue to gather data to help us determine the cause of death for these mortality events.  We will also continue to explore how sound, vessel and other human activities in the marine environment impact whales and other marine mammals." 
While all three agencies categorically dismiss any linkage between offshore wind activity and whale deaths, they all acknowledge that their conclusions are based on the 40% of dead whales that have been examined. They also note that there may be more deaths not seen. In a telephone conference call with reporters in mid-January examining the spike in whale deaths, officials commented that whale hearing bones are among the quickest to deteriorate in dead whales. That suggests maybe not as much is known about potential hearing damage from offshore sounds generated by construction work as implied by the statements of no evidence. 
The transcript of the conference call included some interesting information.  There was a discussion of the hearing frequency of different types of whales. Some species hear within the audio range of the output of the seismic equipment used to survey the ocean floor, while other species do not. While there is "no evidence" this activity is causing whale deaths, there was no mention of whether the agencies have any evidence that the sounds might be disorienting whales causing them to stray into the expanded shipping lanes experiencing increased activity with the end of economic lockdowns where they are struck by vessels. 
Another discussion point was the impact of climate change on whales.  Climate change does not directly cause higher whale death rates, but it may contribute to their deaths. How? In response to a reporter's question about the climate change impact, NOAA official Sarah Wilkin explained: "Vessel strikes are of occurrence when there is overlap between where the whales are and where vessels are in the water. And there are changing patterns, there may be, the whales will be following their prey.  And so, as prey shifts, we will get shifts in distribution of the whales. As whale abundance increases, we will get more whales in different places. So, and then vessel patterns change too." 
While NOAA Fisheries officials talk about climate change warming the oceans and causing fish to move into new areas, whales may face increased exposure to vessel strikes. It is also possible underwater noise is causing the whales' prey to move closer to shipping lanes. Ships engaged in commercial trade are not required to maintain whale watches nor are they required to report whale strikes. These ships are also not required to observe reduced vessel speeds in those areas where whales are known to be. 
Walking A Political Tightrope
It is interesting when digging into NOAA, BOEM, and MMC reports, that each organization says it needs more research on the issue of underwater sound and whale deaths. Does politics make these federal organizations declare no linkage between whale deaths and offshore wind development, while elsewhere they express caution about such conclusions? 
Stating anything other than a clear denial of a linkage could jeopardize the offshore wind program, a signature effort of the Biden administration. Good bureaucrats always toe the party line. That still does not ease the inflationary pressures offshore wind developers face. Now that Native Americans see how much money Biden is willing to throw at the offshore wind industry, how much more will it cost to get them onboard? Unintended consequences will make achieving Biden's target of 30 GW of offshore wind capacity by 2030 less of a certainty.