Global Nuclear Plant Construction Moves Forward, Except in the U.S. (Politics and market conditions make it tough for a large-scale rival to carbon-based energy)
By Robert Peltier -- November 24, 2009
July 17, 1955, was the first time electricity generated by a U.S. nuclear power plant flowed into a utility grid. In what then was an experiment, Utah Power & Light plugged in the Argonne National Laboratory experimental boiler water reactor, BORAX-III.
The plant produced merely 2 megawatts for more than an hour, as planned. Since then, the U.S. nuclear industry has steadily improved their ability to effectively manage the operations and maintenance of nuclear power plants. Now,  more than 50 years after that first nuclear power supply, America lags far behind even developing nations in new construction. New roadblocks threaten to further erode progress in the U.S. Whether this is good or not I will leave to the reader, but here is a snap-shot of the situation facing the U.S.
Significant Global Growth
Today, 436 nuclear power plants are in operation in 30 countries with a total capacity of 370 GW, according to the International Atomic Energy Agency (IAEA). The U.S. operates 104 of those plants, totaling a bit over 100 GW of installed capacity. France is runner-up with 59 operating plants and one new plant under construction.
As with picking stocks, the U.S. nuclear industry's past performance may not be a predictor of future performance. According to IAEA, 53 reactors, rated at just over 47 GW, are under construction around the world today (here). In the U.S., the only "new" nuclear plant is Watts Bar Unit 2. Construction of that unit was stopped in 1985 but restarted two years ago. When completed in 2013, Watts Bar Unit 2 will add almost 1.2 GW to the Tennessee Valley Authority grid (Figure 1). 
Figure 1. The number of reactors under construction worldwide. Source: IAEA
Developing Countries Pick Nuclear
The location of these new reactors provides a peek into where the U.S. fits into the global nuclear marketplace. Unexpectedly, the countries with the largest fleets of operating nuclear plants are not the countries looking to add plants. As many as 20 countries will build nuclear plants by 2030 that do not currently have one.
The numbers also indicate that developing countries are likely to lead the industry in new construction in future years. For example, China, with 11 operating nuclear plants, leads the planet with 16 more under construction. Five of those plants broke ground in 2009 and six in 2008. Next, the Russian Federation, with 31 operating reactors, has another nine reactors under construction. Tied for third place, with six reactors under construction, are India (17 operating reactors) and the Republic of Korea (20 operating reactors). Japan will have 55 nuclear plants when its two units now under construction are completed.
Here's another interesting observation that helps put the lack of progress of the U.S. nuclear program into perspective. The explosive growth of global nuclear power construction is determined not only by the number of projects under construction but also by the number of projects that have been recently completed. IAEA statistics show that the last nuclear plant to enter commercial service (ignoring the Browns Ferry 1 restart in 2007) was China's Tianwan 1 and India's Tarapur 3, both in mid-2006. This fact seems to indicate that there is a growing amount of nuclear work in progress; however, it remains a fraction of the peak of 233 plants in 1979. The average has been around 30 to 40 plants under construction over each of the past 15 years.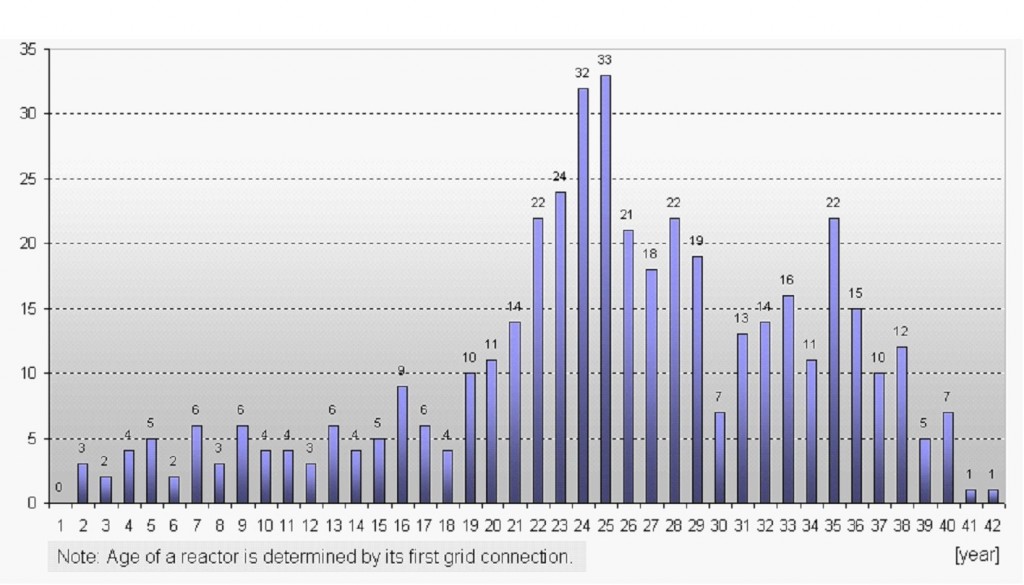 Figure 2. The rate of global nuclear plant construction has dropped considerably from its peak in the late 1970's. Shown are the world's operating reactors by age, as of March 2009. Source: IAEA 
Power uprates and capacity factor improvements in the U.S. nuclear fleet over the past two decades have added the equivalent of over a dozen new nuclear plants. That experience is not unique to the U.S.  Global nuclear availability factors have increased from an average of 72.3% to 83.2% since 1990. During the past 25 years, power uprates have accounted for two-thirds of the total increase in global nuclear energy produced, while new construction produced one-third of the increase. The global improvement in the operation and maintenance of nuclear plants is just as astounding as improvements in the U.S. over the same period.
Politics Begets Politics: New Speed Bumps
In the November issue of POWER magazine, I predicted–too soon it turns out–that Georgia Power's plans to add two new AP-1000 reactors to their Plant Vogtle would represent the first wave of new nuclear plants to be constructed in the U.S. (here). The cost of the two units is currently estimated as $14.4 billion.  That prediction seemed reasonable as the NRC issued Plant Vogtle an Early Site Permit for its two new units in August and the regulatory climate for nuclear is very good in Georgia.  Also, the two new units at Plant Vogtle are the reference plant for the AP-1000 under NuStart making it very likely to be the first licensed installation of the Westinghouse technology. At the time I wrote that article, Plant Vogtle was expecting to begin construction in 2011. Also, the Westinghouse AP-1000 plant design has been identified as the technology of choice by at least 14 possible new plants in the U.S., including six for which the company has signed engineering, procurement, and construction contracts. All-in-all, it seemed like a safe bet.
But it was just after deadline on my article that the roof fell in on the AP-1000.  The NRC sent a notice on October 16 to Toshiba Corporation (owner of Westinghouse Electric Co. and the AP-1000 design) that it had not adequately demonstrated the structural strength of certain components of its reactor design, specifically for the shield building. The shield building protects the reactor's primary containment from severe weather and other events, but it also provides a radiation barrier during normal operation and supports an emergency cooling water tank.
Though the NRC would continue reviewing the remainder of the next-generation reactor's design certification amendment application, it told Toshiba Corp. that it expected the company to make design modifications and conduct testing to ensure the shield building design could sustain its safety functions.
Then Rep. Ed Markey (D-Mass.) piled on. He suggested that loan guarantees for new nuclear power plants should not be awarded until the NRC has fully reviewed plans for a proposed project and granted it a combined construction and operating license (COL).  "Otherwise valuable taxpayer support would be set aside for a project that may not pass regulatory review," the chair of the House Energy and Environment Subcommittee said in a letter  to Energy Secretary Steven Chu.
Markey's position, given his opposition to nuclear power, was not unexpected but clearly calculated to cause maximum damage to the industry.   Chu has not responded to Markey's letter publically but should Chu adopt Markey's suggestion, then seven of 17 COL loan guarantee applications that are based on the AP1000 design would be set aside. These include two projects said to be shortlisted for the DOE's loan guarantees: Southern Co.'s Vogtle plant in Georgia and Scana Corp.'s V.C. Summer plant in South Carolina. The other technologies, including General Electric's Enhanced Simplified Boiler Water Reactor (ESBWR)  and Areva's Evolutionary Power Reactor (EPR) are several years away from receiving NRC approval. In essence, removing the AP-1000 from the short list of reactors eligible for loan guarantees will push the next new generation of nuclear reactor to be constructed in the U.S. several more years into the future.
Large Market for Nuclear Power Remains Untouched
The U.S. remains the largest single market for new nuclear power plants given its 30-plus applications pending before the Nuclear Regulatory Commission. Nevertheless, the U.S. is also unable to produce pressure vessels and key forgings, it has an unproven new licensing system, it has an administration that seems to be ambivalent about the advantages of nuclear power, and it has a nuclear industry distracted by a potential quick profit from the carbon allowances promised by passage H.R. 2545. The U.S. nuclear industry is producing paper while other countries are pouring concrete.
The Roman poet Ovid is credited with observing that "tempus edax rerum" ("time [is the] devourer of all things"). I hope he wasn't talking about the nuclear future of the United States. But maybe in the era of superabundant natural gas (not to mention coal supply) nuclear's renaissance will have to wait until technology and politics combine to create a truly competitive alternative to fossil-fired electricity generation.