Population, Consumption, Carbon Emissions, and Human Well-Being in the Age of Industrialization (Part II — A Reality Check of the Neo-Malthusian Worldview)
By Indur Goklany -- April 23, 2010
Editor's note: This is the second of a four part series. Part I provided a long-term view of commodity prices, their affordability and the impact on human well-being. Here, Indur M. Goklany looks in more detail at global trends in human well-being in the Age of Industrialization, from 1750 – 2007. (Part III and Part IV are here.)
In the worldview of many environmentalists and Neo-Malthusians, as population and economic development increase so does the consumption of energy, land, water and other natural resources. Originally, Malthusians feared that we would run out of these resources, and natural resource–based products, particularly food, would be in short supply, resulting in famine and a general decrease in human well-being. But as shown in the previous post, instead of becoming scarcer, resources (such as metals and food) actually have become more affordable, and the hunger and famine that had been foretold went AWOL. [I will out of charity, not beat the dead horse of Paul Ehrlich's failed predictions.] Elsewhere, I have also shown that, at least before the enactment of government policies to boost biofuels, land and water use had, more or less, stabilized in the richer world and, possibly, worldwide (see here and here).
Today, Neo-Malthusians focus more on pollution, environment, and climate change, consumed by the notion that the by-products of all the production and consumption that underlies humanity's economic activity would overwhelm the earth's assimilative and regenerative capacities. This view is captured in the identity, I = PAT, where I is a measure of impact (usually, environmental impact); P is the population; A stands for affluence, and is measured by per capita production or per capita consumption and often proxied by the gross domestic product (GDP) per capita; and T, denoting technology, is a measure of the impact per unit of production or consumption. Notably, the product of P and A is the GDP, that is, consumption. Therefore, under the IPAT formulation: (a) T is the ratio of impact to GDP, which I will call "impact intensity," and (b) the impact should grow in proportion to GDP.
As noted here:
The IPAT identity has been remarkably influential. It has intuitive appeal because of its apparent simplicity and seeming ability to explain how population, consumption or affluence, and technology can affect human and environmental well-being. It serves, for example, as the "master equation" for the field of industrial ecology (e.g., Graedel and Allenby 1995). One of its versions underpins the Intergovernmental Panel on Climate Change's emission scenarios … (IPCC 2000, pp. 83–84)…
Despite recognizing that "benign" technology could reduce some impacts, many Neo-Malthusians argue, to quote Jared Diamond (2005, p.504), it is a mistake to believe that "[t]echnology will solve our problems." In fact, goes this argument, "All of our current problems are unintended negative consequences of our existing technology. The rapid advances in technology during the 20th century have been creating difficult new problems faster than they have been solving old problems…" Diamond (2005, pp. 505). Ehrlich and co-workers argue that for most important activities, new technology would bring diminishing returns because as the best resources are used up (e.g. minerals, fossil fuels and farm land), society would increasingly have to turn to marginal or less desirable resources to satisfy demand which would increase energy use and pollution (Ehrlich and Holdren 1971; Ehrlich et al. 1999).
According to the IPAT identity, if all else remains the same, an increase in population, affluence or technology would each act as multipliers for environmental impact (e.g., Ehrlich and Holdren 1971; Ehrlich 2008). And as that impact increases, human well-being would necessarily deteriorate. The IPAT identity has been used to support the contention that the human enterprise as currently constituted is unsustainable in the long run, unless the population (P) shrinks, we diminish, if not reverse, "overconsumption" or economic development (A) (particularly in the United States), and apply the precautionary principle to new technologies, which in their view essentially embodies a presumption against further technological change unless the technology involved is proven safe and clean in all respects (Ehrlich and Holdren 1971; Ehrlich and Ehrlich 1991; Myers 1997; Raffensperger and Tickner 1999).
But do empirical data support the notion that increasing population and consumption coupled with technological change reduces human well-being?
Figure 1 shows global trends from 1760 onward for population, affluence (GDP per capita), CO2 emissions, and life expectancy (a surrogate for human well-being).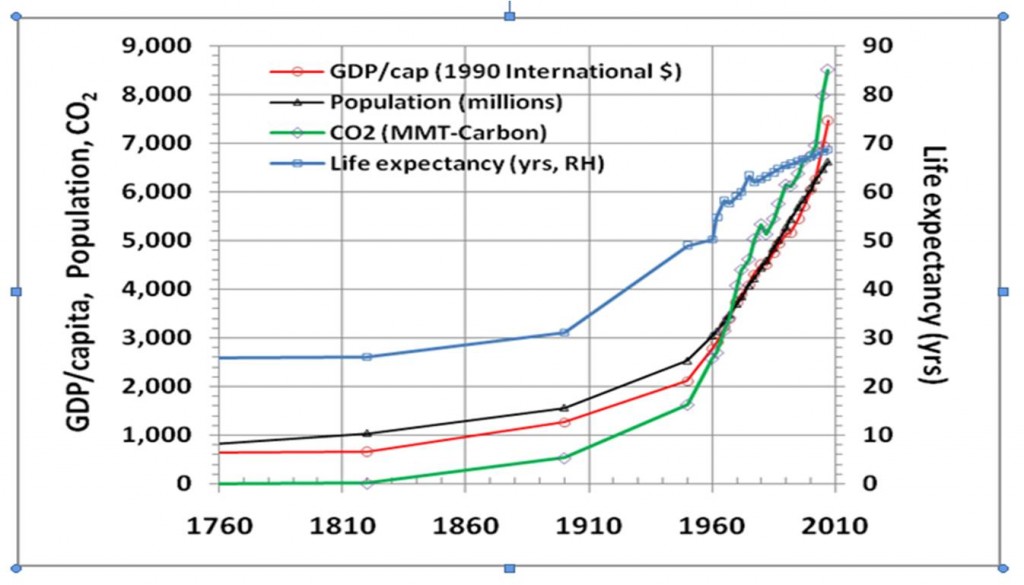 Figure 1: World population (P), GDP per capita (A), life expectancy (LE), and CO2 emissions from fossil fuels in the Age of Industrialization, 1760-2007. Data for P, A and LE are sporadic until 1960. This figure assumes that trends between adjacent data points are linear. Sources: Maddisson (2003, 2010); World Bank (2009); CDIAC (2009).
It shows that contrary to the Neo-Malthusian worldview, despite an octupling of global population, and increases in affluence by an order of magnitude and CO2 emissions by three orders of magnitude, the state of humanity — as measured by average life expectancy at birth, the single most important indicator for human well-being — has advanced. In fact, life expectancy more than doubled from 26 years to 69 years. Table 1 summarizes the changes from 1750 to 2007.

Table 1: Global Population, Affluence, CO2 emissions, and Life Expectancy, 1750–2007. Sources: Maddison (2010), CDIAC (2009), World Bank (2010).
Not only are we living longer, we are also healthier, as is evidenced by the fact that for virtually every country, the Health Adjusted Life Expectancy — life expectancy adjusted downward to account for life years spent in poor health — currently exceeds the unadjusted life expectancy from a few decades ago (see, The Improving State of the World: Why We're Living Longer, Healthier, More Comfortable Lives on a Cleaner Planet, page 40). And as anyone who has travelled elsewhere recognizes, water and food are safer in richer countries.
By contrast to safe food and water, the situation with respect to other environmental indicators is more complex. Empirical evidence suggests that as countries advance economically and technologically, some environment indicators (e.g., air pollution and some water pollutants) first gets worse, then, as they achieve a certain level of development, the environmental deterioration peaks and the indicator begins to improve again. This "environmental transition" can be explained by the environmental transition hypothesis that initially societies opt for economic and technological development over environmental quality because such development allows them to escape from poverty and improve their quality of life by making both needs and wants (e.g. food, clean water, education, health, homes, comfort, leisure and material goods) more affordable. But once basic needs are met, society begins to perceive that environmental deterioration compromises its quality of life, and starts to address its environmental problems. Being wealthier and having access to greater human capital, it is now better able to afford and employ cleaner technologies. And also with the passage of time, society now has access to improved technologies that are cleaner and/or more effective. Consequently, environmental deterioration is, first, halted and, then, reversed. Thus, technological change and economic growth may initially be the causes of environmental impacts, but eventually they work together to effect an "environmental transition" — after which they become a necessary part of the solution to environmental problems. Thus we see that rich countries have better air quality, for instance, as do many poor countries, while countries in-between have worse air quality.
Figure 2 presents a stylized representation of the Environmental Transition Hypothesis.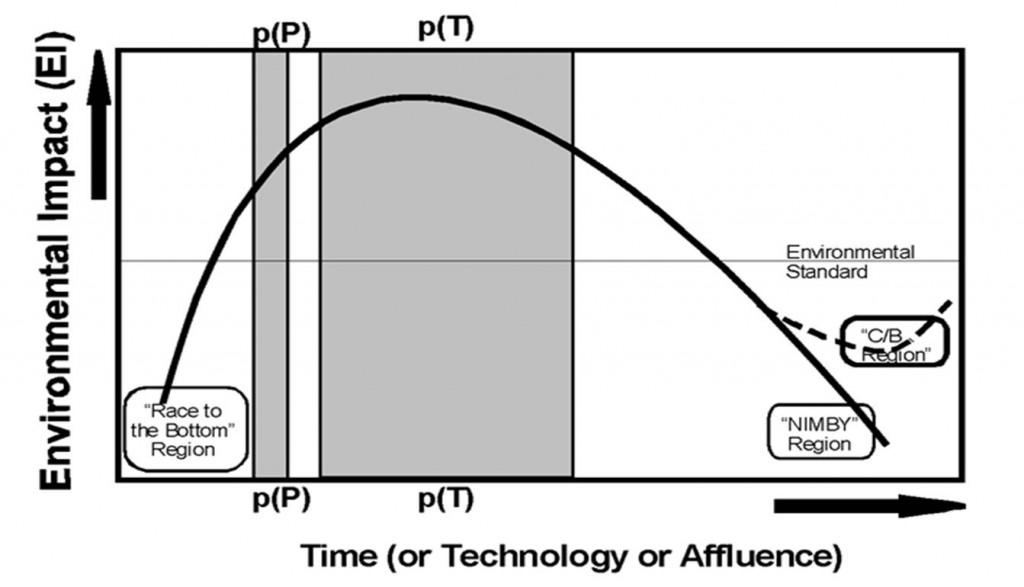 Figure 2: A stylized depiction of the Environmental Transition Hypothesis, a generalization of the Environmental Kuznets Curve. It shows the evolution of environmental quality – the negative of environmental impact (EI) – as a society evolves from a low to a high level of economic development. The figure assumes that affluence and technology advance with time, which is broadly consistent with historical experience since the start of the Industrial Revolution. NOTE: p(P) = "period of perception," the period during which the notion that environmental degradation can compromise human well-being gains acceptance; p(T) = "period of transition," the period over which that perception leads to actions which eventually reduce environmental degradation; "Race to the Bottom Region" (where society strives to increase economic development despite increasing EI); NIMBY Region = "not in my backyard region" (EI enters this region if benefits far exceed costs to beneficiaries); C/B Region = cost/benefit region (where benefits and costs have to be more carefully balanced). Source: Goklany (2007)
In my next post, I will focus on long-term trends for population, consumption, and affluence for the U.S., and verify whether its human and environmental well-being have been compromised by the increased use of fossil fuels, synthetic chemicals, metals and other materials.