Dear Wind Industry: We Need Your Workers and Materials (and taxpayers need your cessation)
By Robert Bradley Jr. -- March 6, 2012
"The stakes here could not be clearer. Economic studies have shown that Congressional inaction on the PTC will kill 37,000 American jobs, shutter plants and cancel billions of dollars in private investment. Congress needs to understand that, with PTC uncertainty, layoffs have already begun and further job losses and even plant closings will accelerate each month as we near expiration in December."

– Denise Bode, quoted in American Wind Energy Association, "As Wind Manufacturing Job Losses Loom, Bipartisan Wind Extension Drive Continues (February 16, 2012).
Three cheers for market-driven resource reallocation for personal and economic betterment.
Some of us can speak from personal experience. I was part of the 4,000-person layoff from Enron Corporation on Monday December 3, 2001. The economy became a little more efficient that day, as many started getting jobs at other energy companies and elsewhere where consumer demand was stronger.
Such is the 'creative destruction' of the market economy where the good replaces the bad, and where the even-better replaces the good.
The windpower industry is entering what could well be the beginning of a death cycle. Industrial wind is increasingly losing its special ratepayer and taxpayer support with democracies in deficit and consumers in search of cost and reliability advantages.
Judging from the 'help wanted' signs, the oil and gas industry stands ready to absorb the precious resources that have gone into the 'Enron' of energy sources. Some workers will need to be retrained, while others will find a closer integration of skills.
Perhaps even the employees of AWEA can become true environmentalists or libertarian to argue against ethanol and on-grid solar and light bulb mandates to close deficits and increase personal liberty. The pro-consumer, pro-taxpayer movement can always use a few more good women and men!
Risky Business
The plight of the (artificial) wind industry should be blamed on yesterday's government and political capitalism, not on the inevitable decline of taxpayers' subsidies. Crony capitalism is risky business. "He who lives by a legalized sward, will perish by a legalized sword, Ayn Rand stated forty years ago." (1)
Free-market economist Ludwig von Mises observed decades earlier: "It is precisely the fact that the market does not respect vested interests that makes the people concerned ask for government interference." (2)
Never-Should-Have-Been Industry
Windpower, indeed, is the industry that never should have been. The perfect imperfect energy, windpower was refuted by William Stanley Jevons in 1865 and John Droz in 2011–and many times between.
Here is some wisdom from 1838 on the limits of windpower, specifically "the irregularity of its force":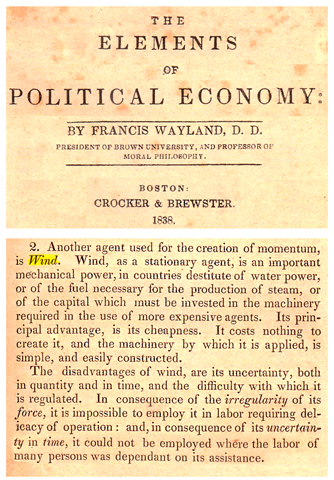 Windpower is its own worst enemy because it is dilute, irregular energy flow compared to a stock of dense, stored energy. Reality bats last, as they say.
———————————–
(1) Ayn Rand, "The Moratorium on Brains: Part Two," Ayn Rand Letter, November 8, 1971, p. 10.
(2) Ludwig von Mises, Human Action (4th Edition (1966), p. 337.