Greenish Politics in the Emerald Isle (an energy item for St. Patrick's Day)
By Michelle Foss -- March 17, 2009
Environmental protection and economic progress can and should be complementary. Innovation and deployment of naturally better technologies can enable us to be greener, wealthier, and happier.
But the politics of climate change can ruin the synergy. It becomes "environment" versus the economy. A case study is Ireland.
Ireland is a home to green politics, and, as in many other countries, the focus is on greenhouse gas (GHG) mitigation policies. While green activism has grown both through formal green political parties,and through sympathetic factions working within formal institutional structures, more important still is the ability of greens to exert pressure through coalition politics, especially in parliaments. This can imbue green parties or green-party sympathizers with considerable power to "gate keep" and control agendas.
The 2004 quinquennial elections across 25 European countries, billed the "world's biggest-ever multinational democratic vote," left green parties about where they started – just shy of six percent of the European Parliament. Across individual countries, the landscape is varied. Germany's Green Party (est. 1980) was the first national party devoted to environment activism. And as the largest green party, it has morphed into a relatively centrist, strong organization in the German political scene, diversifying well beyond its anti-nuclear base.
Ireland's Comhaontas Glas is nearly as old – formed in 1981, also with nuclear power, social justice, and other values in its charter. In 2007, in order to retain his post of prime minister, Bertie Ahern and his Fianna Fail party agreed to form a coalition with the Greens and Progressive Democrats. This put the Greens in government for the first time. Not insignificantly, they were awarded both the environment and energy cabinet seats, setting the stage for tensions surrounding Irish energy policy especially vis-à-vis European Union objectives.
In May 2008, Ahern lost favor and was forced down. Brian Cowen, who succeeded Ahern, accepted an aggressive push by Eamon Ryan, energy minister, to embrace the European Union's low-carbon targets mainly through ambitious development of alternative energy. Ireland's commitment is not charitable. EU member countries face stiff sanctions for not meeting the stated 2012 Kyoto-reduction target of 5.2 percent below 1990 levels. Among many other initiatives in his plan, Ryan intends to push the share of alternative energy on the country's electric grid to 40 percent by 2020.
But what will be the cost and competitive implications to Ireland's economy? Before the current global financial crisis, the country had the good fortune to be the fastest growing member of the EU, by virtue of its competitive tax regime and reduced regulation. Ireland also had the misfortune to be one of the most expensive countries in Europe with respect to energy for business–and one of the largest GHG emitters.
Ireland's power grid will need a Texas-sized boost to make Ryan's plan work. Plans call for roughly the same amount of investment as state regulators okayed for Texas's latest renewable-energy expansion ($5 billion). Yet, Ireland has to spread that cost over a population one-fifth the size (about four million).
Ireland's transmission investment would support a mere 900 or so megawatts (MW) of new renewable energy, assuming the full 40% increase is met and renewable energy reaches 15 percent of Ireland's total energy portfolio. By contrast, the Texas scheme, if accomplished, would bring on roughly 7,000 MW of new wind power.
Although wind is a target, Irish wave energy is promoted as the next big thing. While alluring, the timeline for development is uncertain. Meanwhile, two alternatives that could be pursued – natural gas and nuclear – are fraught with difficulty. Development of Atlantic Ridge fields, which some believe to hold as much as 50 trillion feet of recoverable natural gas (and 130 billion barrels of oil, but we won't count that) would give Ireland a competitive edge. Yet protests against facilities for offshore drilling and onshore pipelines associated with the Corrib Field have been vicious, including serious hunger strikes and vandalism. Corrib is off of Ireland's northwest coast, notable also as the location of the country's best marine energy potential. Even more troublesome is nuclear, given the history of opposition by Ireland's Greens and the deep schisms among Europe's greens in general on nuclear power.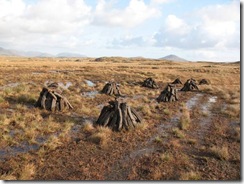 "Let them use peat?"
A senior government official admitted that Ireland was unlikely to meet the 2020 targets and that the benefits of climate goals were unclear. But never mind that. Painfully obvious is Ireland's need to sustain international trade, especially with its second largest partner, the United Statets. To do that, it must hope that the European Union can pressure the United States into adopting climate policies that will reduce its level of competitiveness.
Thus does the story on climate policies in Europe play out in American politics: as EU green parties and groups exert pressure for climate policies, inevitably raising the cost of doing business, European governments seek to the pull the United States into the fray in a last ditch effort to level the playing field. Misery loves company.
Greenish politics, anyone?