Vermont Environmentalists: 'Time Out' to Industrial Wind (Whoa moment in the Green Mountain State)
By Sherri Lange -- September 6, 2011
"What will we do when the wind turbines die? Will there be a 'deconstruction tax' placed on fossil fuels, oil, gas, and coal taking the blame for driving wind turbines into retirement?"
Former Governor of Vermont, Jim Douglas, says that wind turbines are the "wrong choice" for the famous ridgelines and natural beauty. Annette Smith, Executive Director of Vermonters for a Clean Environment (read her op-ed below), says "it's not too late," to examine the facets of building mammoth turbines in one of the most beautiful natural areas of America.
These new, important voices indicate that politically correct wind energy is creating a backlash in Vermont, as elsewhere.
Lifecycle Analysis
What is actually involved in the construction of huge turbines is often not thought of, unless, as Ms. Smith suggests, you are forced by proximity and imminence to consider the "engagement."
There is the transportation of huge parts (usually manufactured elsewhere such as in China or Denmark), parts that are often toxic (carbon fibers in the blades that cannot be recycled). Or consider the rare earth elements in the magnets, also highly dangerous, created out of and transported with oil and gas, lubricated with oil and petroleum products, mired in massive plugs of cement. Consider also how natural sites are dynamited for turbine sites, how forests are ripped up, and the social costs for those near the taxpayer-dependent activity.
Expect a short (12–15 year) life span for the turbines, not the 25 years the industry purports. Imagine when the subsidies dry up how the turbines will be left to rot in the sun, still a hazard for birds and bats.
The question must be asked: What will we do when the wind turbines die? Will there be a 'deconstruction tax' placed on fossil fuels, oil, gas, and coal taking the blame for driving wind turbines into retirement?
'Turbine Sacrifice'
The incredible destructive power of Industrial Wind has been long submerged into cozy green language, and false promises. It is the result of fast and very clever social marketing for over 30 years. The fact is, that "turbine sacrifice" (those creatures and landscapes destined for destruction in a radius of some say 10 miles) is a common feature of our relationships with this industry. But now people are saying, Whoa.
The Whoa Moment is burgeoning everywhere. Moratoriums and 'No' votes from the grassroots are reaching to all levels of government in all parts of the world. The movement against Natural Destruction is a force unto itself. The development of turbines intrinsically is a decision to "collapse, kill, dig, plug, reduce water quality, explode, and create unbearable noise."
What do Vermonters and others want of their habitats? Clearly not the destruction of eco systems and social systems that cannot be replaced. As Smith also attests, communities and relationships are also torn asunder. There is nothing safeabout this industry.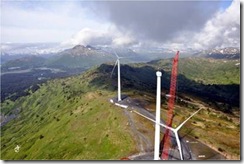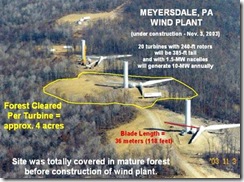 The downside of turbines on the ridgelines of Vermont will be equivalent to a slowly released toxic social and environmental mess: a Love Canal of sorts.
WHOA might well stand for: Wind Hammers Our America. It's not too late.
If turbines are not right for Vermont, they are also not right for important bird areas, wetlands, migration routes, in the Great Lakes, on prime agricultural land. Since turbines are now seen by many as a primitive junk science technology, we may as well begin to look at the recovery of industrial junkyards such as Hawaii's Big Island, or California's Tehachapi Gorge. Lessons have been learned. No need to press the replay button.
——————————–
Editor's note: This op-ed is by Annette Smith, executive director of Vermonters for a Clean Environment.
It is not too late for Vermont to stop and take a serious look at wind turbine development on our mountains. In fact, now is exactly the right time to step back and evaluate what we know, and build on experience.

When polled, most Vermonters say they support wind energy. Imagining the Searsburg turbines, I answered "yes, even near my house." They are only 197 feet tall, unlighted, not too many, not very visible. I thought they were beautiful when I saw them in 2001.

When Vermonters started calling VCE in 2009 seeking assistance with wind proposals, I quickly learned the technology has changed. Today's machines are "big. They're very, very big," said Jeff Wennberg, while promoting the Ira project. Vermont's Public Service Board (PSB) has approved four projects with turbines ranging from 410 to 459 feet tall. Vermonters have not been asked what they think about anything that big.

Vermonters who live near mountains where wind turbines have been proposed have learned about all the issues associated with the technology. Call them NIMBYs or wackos, yell at them if they use the word "industrial" instead of "utility scale," call them a vocal minority or a fringe group, they now number in the thousands and have had to become educated by reason of location.

If you live in the "sacrifice zone" of wind energy development (draw a circle with a radius of two miles from the ridgeline — you get the impacts but no compensation), you learn that wind turbines:

a) collapse, catch fire, throw ice, throw blades,
b) kill birds like raptors, and endangered bats
c) require cutting bear-scarred beech trees and fragmenting wildlife habitat
d) destroy songbird habitat
e) require hundreds of thousands of pounds of explosives to blast miles of new roads
f) require impervious road construction on highly erodible soils
g) require filling headwater streams and degrading water quality, resulting in fewer fish
h) make noise extending over a mile that can interrupt sleep and make people sick
i) are being permitted less than 200 feet from property lines
j) have blinking lights and industrialize the landscape
k) divide communities; turn neighbors, family members and towns against each other and more, with issues unique to ridgeline development in Vermont.

One large project is under construction in Sheffield, with 16 turbines 420 feet tall and seven miles of new roads. This kind of development is new to Vermont, and has the potential to change the face of the state. With more than a dozen communities targeted for proposals, this subject deserves more thoughtful consideration than is provided by two lawyers and one businessman in Montpelier who are making decisions on a case-by-case basis without any statewide planning.

Questions have been raised about PSB-approved wind projects that will be answered soon, once the Sheffield project goes on line and operates through a winter. We have the perfect opportunity to evaluate the performance of First Wind's project.

Will the stormwater control design protect the high quality water resources and control the volume of water coming off the mountains?

Will noise be a problem for neighbors?

Will the technology withstand brutal winter conditions?

Will lights be an issue?

Will wind turbines inhibit or enhance tourism and the second home market?

How many permanent jobs with benefits will be created?

What will the capacity factor be?

How many birds and bats, and what type, will be killed?

What happens to the wildlife whose habitat is changed?

Will the PSB enforce its conditions?

…. With so much at stake for Vermont, the prudent thing to do is stop, look and listen. Wind developers and our political leaders owe it to all Vermonters and our wild creatures to make sure we get this right.

On Friday, former Gov. Jim Douglas was on Vermont Public Radio and was asked about big wind turbines. He said, "…the natural beauty of Vermont is our strong suit, and to put these big machines on our precious ridgelines is not something that's in the state's interest…. I think it's the wrong choice for Vermont."

We have a lot to lose. Getting it wrong will be a very expensive mistake. For those people living near Vermont's big wind energy proposals, it already has been.