Wind Power as 'Misfit Technology': Comments of Tom Stacy at IER Seminar
By Thomas Stacy II -- December 10, 2013
"The wind PTC is not a financial leg-up to an equivalent quality source to make it price competitive with conventional sources. The wind PTC rewards a misfit technology for its lack of control over its fuel source – a fuel that will continue to behave badly no matter how 'price competitive' our subsidies make it."
This post reproduces my extemporaneous and prepared comments given at the Institute for Energy Research Panel on Wind Electricity, December 3, 2013.
——————–
There are basic things about the electricity system that everyone needs to know as a starting point.  For those who may not, let me retrace a simple concept: Electricity supply sources are of two basic types – those designed to be used nearly all the time and at a fairly steady and high percentage of their capabilities (base load sources), and those with greater flexibility, designed to be used less because at every instant year round there is a need for the sum of all electricity produced to precisely match demand fluctuations. 
These two basic types of electricity sources developed and grew together to become the leading providers because of their symbiotic characteristics, which turn out to be the most economical way serve our society with electricity on an ongoing basis.
Wind energy is neither type, but instead leverages more use of the latter at the expense of the former. This has negative economic and environmental implications on base load sources thereby causing negative societal consequences. Wind can be considered "parasitic" to base load sources while causing increased use of sources whose output can fluctuate to match variable demand, and now having to compensate for the variable supply of wind energy as well.
In the end, every unit of wind electricity produced requires at least two units of gas fired electricity to create a theoretical "hybrid dispatchable resource."  So a 10% wind mandate essentially becomes a 20% gas mandate which in turn can be seen as a 30% anti-coal and nuclear mandate.  Since existing base load electricity is cheaper and more energy efficient than new load following generation, this suggests wind's costs go beyond its internal costs to impose external costs on both base load generators and the environment.
With that extemporaneous background, let me proceed with my prepared comments.
——————–
I am here from Ohio to share how the wind Production Tax Credit (PTC) is perceived at home, and what its effect has been.
Many in Ohio see wind development as an unsightly blight and a wasteful tax shelter. Others see it as easy money, which it is – thanks to a laundry list of subsidies and inducements both legislated and through agencies of government, and even grid operating organizations. The wind industry's ability to secure special treatment at every turn is impressive indeed.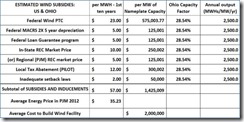 (CLICK ON IMAGES FOR GREATER RESOLUTION)
Ohioans are familiar with the ethanol mandate, its high direct and indirect costs, and are coming to understand the wind PTC takes energy socialism to a whole new level, rewarding MWHs produced in the middle of the night as if they were as valuable as those generated when electricity demand reaches its annual peaks. Ohio voters know wind has a fuel availability and timing problem. We know the PTC doesn't pay to correct that problem.
It makes it worse by inducing more of it. If the wind industry has their way, the PTC will continue year after year as it has almost continuously for the past 30. But continued expansion of this novelty technology – really an appendage of our fossil fuel dependency – without a way to economically store either wind currents as fuel or electricity, will turn a manageable problem today – into a much bigger problem of the magnitude now faced by the EU.
The industry's lobbying association, the American Wind Energy Association (AWEA), knows LOW VALUE is the real problem with wind, but cleverly turns our attention to "still high, but steadily declining costs" as the reason the industry needs the PTC to continue year after year after year.
They quite insincerely claim that, "Soon we won't need the PTC, but today we still do." Knowing full well lowering cost is not the answer. You see the wind PTC doesn't pay for the wind industry to fix the fuel supply intermittency problem.
Instead it ignores it – worse yet, it rewards it. It sends the signal to the entire electricity supply sector that fuel supply shortcomings are just no big deal. But the truth is the ability provide a constant supply of fuel – and carefully manage and control its consumption rate – is absolutely vital to our electricity system's efficiency and dependability.
Nobody is claiming that massive storage of electricity is financially or technically feasible, but storage, transportation and timely delivery of conventional electricity fuels certainly is. How is foregoing this requirement for wind electricity a good idea?
Ohio's green energy law, in place since 2008, goes so far as requiring half of mandated renewables to be purchased "from facilities located within the state." This is a clear per se violation of the interstate commerce clause of the U.S. Constitution. Yet a current and active bill (sub SB 58) has just been amended to thumb its nose at the U.S. constitution, continuing to withhold Ohio ratepayers their constitutional right to purchase green electricity at the lowest price from across state lines to our west.
Is there a federal agency which can and will address the unconstitutionality matter with our state? Now would be a good time to bring that up to the Ohio legislature.
The wind PTC is not a financial leg-up to an equivalent quality source to make it price competitive with conventional sources. The wind PTC rewards a misfit technology for its lack of control over its fuel source – a fuel that will continue to behave badly no matter how "price competitive" our subsidies make it.
Before considering an extension to this policy, Ohioans implore Congress to take stock of the measurable societal goals wind has achieved. Not the special interest benefit,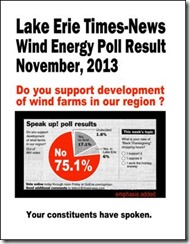 (CLICK ON IMAGE FOR GREATER RESOLUTION)
but the economic and social efficiency of the tax credit. As an Ohio citizen who has studied the issue thoroughly, I believe an honest evaluation will show that the Federal wind PTC is bad policy, and am confident Ohio voters will support its permanent and immediate elimination. Thank you.
—————-
Tom Stacy, Ohioan for Affordable Electricity, can be reached at tfstacy@gmail.com.