Food Miles: The Local Food Activists' Dilemma (a global warming inconvenient truth)
By Pierre Desrochers -- October 15, 2010
October 16th is World Food Day, an annual event that was inaugurated in 1979 by the Conference of the Food and Agriculture Organization (FAO) to mark its founding date in 1945. This year's theme, "United against Hunger," harks back to the FAO's original mission. So what exactly are the central food planners and the anti-industrial Left thinking about food-for-all these days?
Demonizing Capitalism's Food Bonanza 
With the advent of the "foodie" fad and the rise of celebrity chefs, discussions about the most effective ways to address hunger in poor countries have increasingly fallen out of fashion among advanced economies' food activists. Indeed, in a world where no good deed goes unpunished, the individuals most responsible for producing ever-growing amounts of food at ever more affordable prices – from large scale farmers, professional plant breeders, synthetic pesticide and fertilizer manufacturers to agricultural equipment manufacturers, commodity traders, logistics industry workers and packaging manufacturers – have increasingly been demonized as poor stewards of the Earth, if not outright public health threats.
What really motivates food activists these days are rather SOLE (Sustainable, Organic, Local and Ethical) food initiatives whose aim is to "liberate" consumers and communities from the grips of Agri-businesses. And here the critics have it just about all wrong.
Food Miles: The Environmental Metric
From an energy policy perspective, the most interesting aspect of recent food activism is "locavorism," meaning the idea that an ever- growing portion of our food supply should be produced in close physical proximity to final consumers in order to reduce "food miles" (the distance traveled by food items from production sites to final consumers).
Of course, there have always been perfectly legitimate reasons for consumers to buy local food, such as greater quality or freshness. The key point emphasized in the last two decades by local food activists, however, is that by discouraging consumers from buying food transported from distant locations, less energy – and ultimately less greenhouse gas – is being expanded, thus contributing to the fight against human-made climate change.
As has been amply documented in recent years though, the food-miles narrative ignores productivity differentials between geographical locations and is therefore meaningless.
In other words, activists assume that producing a given food item requires the same amount of inputs independently of where and how it is produced. If this were indeed true, then the distance traveled between producers and final consumers and the mode of transportation used would obviously be the only determinants of a food item's specific environmental impact.
In the real world, however, some locations are just much better suited than others for certain types of productions. To give but one example, Californian strawberries are grown most of the year under almost ideal conditions (neither too humid nor too hot). As a result, one hectare of Golden State will yield over 50,000 kilograms of berries, compared to 7,000 to 10,000 in our home province of Ontario (Canada) where the growing season is much shorter.
Higher annual yields, in turn, allow for a much more intensive and efficient use of fuel, capital, machinery and other resources through the development of significant economies of scale.
Agricultural Product Life Cycle
Any realistic assessment of the environmental impact of food production must therefore reflect the whole agricultural product life cycle which stretches from primary inputs to disposal activities (Table 1).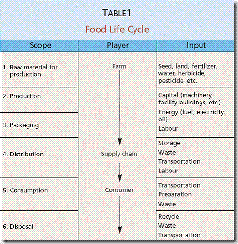 A 2005 study by the United Kingdom Department for Environment, Food and Rural Affairs (DEFRA) remains to this day the most comprehensive discussion of the food-miles controversy.
Among other findings, its authors showed that 82% of the transportation-induced greenhouse gas emissions are generated within the country, with car transport from shop to home accounting for 48% and heavy goods vehicles (trucks) for 31% while air and sea transport each amounted to less than 1%.
This latter result can be explained by the fact that a container boat floats and uses highly efficient diesel engines. Shipping food items halfway around the world this way often requires less energy per unit transported than using a truck for a few hundred kilometers.
Even more interesting, long-distance transportation is, overall, an insignificant cause of greenhouse gas emissions when compared to the most energy-intensive segments of the agricultural production chain (fertilizers, pesticides, irrigation, energy required to power machinery, etc.).
In the United States, a study even suggests that 4% of food-related greenhouse gas emissions were attributable to the long-distance transportation segment as a whole, while 83% came from the production stage.
The importance of seasonality in terms of energy input and CO2 emissions is also too often forgotten by activists. And yet, because the southern hemisphere's growing season coincides with the northern hemisphere's winter, shipping freshly picked from New Zealand or Argentina to U.K. consumers during their winter season entails less greenhouse gas emissions than the purchase by U.K. consumers of local apples that have been put in cold storage for several months (and, of course, the southern hemisphere apples will taste much better).
As a rule, physical environments that require significant heating and/or cold protection facilities and technologies entail much greater energy consumption than more favorable climates, typically on a scale that dwarfs the energy requirements associated with the transportation of agricultural products from more remote locations.
Inconvenient Truths
"Inconvenient truths" of this type are hardly surprising when one stops to think about the fact that the development of the globalized food supply chain was motivated by economic considerations. In this context, prices, while not perfect indicators because of worldwide systematic distortions (subsidies, tariffs, quotas, etc.) in the agricultural sector, certainly convey a much more accurate picture of overall input requirements than the geographical location of production sites.
As they have become increasingly unable to counter the "settled science" on food miles, local food activists have increasingly resorted to promoting the other alleged economic, social, health and security benefits of their prescription. As we will illustrate in our forthcoming book on the subject, however, all of these are old economic and political fallacies that have no basis in either theory or facts.
Although this goes against everything that local food activists hold to be desirable, the path towards greater agricultural sustainability lies in the complete liberalization of agricultural production and trade. With capital and labor free to flow in the most suitable locations, agricultural producers would be able to deliver larger volumes and lower prices while diminishing overall environmental impact. In the end, aren't these the stated goals of local food activists?
Pierre Desrochers is Associate Professor of geography at the University of Toronto. He maintains a detailed website here. Hiroko Shimizu was trained as an economist and holds a Master's of Public Policy from the University of Osaka.
Desrochers and Shimizu's local food policy writings can be accessed here. This entry is based on their economic note Will buying food locally save the planet? (Montreal Economic Institute, 2010) and their policy primer Yes, We Have No Bananas: A Critique of the Food Miles Perspectives (Mercatus Policy Series Policy Primer No. 8, October 2008).