Peeling Away the Onion of Denmark Wind (Part IV – CO2 Emissions)
By Kent Hawkins -- October 29, 2010
[Editor's note: Parts I-III provided insight into the complexities involved in any analysis of the Danish electricity system, showing (1) how unique the Denmark situation is, (2) that the details of electricity exports and imports must be understood for each of Denmark's trading partners, (3) the likelihood that most of Denmark's wind production is exported, and (4) an indication that the upper limit for manageable wind penetration is in the mid-single digits as a percent of domestic demand. Part IV now looks at the impact on CO2 emissions.]
Figure 1 is a simple look at CO2 emissions and wind electricity production, which explains the claims made by wind proponents based on a superficial examination of the information. Figure 1 shows what the Danish Energy Agency (DEA) reports based on an "adjustment" of actual CO2 emissions. 2007 was a windy year and 2006 was a notably low wind year.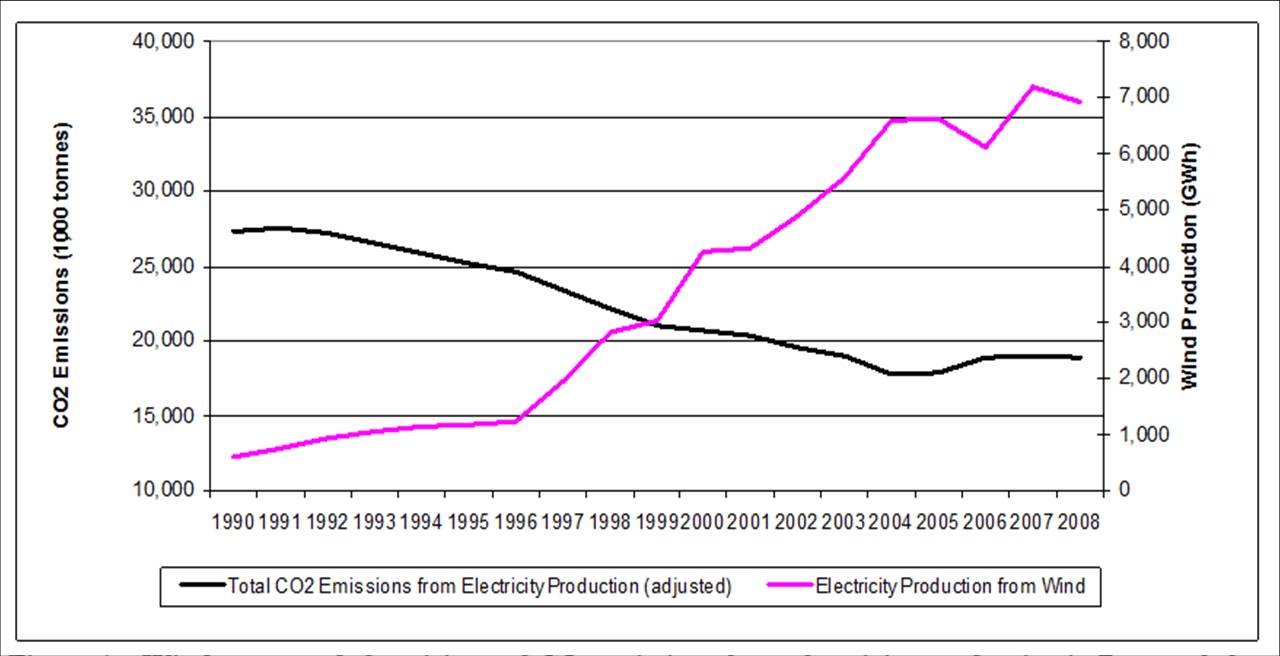 Figure 1 – Wind-generated electricity and CO2 emissions from electricity production in Denmark for the period 1990-2008. 1990 is the base year for Kyoto performance measurement. CO2 emissions are adjusted based on net exports of electricity.
This looks convincing on the surface, but is not substantiated by closer examination. There are many reasons not to look to the relationship between wind electricity production, or any electricity production, and CO2 emissions as evidence of cause and effect, and these will be covered later.
But first, it is important to understand what the actual (or "observed" using the DEA terminology) CO2 emissions in Denmark are before "adjustment". Even in this case, it must be remembered that emissions are not actually measured but are calculated using algorithms based on assumptions. Keep this in mind in connection with other considerations covered below.
The point is that Figure 1 does not show the actual CO2 emissions from electricity generation within Denmark because the DEA takes credit for net exports of electricity.[1] Figure 2 is Figure 1 restated using actual CO2 emissions.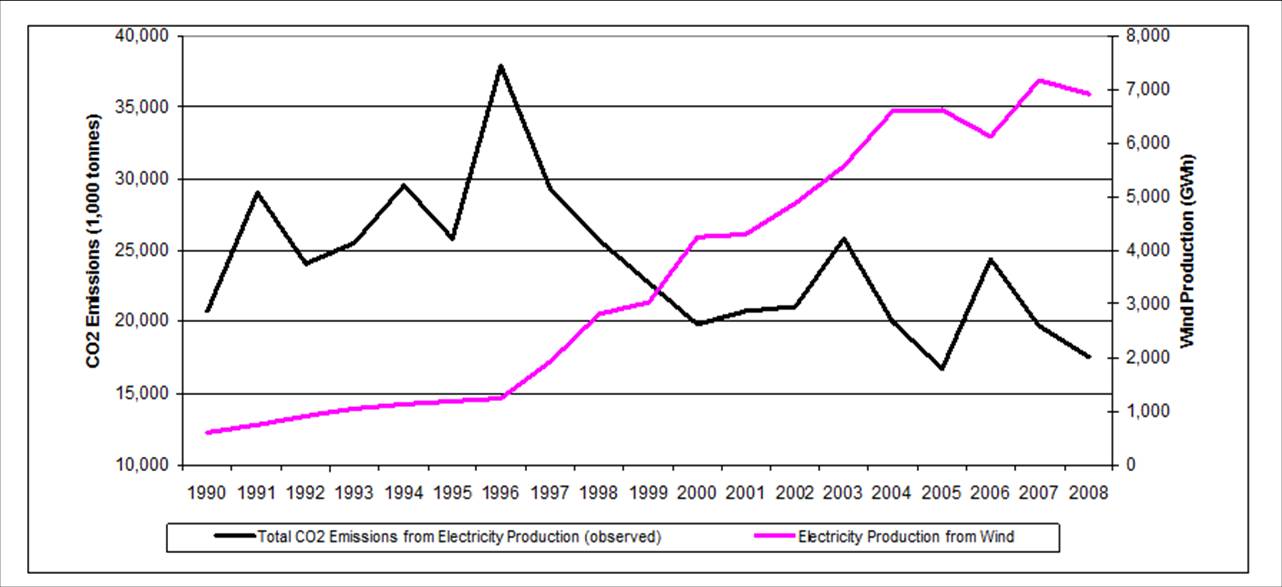 Figure 2 –Actual CO2 emissions from electricity generation and wind electricity generation. This removes the adjustment to CO2 emissions for the net exports of electricity.
There is still a downward trend in CO2 emissions, but less consistent and dramatic than shown in Figure 1. The reduction from the peak in 1996 was due to the significant reduction in fossil-fuel generated electricity exports, as shown in Part I, Figure 3. So, choosing any specific year as the basis of comparison to 1990 (Kyoto reference point) could be used to show different performance levels. For example look at 2006 (18% increase) and 2007 (5% decrease) in Figure 2. Also note the significantly higher "adjusted" base year (1990) levels in Figure 1. The percentage reduction in 2008 over 1990 is 31% for the "adjusted" emissions, and 15% for the observed emissions. Significant reductions occurred over the period 1996 to 2008, breaking an upward trend, with the greater use of natural gas as shown in Part I Figure 2. As well, Denmark has a strong energy efficiency record.
Actual emissions show significant year-over-year variations, and are not strongly correlated with wind generation. Figure 3 further illustrates this by looking at the year-over-year changes in wind generation of electricity and CO2 emissions. Although wind may have made some contribution with the availability of significant hydro resources for balancing, there are other, likely greater factors involved in the annual CO2 emissions levels, for example (some of which may overlap):
Changes in imports and exports
Changes in fuel types used each year, such as more or less gas versus coal
Changes in plant use due to maintenance or dispatch experience
Changes in plants, such as upgrades, or introduction of new plants

Figure 3 – Annual changes in wind electricity production and CO2 emissions. Note the absence of correlation.
For 8 of the 18 years, CO2 emissions do not change in opposition to changes in wind production. In the years that they did, the relative amounts varied considerably.
Why Adjustments to CO2 Emissions are Inappropriate
The DEA adjusts CO2 emissions depending on net exports/imports of electricity. In years of net exports, exported electricity is considered the export of CO2 emissions (fossil fuel produced) or CO2 emissions savings (wind produced). In years of net imports it is considered to be the import of CO2 emissions (fossil fuel).
The DEA does state that the adjusted CO2 emissions are not to be taken into account, except for some limited purposes.[2] However the reporting of adjusted numbers, which are quite prominently used throughout the report, compared to the above referenced clarification note, can be used mistakenly to attribute better performance than is real. The following illustrates the limited applicability of adjusted numbers for Denmark:
The export of fossil fuel generation, and associated CO2 emissions, will not likely be taken as an upward adjustment by the receiving country, so the CO2 emissions that occurred on the production side will be "lost" in the total accounting.
With the export of wind-generated electricity, and presumed reduction in CO2 emissions, the receiving country already has reduced some other electricity production, and the effect on CO2 emissions has already been taken into account. Further complicating this is the effect of wind production on any balancing needed by fossil fuel generation in either country that is not properly accounted for in their calculations of CO2 emissions.
The exported wind-generated electricity to Norway/Sweden is displacing hydro and there are no CO2 emissions to be saved as a result.
If it is assumed that the electricity exported to Norway/Sweden is fossil-fuel generated, it is displacing non-CO2 producing hydro.
The Balancing of Wind Consumed in Denmark
The other consideration is the effect of the wind that is consumed within Denmark. There seems to be the opinion that this is balanced by Norway/Sweden hydro. I suspect that this is only partially true, because balancing energy must fill the gaps in wind production over most of the range of wind capacity. This means about 3 times the wind production is required for wind balancing to provide "firm" supply. The sample years in Part III showed, based on hydro imports, this to be the most possible in wet years (2000, 2005, 2007 and 2008) and least possible in dry years (2003 and 2006).
Figure 4 shows the fossil fuel plant fleet efficiencies versus electricity CO2 emissions. Note that in the dry years the coal plant efficiencies fell, particularly in 2003, an especially dry year, and CO2 emissions spiked up. This is less obvious in 2006 from a plant efficiency point of view, but the continuation of the downtrend into 2007 (a wet year) can be explained by follow-on effects from 2006 conditions. Note also the general downward trend in coal plant fleet efficiency since the steady increase in wind production started in the latter part of the 1990's.
Gas plants seem less affected, but the gas fleet efficiency tends to fall in wet years, when wind exports to Norway/Sweden are lowest. A possible explanation is that "firmed" wind is exported to Germany. Firming can be provided by hydro, but with the relatively high levels of internal consumption of wind, gas plants may be called upon to a greater degree than otherwise for this purpose. The gas plant fleet efficiency peaks noticeably in 2006, a dry year, which could be explained by a number of considerations: the end of new plant implementations, more prolonged periods of use, including participating in fossil fuel electricity exports to Germany as suggested in Part III.
Le Pair and de Groot show that small reductions in fossil-fuel plant fleet efficiencies represent notable efficiency losses in those performing wind balancing.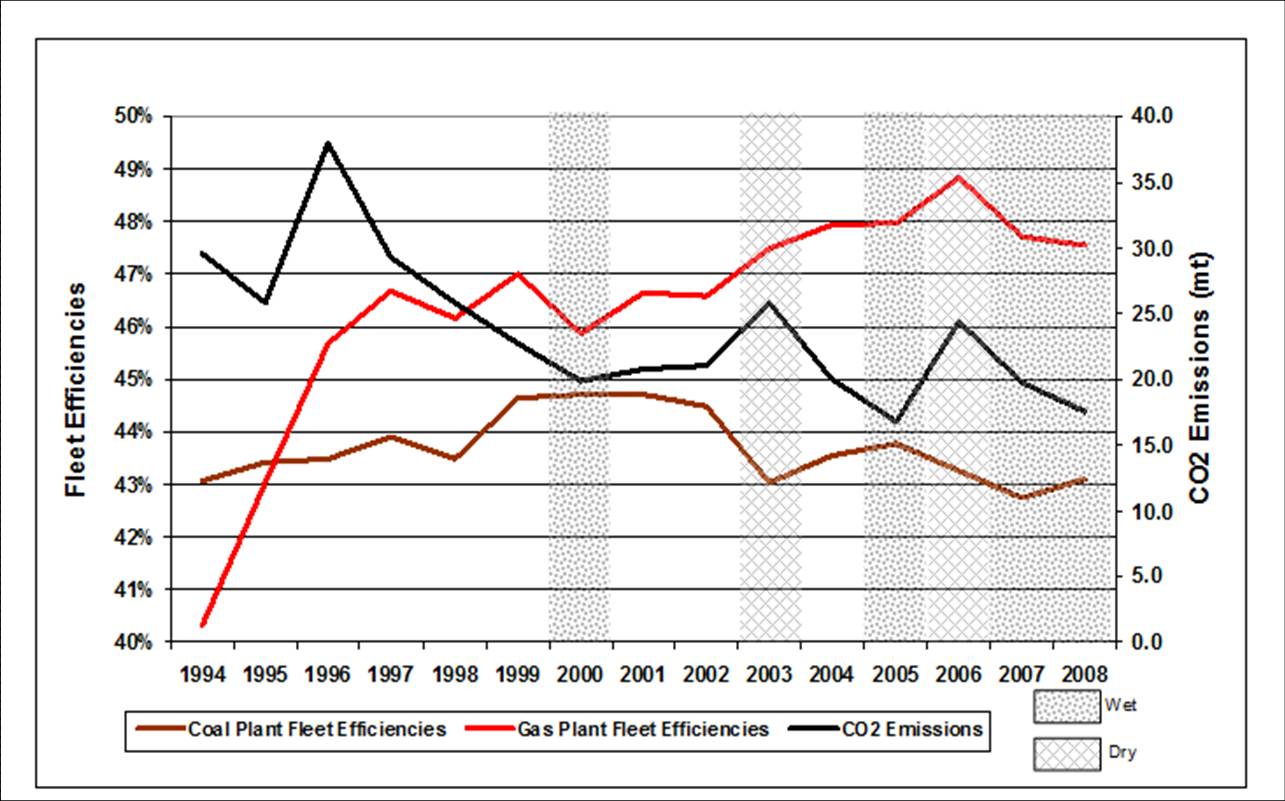 Figure 4 – Fossil fuel plant fleet efficiencies versus CO2 emissions from electricity production.
As explained in Part I, more than 50% of the CHP plant production is not heat and electricity combined, but electricity alone. It looks like coal plants are involved in some wind balancing within Denmark. In this case, the increases will offset the gains at the point of wind plant production. The downward trend in coal plant fleet efficiencies could be showing the impact of wind balancing in all years but to a lesser degree than in dry years. This means, in the absence of balancing hydro from Norway/Sweden, that the actual CO2 emissions for Denmark would be in the range of the 2003 and 2006 peaks, which could be about 25 million tonnes in 2008, versus about 21 million tonnes in 1990.
CO2 Emissions Savings from Wind
The best case for CO2 emissions savings as the result of wind production actually used in Denmark is if this is totally balanced by hydro from Norway/Sweden. This appears not to be the case, but the actual amount is not easily determined because of the many considerations involved, including the amount of wind used in Denmark, the split between Denmark and Germany of hydro from Norway/Sweden and the split within Denmark between hydro- and fossil-fuel balancing of wind.
CEPOS calculates the cost of using wind power to save CO2 emissions to be $124 (€ 87) per tonne, presumably depending primarily on hydro balancing, which is expensive compared to the value of emissions allowances traded on the European emissions trading scheme (ETS) which varied from € 1 to € 30 per tonne of CO2. Factoring in increased CO2 emissions from any fossil fuel plants used for wind balancing could add to these costs.
Is there a better way for Denmark to reduce CO2 emissions?
Do Norway and Sweden Provide Storage for Danish Wind?
Wind proponents claim that Denmark exports wind-generated electricity to Norway and Sweden and later imports this when needed. In effect Nordic water reservoirs provide storage, which is true. However in this exchange, Denmark receives little value for its exported wind, pays market prices for imports, and incurs transmission losses in both directions. Add to this imbalance that Denmark has paid heavily for its wind plants and the conclusion is easily reached that Denmark would have been better off financially, and operationally, not implementing wind plants and importing Nordic hydro-electricity when needed.
The savings in CO2 emissions would have been the same, and only because of the presence of the large hydro-generation plants in Norway and Sweden.
The lesson for other countries is that Denmark's unique circumstances allow (1) the high level of wind production in Denmark, (2) wind used domestically within Denmark, at about 5% of total electricity consumption, to make some small contribution to CO2 emissions reduction. Otherwise, with just fossil-fuel balancing resources, there is likely no emissions savings, and (3) Denmark does not enjoy any long term benefits in any other category.
For ease of navigation, the other posts in this series are:
Part I – Introduction
Part II – Details of Exports and Imports
Part III – Wind Electricity Used in Denmark
Part IV – CO2 Emissions (this post)
Endnotes
[1] Danish Energy Agency  (DEA) (2008). "Energy Statistics 2008" http://www.ens.dk/en-US/Info/FactsAndFigures/Energy_statistics_and_indicators/Annual%20Statistics/Documents/Energy%20Statistics%202008.pdf. Page 38.
[2] Danish Energy Agency  (DEA) (2008). "Energy Statistics 2008" http://www.ens.dk/en-US/Info/FactsAndFigures/Energy_statistics_and_indicators/Annual%20Statistics/Documents/Energy%20Statistics%202008.pdf. Page 39.
---