CO2 Positive: Europe is Losing its Contrived War
By
Allen Brooks
-- May 30, 2018
"The spat in Bonn highlights what many opponents of the Paris Agreement believed: the global climate crusade is really about redistributing global wealth."

"Expect European governments to announce revised carbon reduction targets, as their inability to reach their 2020 targets becomes clear. Kicking the ball down the road and focusing on the new goals makes it easier to avoid explaining why earlier targets were missed. Next year will likely usher in an era of environmental mea culpas from Europe."
Eurostat, the statistical agency of the European Union, reported that the organization's members' carbon emissions increased last year by 1.8% compared to 2016.
The performance of the individual countries was mixed. Among the five countries accounting for 10% or more of total EU emissions, three were up significantly, one was essentially flat, and one was down materially.
Germany, which accounts for 23% of total emissions, saw a minor decline of 0.2%. On the other hand, the United Kingdom, with 11.2% of total emissions, posted a 3.2% decline. Poland and France, each representing 10% of EU emissions, saw their emissions rise by 3.8% and 3.2%, respectively. Italy with its 10.7% share of EU emissions, experienced a 3.2% year-over-year increase.
Figure 1. EU Carbon Emissions Rose Nearly 2 Percent in 2017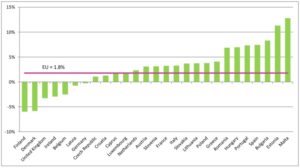 Source: Eurostat
Spain and the Netherlands, the other two countries with meaningful shares of total EU emissions at 8% and 5%, respectively, also exceeded the organization's average increase. Spain's emissions grew by 7.4% over 2016, while the Netherlands increased by 2.3%. The overall performance of the EU, and that of leading emissions emitters raises questions about the ability of the continent to meet its long-term climate change goals, and whether that would impact the terms of the Paris Agreement.
The recent UN environmental meeting in Bonn, Germany, charged with drafting text for the operational manual for implementing the Paris Agreement that is to be approved at the COP24 meeting in December, ended in failure, forcing the scheduling of a second session this summer.
The stumbling block seems to be the demand, as agreed in the Paris Agreement, for developed economies to pay $100 billion a year to developing economies to help them transition to clean energy. Since many of the developed countries are broke, there is a question of where this money will come from. The U.S., under President Barack Obama, committed to give $3 billion in funds, but only $1 billion was paid before President Donald Trump pulled the country out of the deal.
UN officials confirmed in 2017 that $100 billion would be needed, but it would have to rise to $400 billion a year by 2020 if the reduction in carbon emissions is to be achieved. The spat in Bonn highlights what many opponents of the Paris Agreement believed: the global climate crusade is really about redistributing global wealth.
Germany's Energy Policy Problem
The conflicts inherent in the climate change movement increasingly are becoming evident. For example, Germany has shut down its nuclear power plants in favor of renewables, which has caused residential power prices to soar and energy poverty rates among its residents to climb. The government's effort to create a commission to deal with the planned shutdown of all the country's coal-fired power plants is running into problems. The commission's establishment has been postponed for a second time and will now be addressed at the next cabinet meeting scheduled for May 30th. The government assures that the delay will not prevent completion of the report by year-end.
The Special Commission on Growth, Structural Economic Change and Employment (Coal Exit Commission), is supposed to bring together policymakers, industry, labor unions, and possibly environmental non-governmental organizations (NGOs) to establish a roadmap and a firm date for ending coal-fired electricity generation. Exiting coal-generated power is mandatory for Germany to reach its goal of becoming largely carbon emission neutral by 2050.
The commission's strategy paper acknowledges the long-term carbon emissions reduction goal and confirms the 2030 target of a 55% reduction. However, the paper also says that climate action must be "harmonized" with economic development and social considerations. According to media reports, there was intense fighting over the commission's structure, with both anti-coal mining area residents and coal mining states demanding a voice.
At the same time, environmental NGOs are insisting that a rapid ending of coal use is possible without risking energy supply. Also, the economy and environmental ministries wrestled with the commission's leadership.
The commission leadership struggle is a microcosm of the battle between the coal interests and mining-state governments worried about the employment impacts in their regions, versus the environmentalists who are calling for immediate shutdowns of coal power plants with a total capacity of at least seven gigawatts by 2020, or the equivalent of one-third of Germany's total lignite capacity.
As it is, due to the lack of progress in reducing its carbon emissions, Germany will miss its 2020 target by a wide margin. Defenders of coal have estimated that exit of all lignite production will require over €6 billion ($7 billion) in compensation payments and can only happen "in the long run."
At the present time, Germany has only about 30,000 coal workers, a fraction of the number employed in the nation's wind industry. However, these coal workers are concentrated in three German states, making the transition away from coal that much more difficult.
Figure 2. Few Coal Workers, But Concentrated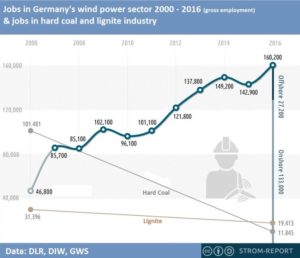 Source: Clean Energy Wire
New Cars
Another issue bedeviling Europe and its carbon emissions goal is the revelation that there was no improvement in average carbon dioxide emissions among new cars sold in 2017.
Data from the European Environmental Agency (EEA) showed that after years of steady declines, new passenger cars registered in 2017, on average, emitted 0.4 grams of CO2 per kilometer more than in 2016, rising to 118.5 g CO2/km. Since monitoring began in 2010, emissions have decreased by 22 g CO2/km driven. This figure highlights the challenge the European auto industry faces in reaching the EU's target for carbon emissions of 95 g CO2/km in 2021, a 20% reduction from 2017 levels.
It is also noteworthy that EV sales in 2017 was only 1.5%. This comes as the EU auto industry experienced a 3% increase in total sales for 2017, rising to 15.1 million vehicles, the highest number since 2007.
Conclusion
The carbon emissions challenges being faced by the EU spotlight a problem for the climate change movement. Getting to a decarbonized world will necessitate significant costs and economic disruptions. In addition, it will necessitate the commercialization of technology for capturing and storing carbon, a quite unproven technology.
Expect European governments to announce revised carbon reduction targets as their inability to reach their 2020 targets becomes clear. Kicking the ball down the road and focusing on the new goals makes it easier to avoid explaining why earlier targets were missed. Next year will likely usher in an era of environmental mea culpas from Europe.