"Environmental Justice" Injustice (EPA elitism, expoitation)
By James Rust -- August 13, 2014
The words "environmental justice" were coined years ago to help stop low-income living areas from being selected for unwanted property additions such as landfills and industrial plants. Now, this term is used by environmentalists to enlist minority groups such as African-Americans and Latinos to help them in their goals to stop fossil fuel use.
The claim is that minorities suffer more from health effects due to fossil-fuel use because they live closer to power plants or refineries. Thus we need to replace such facilities with renewable energies such as solar and wind. No thought is given to higher priced electricity from these energy sources and how this impacts minority communities. And concerns about sprawl are forgotten since this solution is really a call for energy sprawl.
Based on faulty science, environmental movements have called for banning the following with disproportionate effects on minorities:
1. DDT is banned for alleged weakening of bird eggshells.
2. Genetic modified foods, such as corn and rice, must be banned for alleged health effects.
3. Nuclear power should be banned because it is unsafe and causes nuclear weapons proliferation.
4. Greenpeace wants to ban chlorine.
5. Fossil fuel use should be banned because of health effects and carbon dioxide combustion products causing global warming with catastrophic effects.
These bans could be said to be in the name of "environmental justice".
The banning of DDT in Africa has allowed the spread ofmalaria throughout Africa with hundreds of millions sickened and annual deaths estimated at over 600,000. There is no evidence genetic modified foods produce adverse health effects and their loss has led to food shortages and adverse health effects in Asia and Africa. Nuclear power is demonstrated as one of the safest methods of electric power generation and its use extends the life of fossil fuels. Chlorine is used to treat drinking water and a ban would put the earth in peril.
In stark contrast, the world's vast supply of coal, oil, and natural gas allow cheap electricity for the whole planet with its life-saving benefits.
AFRICA'S AGONY
A June 29, 2014, article in Forbes by Jude Clemente, "Electrify African and Save Hundreds of Millions of Lives," quantifies the tragedies of life living in Sub-Sahara Africa because of electricity shortages. Sub-Sahara Africa with a population of 910 million has enough electricity to power one light bulb per person for three hours per day. More than 65 percent of the population lives with no electricity. More than 700 million Africans use crude stoves to burn wood, coal, charcoal, or dung that produces soot into their homes and surrounding environment. This leads to deforestation, erosion, land degradation, respiratory diseases, and contaminated water.
In spite of these deprivations, much criticism was directed at the World Bank for making a 2010 $3.8 billion loan to South Africa for building the 4800 MW Medupi coal-fired power plant located close to a coal mine that will help stabilize electricity for poverty-stricken neighboring countries. The U. S. abstained from this vote from environmentalist pressure. Last year the U. S. government announced sharp restrictions on government-financed loans for new coal plants overseas. The European Bank for Reconstruction and Development has taken a similar stance in opposition to coal. (Note: one can support the abstention on anti-cronyism grounds.)
One factor for Africa's electricity shortages is the environmental movement's demands electricity generation fossil-fuel free. Of particular interest is the table below, Africa's Forgotten Calamity: Electricity Deprivation, which shows speeches by politicians who preach problems of global warming when talking about Africa and neglect to mention electricity shortages. This could be feeble attempts at environmental justice. (Click on Table for greater readability.)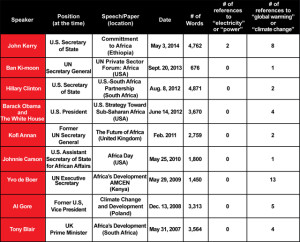 Africa's Forgotten Calamity: Electricity Deprivation
More recent attention to Africa's problems is shown in the U. S.-Africa Leaders Summit held August 4-6 in Washington, D. C. attended by nearly 50 heads of state. Secretary of State John Kerry spoke at the conference and some of his words are given by The Daily Caller. Secretary Kerry told the audience "8,000 children die every day" and in sub-Sahara Africa one in four suffer from chronic hunger.
Minutes later in his speech he stressed how creating new farms causes too much carbon pollution and we need to discourage new farm land. Otherwise, fighting starvation in Africa will be solved by fighting climate change; not new farms. At the same time Kerry revealed the administration's top priority for Russia: reducing greenhouse gases, not the 8,000 additional Russian troops massing on the Ukraine border.
Jerome Corsi posted an article on the conference with lead paragraph, "UNITED NATIONS – With Africa facing an unprecedented Ebola outbreak, the United Nations chose as the lead story on Thursday's U.N. Wire coming out of the U.S.-Africa Summit the headline 'Africans see opportunity to finally challenge climate change.'" From this article and a Reuters article on comments by African leaders on the importance of climate change agreements, it appears this conference was more about Africa's making money off climate change agreements at the 2015 Paris conference than actual problems of Ebola virus, starvation, and poverty.
The industrialized world was able to dramatically increase its population's lifespan and GDP per capita due to cheap electricity from abundant coal the past 100 years. These nations now have the luxury to consider renewable electricity sources such as solar wind to replace coal. In spite of optimist economic scenarios from environmentalists, the low capacity factors and erratic behavior of solar and wind is being shown to increase electricity prices even in areas with low penetration.
Africa does not have the wealth to engage in this form of luxury to have renewable energy sources as their first sources of electricity. History will show it is imperative Sub-Sahara Africa develop its coal resources and other fossil fuels that are in abundance.
CHINA RISES FROM POVERTY
Another follow-up is Robert Wilson's article "What a difference a decade makes: an updated reality check on the global energy system" for the Energy Post. He reported China in a decade and a half built the equivalent of the entire American electricity grid. "China today consumes 4 billion metric tons of coal and has a commitment to 500 GW of new coal capacity. It is unlikely China's coal use for electricity generation will be significantly lower 30 or 40 years from now."
China's carbon dioxide emissions are twice that of America's today. Since 1978 China's economic boom "has lifted more than 500 million people out of poverty." "It seems that Premier Li's "war on poverty" is another name for his urbanization plan. Li has been actively pushing to transfer China's population from rural to urban areas, which he hopes will lead to higher standards of living for China's rural poor and increased domestic consumer demand — a "win-win" solution for China as its tries to rebalance its economy."
URBANIZING THE WORLD
In her later Forbes (July 22, 2014) article, "Urbanization: Reducing Poverty and Helping the Environment," Jude Clemente showed how urbanization reduced poverty and helped improve the environment. The planet went from 29 % living in cities in 1950, to 39 % in 1980, to 53% now, and to an estimated 70 % of a 9.6 billion population by 2050. Urbanization makes it easier to supply energy to the population, reduces pollution because it is easier to control, and leaves more land as free space.
He wrote, "In particular, coal-based China and India are in the midst of the largest urbanizations in world history, and it will continue for decades."
There is a direct correlation between poverty level and annual electricity use in kilowatt-hours (kwh) per year per capita. These extremes range from 13,500 kwh per capita in the United States to 75 kwh per capita in Ethiopia where 75% of the population lacks power. Fossil fuels are concentrated energy forms and require less land areas than renewable sources such a solar, wind, biomass, and biofuels. Thus fossil fuels are necessary to uplift the world from poverty. The environmental movement's attempts to ban fossil fuels are a killing form of environmental justice.
EPA JUMPS INTO THE FIGHT
Not to be left out of the fight for environmental justice, the EPA sent out this News Release on February 11, 2014.
EPA Administrator Reaffirms Commitment to Environmental Justice on 20th Anniversary of Executive Order WASHINGTON – U.S. Environmental Protection Agency (EPA) Administrator Gina McCarthy today reaffirmed the Agency's commitment to environmental justice in a meeting of the National Environmental Justice Advisory Council (NEJAC) held in Denver, Colorado. The meeting coincides with a Presidential Proclamation by President Obama commemorating the 20th anniversary of the February 11, 1994 signing of Executive Order 12898, "Federal Actions to Address Environmental Justice in Minority Populations and Low-Income Populations." Executive Order 12898 states that every federal agency, with the law as its guide, should make environmental justice part of its mission. Other topics discussed included sustainability and environmental justice, equitable development, climate resiliency, and leveraging financial and other resources for communities.
For more information on environmental justice and the 20th anniversary. To read the Presidential Proclamation, visit here:
This was followed by a memo to all employees June 25, 2014.
Dear Colleagues: As part of EPA's larger effort to help Americans understand the impacts of climate change and its effects on our most vulnerable communities, we are launching a new "climate justice" blog series. The series, which will run through the summer, will include a diverse set of voices from citizens and community leaders discussing innovative solutions to address climate change.
Topics in the series will span from the President's Climate Action Plan to events by the Hip Hop Caucus that inspire young people to take action to how Native Americans are dealing with climate change, among many others.
Look for the climate justice series on EPA's Environmental Justice in Action blog. Here's a short video message to launch the series. Additionally, as a part of the series, there is an interactive climate justice map that lets advocates share stories about what their communities are doing to confront climate change. If you know of communities, state or local governments, or other organizations working on climate issues, please encourage them to add their story to the map. I hope you'll check out the blog and join the conversation.
– Gina
A further EPA News Release on July 24 read as follows:
EPA Issues Policy Supporting Tribal and Indigenous Communities
WASHINGTON – Today, Environmental Protection Agency (EPA) Administrator Gina McCarthy signed the EPA Policy on Environmental Justice for Working with Federally Recognized Tribes and Indigenous Peoples, reinforcing the agency's commitment to work with tribes on a government-to-government basis when issues of environmental justice arise.
"All tribal and indigenous communities deserve environmental and public health protection. Through this agreement, we are reinforcing our commitment to tribal communities, especially in addressing issues of Environmental Justice," said Administrator McCarthy. "We know that tribes are uniquely impacted by a changing climate, which highlights the importance of this agreement and other agency actions, including funding research through the STAR Tribal health grants."
More information on:
EPA Policy on Environmental Justice for Working with Federally Recognized Tribes and Indigenous Peoples Details of Program– EPA's Plan EJ 2014
Conclusion
Needless to say, whether EPA's plans for environmental justice for Minority, Low Income, or Tribal and Indigenous Communities improves or makes lives more miserable requires more study.
Attempts to ban fossil fuel use world-wide will not succeed because of its negative effects on eliminating poverty. Some Christian organizations have jumped onto the ban of fossil fuels in the name of environmental justice. It is hard to reconcile this type of reasoning when a basic principle of Christianity is to help the less fortunate.
———————
James H. Rust, Professor of nuclear engineering and policy advisor The Heartland Institute.