Is the EPA Endangering Public Health and Welfare by Attempting to Mitigate Extreme Weather?
By Chip Knappenberger -- April 9, 2012
On the rationale of mitigating man-made climate change and thus limiting the occurrence of extreme weather events, the U.S. Environmental Protection Agency is (unintentionally) fostering a less prepared and less resilient population. As such, EPA should regulate its own actions as endangering public health and welfare.
New Proposed Rule
Back in December 2009, the U.S. EPA issued a finding that human emissions of greenhouse gases (GHGs) "threaten the public health and welfare of current and future generations." This "Endangerment Finding" opened the door to the EPA's issuing regulations aimed at restricting GHG emissions in the U.S. To date, the EPA hasn't been shy about stepping through that door.
The latest in a string of EPA greenhouse gas regulations was announced just last month. This one is aimed at carbon dioxide emissions from new power plants. The proposed regulation would limit CO2 emissions to 1,000 pounds per megawatt-hour of power produced, which is not achievable by coal plants under current or near-term technology. It is congruent to what a new gas-fired power plant can achieve–and thus the standard.
So if this proposal were adopted, it would effectively eliminate the construction of all new coal-fired power plants in the U.S.
Flawed 'Endangerment' Rationale
In its fact sheet, EPA claims that "unchecked greenhouse gas pollution threatens Americans' health and welfare by leading to long-lasting changes in our climate." Listed among the EPA's threatening impacts is "Longer, more intense and more frequent heat waves."
But claiming the increasing heat waves endanger public health and welfare is not a new approach from the EPA. It is one that I have been fighting them about ever since they originally proposed this concept back in a preliminary draft of their "Endangerment Finding."
Heat Waves: Another View
The EPA was wrong then and it continues to be wrong now. In fact, I am going to propose here that "longer, more intense and more frequent heat waves" may actually improve the public health and welfare, and that in trying to prevent them, the EPA is causing harm.
The idea behind my concept is that more frequent exposure to heat waves will lead the population to adapt to them, better preparing them for their occurrence, and ultimately reducing the rate of mortality and morbidity. There is plenty of evidence for this.
I was involved in research looking how heat-related mortality has changed over time in major U.S. cities (e.g., Davis et al., 2003). We made two major findings with direct relevance to the issue of how populations may respond to heat waves in a warming climate.
The first was that the cities with the lowest rates of heat-related mortality are among the hottest cities in the country—Phoenix, Dallas, Houston, Miami, etc. The cities with the highest rates of heat-related mortality are the relatively cooler cities across the upper Midwest and Northeast where heat waves are rare, but not completely absent.
Our interpretation of this finding was that cities where extremely high temperatures are commonplace, the population has grown accustomed to such conditions and has taken the steps necessary to avoid negative consequences—such steps include construction design, access to air conditioning, community awareness programs, and behavioral modifications. In cities were extreme heat is rare, the population is less prepared for heat waves and suffers when they do occur. The obvious conclusion is that the less rare heat waves become, the less sensitive the population is to them. This is contrary to the EPA's assertion that things happen in the other direction.
Our second finding of import was that over time, the rates of heat related mortality across virtually all the cities that we studied were declining even in the face of rising summer temperatures. Our interpretation of this result was that, universally, improvements in medical practices and access to air conditioning (in part aided by reliable and inexpensive electricity) along with other adaptations were taking place to better protect the population from the potential adverse impacts of high (and rising) summer temperatures. Again, this finding runs completely opposite to the EPA's oft-cited contention.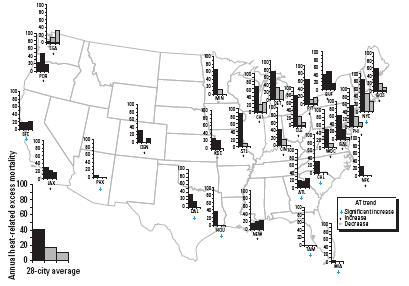 Figure 1. Annual heat-related mortality rates (excess deaths per standard million population on days in which the decadal-varying threshold apparent temperature (AT) is equaled or exceeded) by city and decade, and long-term trend in summer afternoon AT. Each histogram bar indicates a different decade: from left to right, 1960s–1970s, 1980–1989, and 1990–1998. Decades without histogram bars exhibit no threshold ATs and no heat-related mortality. Decades with gray bars have mortality rates that are statistically significantly different from the decades indicated by black bars. The average excess deaths across all 28 cities is shown at the lower left. AT trends are indicated beneath each city abbreviation. (source: Davis et al., 2003)
In light of these findings, we concluded (see Davis et al., 2003):
With respect to projections of future heat-related mortality that might arise from greenhouse-gas–induced warming, urban warming, or other factors, it is clear that these projections must incorporate the observed reductions in heat vulnerability….overall, it is obvious that there is no simple association between increased heat wave duration or intensity and higher mortality rates in the United States.
And we are not alone in these findings. Similar results were just reported for populations in the Czech Republic. Researchers Jan Kyselý and Eva Plavocá reported in the journal Climatic Change on their investigations examining trends in heat-related mortality across the Czech Republic from 1986-2009, a time during which temperatures were increasing. They found that, just as in the U.S., mortality was declining in spite of the rising temperatures, a result which they attribute in part to "better public awareness of heat-related risks."
With regards to what global warming may hold in store, they write:
The results suggest that climate change may have relatively little influence on heat-related deaths, since changes in other factors that affect vulnerability of the population are dominant instead of temperature trends. It is essential to better understand the observed nonstationarity of the temperature-mortality relationship and the role of adaptation and its limits, both physiological and technological, and to address associated uncertainties in studies dealing with climate change projections of temperature-related mortality.
So how does the EPA defend its idea that increasing heat waves will endanger the public health and welfare? By claiming that any other consideration is beyond the scope of the Clean Air Act under which their "Endangerment Finding" was being made:
EPA considers adaptation and mitigation to be potential responses to endangerment, and as such has determined that they are outside the scope of the endangerment analysis.
But this is nonsense. It elevates theoretical science above real world responses. Sort of like dropping a cannonball and a feather off the top of the Leaning Tower. Sure, in a vacuum, they both hit the ground at the same time, but in the real world the cannonball lands much sooner than the feather. And since we all live in the real world, it should be appropriate for the EPA to make "public health and welfare" decisions based on actual observed responses not hypothetical scenarios.
EPA Misleading Itself
Effectively, the EPA is taking a short-sighted and narrow approach to what they themselves recognize is a multi-faceted and long-term issue. Such an approach may result in the EPA's supporting actions which result in near-term gain, but which may ultimately result in a net negative outcome.
I say this because, as the research above has shown, increased exposure to heat waves leads to a better overall outcome—i.e., an improvement in the overall public health and welfare.
That some previous exposure to stressful situations better prepares you for future potentially stressful situations should not come as much of a surprise. It is encapsulated in the "whatever doesn't kill you makes you stronger" concept. Recently, this effect was quantified in the psychological literature. Mark Seery, from the Department of Psychology at the University of Buffalo, studied the influence of experience with previous adverse life events (including natural disasters) on the resilience when dealing with new ones. Seery introduces the two competing schools of thought on the topic:
When adverse life events occur, people often suffer negative consequences for their mental health and well-being. More adversity has been associated with worse outcomes, implying that the absence of life adversity should be optimal. However, some theory and empirical evidence suggest that the experience of facing difficulties can also promote benefits in the form of greater propensity for resilience when dealing with subsequent stressful situations.
Through a series of questions and answers to the study's participants, Seery quantified a "cumulative lifetime adversity" index for each individual and then related that score to a measure of resilience to exposure to more recent adverse events. He found a U-shaped response curve indicating that "people with some prior lifetime adversity were less negatively affected by recent adversity than were people who had experienced a history of either no lifetime adversity or high lifetime adversity."
In other words, too much adversity in life was simply overwhelming, while too little adversity made one unprepared to deal with adversity when it inevitably does occur. The optimum was somewhere in the middle. Seery thus concluded [emphasis added]:
Taken together, these findings demonstrate that, relative to a history of either no or high cumulative lifetime adversity, a history of some adversity is associated with better mental health and well-being and less distress and disruption in the face of pain.
Mark Seery's findings suggests that this effect is an innate human response, and thus can not and should not be ignored when considering the outcome of the increased exposure to adverse events.
Yet that is precisely what the EPA has chosen to do, and, in my opinion, is negligent for doing so. Despite the EPA's defense, I am sure that it is not the intention of the Clean Air Act to prohibit the EPA from making sound science-based considerations when contemplating an "endangerment finding." The EPA needs to step out of the vacuum and into the real world.
The situation with heat waves is not a lone example. Consider building code/ building technique changes after hurricane Andrew, or in earthquake prone regions, or in floods zones. Consider early warning systems, improved detection and tracking technologies, better forecasts. These changes have made us better prepared and thus less vulnerable to environmental extremes—prompted largely by the very existence of the extremes in the first place. The more we face environmental risks, the better we become at both coping with them and insulating ourselves from them (and not forgetting about them). The public health and welfare improves.
This is human nature. To evaluate climate change without considering human nature is insufficient, incomplete and incorrect.
Conclusion
I am not suggesting that we should seek out intentional ways to make extreme weather worse. But rather that if such a tendency does comes about as consequence of our use of fossil fuels to produce energy, that we will strengthen ourselves against it—an action which may ultimately reduce the negative impacts we feel.
The EPA's contention that a trend towards more extreme weather must result in an endangerment of public health and welfare is misplaced and inaccurate, not to mention potentially dangerous. There exists the very real possibility that by issuing regulations aimed at reducing the occurrence of weather extremes, the EPA, if successful, would in fact be increasing our risks from them when they do inevitably occur.
This would seem to run counter to the EPA's reason for existance.
References:
Davis, R.E., P.C. Knappenberger, P.J. Michaels, and W.M. Novicoff, 2003. Changing heat-related mortality in the United States. Environmental Health Perspectives, 111, 1712–1718.
Kyselý, J., and E. Plavocá, 2012. Declining impacts of hot spells on mortality in the Czech Republic, 1986-2009: adaptation to climate change? Climatic Change, doi:10.1007/s10584-011-0358-4