EV "Range Anxiety": Real World Issues
By
Allen Brooks
-- July 10, 2017
" … since the cost of battery packs represents a significant percentage of the initial EV purchase price, the older the battery or the more mileage on the vehicle, the greater the erosion in the car's trade-in value."

"'… you can drive a Chevy Bolt the advertised 238 miles on a charge, if you can drive 60 mph.'"

"Without a very extensive and dense charging station network, when we get a large number of EVs on the road, unless they all charge at home overnight, there could be really extended waits to access charging stations. This challenge, coupled with the continuing high cost for EV battery packs for vehicles that can overcome buyer 'range anxiety' fears, are merely assumed away in the optimistic EV forecasts."
The greatest drawback for the public's acceptance of electric vehicles (EV) is "range anxiety" – running out of battery charge before reaching a charging station. A secondary concern is the high cost of the battery packs in EVs, which is what makes the cars so expensive. Auto manufacturers need government subsidies to help offset high battery costs, making EVs more price-competitive with their internal combustion engine (ICE) counterparts.
Chevy Bolt
The first moderately priced EV with long-range capacity is the Chevy Bolt, introduced by General Motors (GM-NYSE) last December.  That month, GM sold 579 vehicles in California and Oregon, the only two states where Bolts were available.
Since the start of 2017, GM has rolled out sales in other states. It now anticipates selling Bolts in every state by the end of August, four months ahead of its original schedule. The accelerated rollout is likely in response to anger among dealers and EV enthusiasts in states without access to the car. In May, GM sold 1,566 Bolts, bringing its five-month total for 2017 to 5,950 units.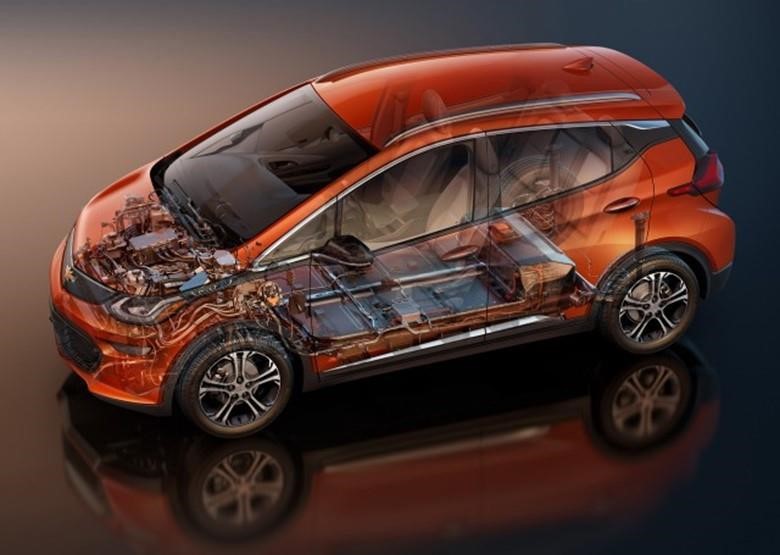 Figure 1.  The 2017 Chevy Bolt Electric Car
According to details provided to auto writers, following the August nationwide rollout, GM plans a "highly targeted" national advertising campaign for the Bolt with a strong presence in online sites and very specific media where Chevy's buyer data shows electric-car fans, advocates, and likely shoppers are concentrated. While this marketing plan sounds solid, it actually reflects the reality that EVs remain a niche product, otherwise GM would be widening its marketing campaign to general media and internet sites.
Green Car Reports documented the expense of the Chevy Bolt battery pack, although the performance of most GM EV batteries has not been a major issue so far. Depending on the state where a Bolt is purchased, GM warrants the battery's performance for either eight years/100,000 miles, or 10 years/150,000 miles. That would seem to be sufficient time for the Bolt's owner to enjoy its value. But since the cost of battery packs represents a significant percentage of the initial EV purchase price, the older the battery or the more mileage on the vehicle, the greater the erosion in the car's trade-in value.
[Data point: In Beijing, one EV owner reported he purchased a three-year old car for ¥50,000 ($7,352) from a seller who had paid ¥90,000 ($13,235) net of the Chinese subsidy in 2014. Based on the history of Chinese electric vehicle subsidies, the sales price was reduced by ¥67,000 ($9,800).  Based on the original sales price and the government's subsidy, the used car buyer paid about 32% of the EV's unsubsidized sales price.]
The cost of the Bolt's battery pack is much greater than for most EVs, primarily because it is larger, enabling it to go further on a charge. The US Environmental Protection Agency (EPA) credits the Bolt with a range of 238 miles. The Bolt has a 60 kilowatt-hour battery pack, compared to a Nissan Leaf's 24 kilowatt-hour battery pack and an EPA rating of 75 miles.
Of course, the range of all EVs is a function of ambient temperatures as they impact the power output of the battery. A test conducted on a Leaf by the Idaho National Laboratory showed that at cold temperatures the mileage performance of the EV was significantly reduced. The test showed that at an average temperature of  14oF, the Leaf had a travel distance of 50 miles, while at an average of 71oF, the range increased to 91 miles.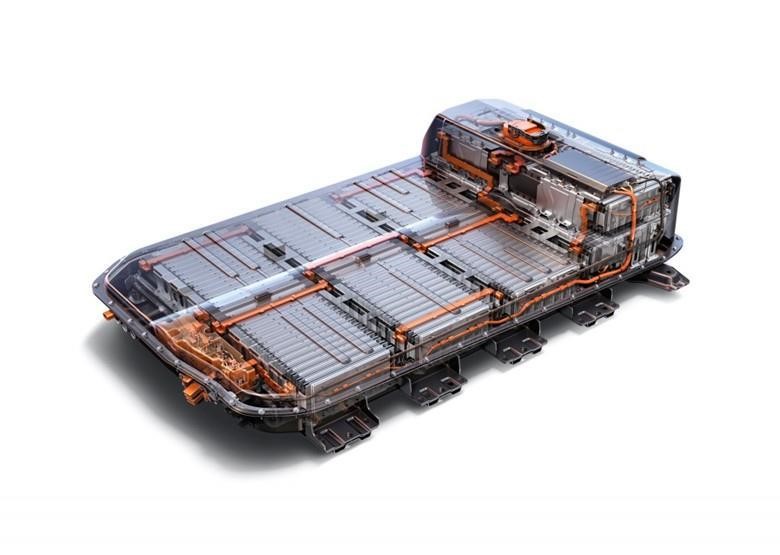 Figure 2.   Design Of Bolt Battery Pack
Because of the greater range of the Bolt given its larger battery pack, it is not surprising that it costs much more than the smaller battery pack in a Leaf. The Bolt's replacement battery costs $15,734 compared to the $5,500 cost of a Leaf replacement battery pack.
A 2017 Nissan Leaf S model has a suggested retail price of $30,680, but this new model possesses a 30 kilowatt-hour battery pack, larger than the earlier 24 kilowatt-hour version, and a correspondingly greater range of 107 miles per charge.  The Leaf's battery pack represents 18% of its suggested sales price.
In contrast, the larger Bolt battery pack with its substantially greater range represents 42% of the unsubsidized $37,500 sales price, or 52% of the subsidized price.  The key to success for EVs will be to bring the cost of these larger battery packs, with their greater range, down so overall vehicle costs can be reduced, which would mean government subsidies could be reduced or eliminated.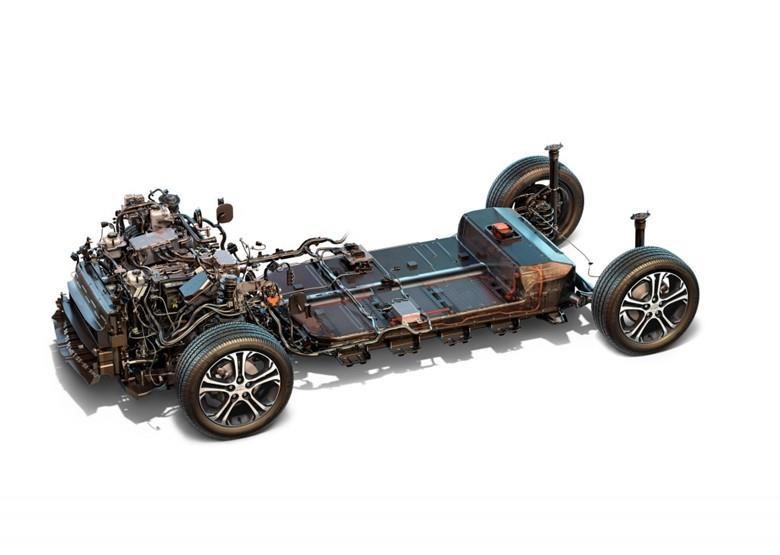 Figure 3. Location of Bolt Battery Pack
Long Trip Problems
A recent article highlighted the issues EV car owners face when trying to take long-distance trips.
Green Car Reports carried an interview with a man desperate to own a new Bolt before it would be available in his part of the country. The man lived in St. Louis and Bolts were not scheduled to be sold there before December.
Thus, he started looking for dealers in either the East or West who would sell him a new Bolt in the spring. A consideration in his dealer selection was the availability of high-speed charging stations on his route home. He wanted to use only Level 3 charging stations, which provide 160 miles of range per hour of charging, in order to  minimize the number of stops in comparison to relying on Level 2 charging stations that only provide 25 miles per hour of charging.
What he found was that there were insufficient Level 3 charging stations to get him from the West to St. Louis in the time he had available for the drive. Therefore, he focused on the East and negotiated a purchase with a dealer in Richmond, Virginia. He drove his 2007 Honda Acura RDX to the Richmond dealer and began his drive home in his new Bolt. The dealer selection was keyed to the fact Interstate-64 went between Richmond and St. Louis.
However, when he started mapping out his route, he discovered there weren't enough fast-charging sites along the route. In fact, he found that there was not a single DC fast charging station in Kentucky.  Given his schedule, he was forced to consider alternative routes.
A southern route through Tennessee would have worked until he reached Illinois, where he faced having to make at least one Level 2 charge that provided little distance for a long stop. A northern route might have worked, but it turned an 814-mile trip into a 1,003-mile trip. All the route choices required making judgements about how far the Bolt could go on a single charge. Despite all the information offered online, the owner would know how far his Bolt could travel only once he started driving. A vehicle's actual range depends on the driver's approach, road conditions, and ambient temperatures.
The Bolt owner found he could schedule his charging stops with other activities such as eating or sleeping. His first charging stop was in Harrisonburg, Virginia, after 129 miles, at a 5 Guys Burgers and Fries. The second stop was 114 miles further on in Hagerstown, Maryland, at the Hagerstown Valley Mall, where he hung out and had dinner.
His final stop on the first day was at a Holiday Inn Express in Bentleyville, Pennsylvania, after another 169 miles, where there was a 240-volt Level 2 charger.  Although that was a slow charge, by spending the night at the hotel, he was fully charged the next morning.
One thing the Bolt owner learned was how to overcome "range anxiety." He ventured information about his experience coming out of the Appalachian Mountains. Part of the route included a 9% downhill grade for three miles. By coasting downhill, when possible, and using the "Regen" feature on the Bolt EV, the vehicle gained 50 miles of range.
That's great in areas where there are hills or mountains, but it won't help in the Great Plains region of the country.
The Bolt trip also highlighted issues for overcoming range anxiety by controlling driving speed and the use of climate control.  According to the Bolt owner, when driving between Columbus, Ohio and Indianapolis, Indiana, he set his cruise control at 60 miles per hour (mph) and turned the climate control off every once in a while, maximizing miles per charge.
His observation was that the Bolt won't get you 200 miles of range by driving at 70 to 75 mph, and going 80 mph is out of the question. He commented, "We set the cruise at 60 mph, and still had a little range anxiety. Imagine driving three and a half hours at 60 mph. We thought many times we were going to be run over by 18-wheelers, but it worked. So, yes, you can drive a Chevy Bolt the advertised 238 miles on a charge, if you can drive 60 mph."
The key conclusion of the Bolt owner is that you can drive half way across the United States, but you need to do some research and planning, and also be prepared for extended stops.  This is akin to the issue of fighting the charging time versus the fill-up time at the gasoline service station.
Without a very extensive and dense charging station network, when we get a large number of EVs on the road, unless they all charge at home overnight, there could be really extended waits to access charging stations. This challenge, coupled with the continuing high cost for EV battery packs for vehicles that can overcome buyer "range anxiety" fears, are merely assumed away in the optimistic EV forecasts.
This is a reason to be cautious about assuming how quickly EVs will erode the demand for oil used in the transportation sector.