Windpower Propaganda: At A School Near You?
By Sherri Lange -- February 11, 2013
"The misconceived greening of children calls for a major grassroots pushback to entirely de-list wind power from curricula. Rip those wind power pages out of textbooks. Or one day soon, tell the truth about industrial wind, NOT story book bucolic tales of wind 'farms' or 'parks'."
Any parent involved with their children's homework or school knows that "green" is in. But too often more than that, "green" notions are presented as self-evident truths where there should be critical thinking and discussion. Also too often, federal and state funds are being dispensed to create the 'greenest' possible hearts and minds for tomorrow.
Such is the case with an industry that is economically useless and environmentally destructive: industrial wind power.
A website of the U.S. Department of Energy, Wind Powering America, describes how schools can receive taxpayer funding for wind projects. The site provides links to wind-friendly educational materials from Canada, California, Idaho, the Dakotas, Montana, and Arizona.
Alaska is on this list, where the U.S. Coast Guard assisted and provided a wind turbine for Mt Edgecumbe High School. "The options for education are really limitless," states Kat Keith of the Alaska Center for Energy and Power. "Using wind energy as a hands-on tool, students can learn about physics, math, and other energy applications."
Yes, the applications are limitless.… And that is a problem.
Classroom Cronyism
Wind companies and their trade groups are also involved. In Ontario, my province, teachers are asked how they feel about corporate logos in schools in exchange for such "benefits" as free computers. The response is often negative, but industrial-wind propaganda abounds in textbooks, learning materials, and kid-friendly websites.
Take a peak at these corporate "green" programs all around you. Here in Canada, there is Lego, and his/her treats, Dad's Cookies (now Kraft).
Eco Logo products for kids abound. Spin Master, third largest toy manufacturer in the USA and the largest in Canada, now advertises that it uses Bullfrog Power, thus luring young purchasers further into green propaganda.
Is such really social corporate responsibility if consumers pay more for so-called green wind power and unwittingly contribute to economic inefficiency and environmental losses? Form, or substance?
But for now the battle ground to reflect truth, although up and running, is up against some rather large obstacles: Websites abound to provide teachers hungry for materials: One example, www.kidwind.org has wind favorable lesson plans, teacher friendly, and handy information for State "challenges" such as wind turbine design (see Pennsylvania 2013, Harrisburg: Two divisions, 4-8 and grades 9-12).
For a rather frightening look at the infiltration of the industry in our schools, see the lengthy lists of first, second and third tier donors here. Naturally, the big hitters are here: Acciona, NextEra, NYSERDA, IBERDOLA, AWEA (American Wind Energy Association) and yes, the University of Guelph is also a donor. So is Ireland. This is quite the map of infiltration at high levels, with deep pockets. Do kids have a chance?
Curriculum Aids
Rob Bradley in "Teach the Children Well: Six Thinkers for a New Generation," warns us about dumb-down education that does not awaken students to the real debates and the "conflict of visions" behind them that inspire true understanding and learning.
"World views and critical thinking skills are formed early," he reminds us. Understanding that kids may well be better equipped to hear messages that their teachers may not be willing or ready or knowledgeable enough to deliver, Kinkaid School (Houston) now has a clearheaded, advertising-free space, www.freekinkaid.org that could easily be a template for other schools. The site is a resource for
Students to see what they may be missing;

Parents

to learn what is missing to discuss with their children-students (and even teachers);

Teachers 

to see what many students, parents, and alumni believe is missing.
This kind of site can obviously do much to enlighten entire teaching communities about propaganda-drenched curriculum in a variety of areas, and introduce new thinking (such as free-market environmentalism and the contributions of Julian Simon).
Pushback Time for Parents, Citizens
The popularization of wind power for children is all part of maintaining the huge appetites of a corrupt parasitical green machine. In the above referenced website (Wind Powering America) the author admits that the programs they espouse are also addressing "opposition to wind" or as they call it "addressing public resistance."
The misconceived greening of children calls for a major grassroots pushback to entirely de-list wind power from curricula. Rip those wind power pages out of textbooks. Or one day soon, tell the truth about industrial wind, NOT story book bucolic tales of wind "farms" or "parks."
————————–
The battle has been joined. Public resistance ran especially high last week internationally with news that children as young as five, "political pawns," were handed wind promo materials to deliver to their parents, in the hopes of spreading optimism and support for a wind project.
Ben Acheson (see Appendix) responded with this terse statement/article that is going viral. The audacity of this particular advertising via rather young children, some five, to deliver a green turbine message to parents was especially egregious.
Appendix: Scotland Example of Wind Propaganda
"There are few words which adequately capture how disgraceful it was of North Ayrshire Council to use young children to try and influence a planning decision which is tied to a politically-sensitive issue. 'Morally reprehensible' is the best phrase I can think of."
Forget School Dinners, Pupils are Now Being Fed Propaganda by Ben Acheson, Energy and Environment Policy Adviser and Parliamentary Assistant to Struan Stevenson, MEP at the European Parliament in Brussels.
NORTH AYRSHIRE [Scotland] Council has been using primary school children to distribute 'green', pro-renewables propaganda on behalf of a wind energy developer. What else is there to say? Is there any need to argue that this is unacceptable, downright deplorable behaviour? Surely that one sentence sums up the ethics of wind farm developers.
For anyone who is still 'on the fence' about wind power, this astounding news should help to make up their minds once and for all. For the renewable lobby, it is damning evidence that illustrates how developers are nothing more than subsidy-hungry profiteers.
Last weekend, the news broke that primary school pupils from Dalry Primary School and St Palladius Primary School in North Ayrshire had been handed a letter written by Community Windpower Ltd, which encouraged their parents to endorse a planning application for an extension to Millour Hill Wind Farm. The children, some as young as five years old, were given the material as part of North Ayrshire Council's attempts to distribute material on behalf of the developer.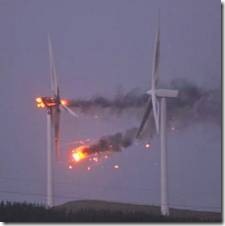 A turbine in North Ayrshire catches fire in high winds. (Presumably not shown in the developer's propaganda.)
When asked about the story, North Ayrshire SNP Councillor Tony Gurney, Cabinet Member for Education, Attainment and Achievement, said that the authority sanctioned the distribution of the letter on the basis that "There is no cost to the school in doing this and it encourages the schools to play a more active role in the community." He added that "We [the Council] are currently reviewing guidance to headteachers to allow distribution of materials which play a role in supporting the local community and encouraging local people to play an active role."
But even Edward Bernays, Alistair Campbell and Karl Rove together couldn't spin North Ayrshire Council out of this one. Forget that children were used as political pawns for a second; the simple fact is that a branch of a local authority has chosen to distribute pro-development publicity on behalf of developers, while another branch of the same authority is tasked with scrutinising the same plans. Democracy does not exist in North Ayrshire. It is completely unreasonable to expect local stakeholders and residents to have faith in the local authority's capacity to deliver objective, evidence-based planning decisions, if the council's own policies and the preferences of individual councillors allow developers to campaign using school time and resources.
There are few words which adequately capture how disgraceful it was of North Ayrshire Council to use young children to try and influence a planning decision which is tied to a politically-sensitive issue. 'Morally reprehensible' is the best phrase I can think of. Even Scottish Renewables said that "We would discourage developers against using such indirect means of contacting adults to support an ongoing planning application."
The fact that North Ayrshire Council saw fit to spread a political message through primary school children is inexcusable, but the real issue here is the lack of concern by politicians, the media and the general public. Sure, a handful of outspoken politicians voiced their concerns and some media outlets covered the story, notably the Sunday Post and the Daily Telegraph. But just a few days after the story broke, it has almost been forgotten about.
If children in the UK were exploited so blatantly to further any other political cause, there would be a popular uprising. What if countryside organisations had spread pro-fox hunting material in schools? Think of any examples of children being (mis)used for political and propaganda purposes and it is communist and/or fascist movements that spring to mind. Since the First World War, the politicisation and (mis)use of children for political purposes has been one of the defining characteristics of many ethnic wars.
But in Scotland, the majority says nothing because the government has convinced us that we are facing impending doom unless we support the unbridled development of 'green' wind power. Catastrophe theories have taken over. Rational and logic has ceased to exist. Climate change is a very real threat which must be properly addressed, but does anyone really believe that a lot of windmills will undo the effects of civilisation and change the climate of a planet that has survived much worse than humans over its 4 billion years?
More importantly, it is time we realised that the word 'green', which has wrongly become synonymous with 'clean', is nothing more than a shameless political marketing slogan. It reflects personal biases and opinions as much as objective and measurable criteria. The word 'green; won't be found in any leading science journals or ecological studies. Nothing is measured by how 'green' it is. It is not a technical or scientific word. It is merely used interchangeably with other inoffensive words such as 'renewable' and 'sustainable' to promote services and products that are supposed to be environmentally friendly. Most 'green' initiatives, such as wind farms, are purely money-making schemes for greedy developers; the same developers who are now turning to young children to spread their messages.