Climate: The Real 'Worrisome Trend' (Part I: Faulty Science)
By Joe D'Aleo -- May 11, 2016
"Government reports, writers of opinion pieces, and bloggers posting graphs purporting to show rising or record air temperatures or ocean heat, are misleading you. This is not actual raw data. It is plots of data that have been "adjusted" or "homogenized" (i.e., manipulated) by scientists – or it is output from models that are based on assumptions, many of them incorrect."
My philosophy when I taught college was to show my students how to think – not what to think. As Socrates said, "Education is the kindling of a flame, not the filling of a vessel."
Data is king, I told my students, and models are only useful tools. Any model's output or any theory needed to be examined and validated using data–and even then used with caution.
The great Nobel Laureate Physicist Richard Feynman taught students that if a theory or educated guess or hypothesis disagrees with experiment or data or experience,
it's wrong. In that simple statement is the key to science. It doesn't make any difference how beautiful your guess is, it doesn't matter how smart you are, or what your name is.… If [your hypothesis] disagrees with experiment, it's wrong.
Einstein schooled his fellow scientists:
A model or a hypothesis cannot 'prove' anything. But data can invalidate a hypothesis or model. It takes only one experiment to prove me wrong.
Applying Feynman/Einstein to Climate Science
The "greenhouse theory" being used by activists to change the world economy fails the test in many ways. First of all, many scientists question CO2 as being both 'the climate driver' and a danger to humanity.
Dr. Patrick Moore, PhD Ecologist and co-founder of Greenpeace, testified before a US Senate committee in February 2014:
When modern life evolved over 500 million years ago," he pointed out, "CO2 was more than 10 times higher than today, yet life flourished…. It also flourished when an Ice Age occurred 450 million years ago when CO2 was 10 times higher than today.
What then makes it an absolute law of nature that carbon dioxide levels above 350 parts per million (0.035 percent of Earth's atmosphere) will be catastrophic, as so many alarmists now say?
The "more than 350 ppm CO2 will cause planetary disaster" hypothesis was put to the test with observations. A large team of unbiased climate scientists and I examined the three main tenets of the model-based "science" that EPA uses to justify its energy and climate regulations. We reported to the US Supreme Court in a brief that each one has failed the test.
* There has been no warming for close to 19 years, according to satellite and weather balloons measurements, despite an increase of over 10% in atmospheric CO2.
* The strong warming that all the climate models forecast in the tropical high atmosphere and the tropical oceans simply does not exist.
* Even NOAA and the IPCC have now admitted that there has been no upward or downward trend in droughts, floods, hurricanes and tornadoes. Only snow has increased – and the models had projected that snowfalls would be the only extreme weather event that would decline.
Political Pressure
However, pressured by the White House, the EPA, NOAA and NASA continue to use faulty climate models to predict a dire future and move us away from fossil fuels. And thanks to unprecedented funding of billions of dollars, university scientists are gladly supporting this effort and the dire forecasts. This is something that President Eisenhower warned about in his farewell address:
The prospect of domination of the nation's scholars by Federal employment, project allocations, and the power of money is ever present – and is gravely to be regarded.
NOAA recently warned of an increase in heat waves and heat wave deaths. The reality is the heat peaked in the first half of the twentieth century and has been declining since then. In fact, 23 of the 50 states' all-time record highs occurred in the 1930s, with 38 coming before 1960.
There have been more all-time cold records than heat records since the 1940s.  As the graphs demonstrate, the number of 95-degree F days and widespread heat waves has been trending down since the 1930s.
For every continent, the all-time heat records were set in the 1800s to mid 1900s.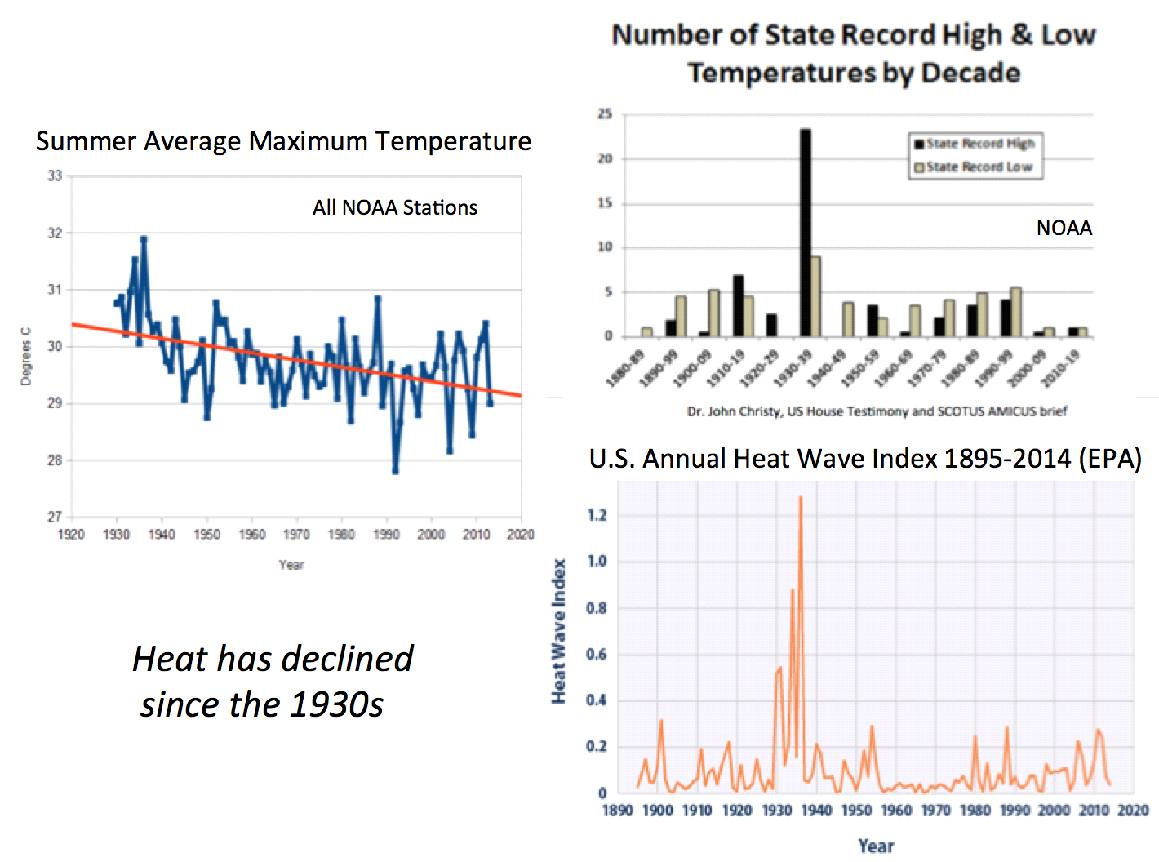 Dubious "Dangerous Warming" Claims
Totally ignored is the inconvenient fact that cold kills more people than heat. A rigorous study published last year in the medical journal Lancet examined more than 74 million deaths in 384 locations across 13 areas: cold countries like Canada and Sweden, temperate nations like Spain, South Korea and Australia, and subtropical and tropical ones like Brazil and Thailand.
It found that 20 times more people worldwide died from cold than from heat.
Government reports, writers of opinion pieces, and bloggers posting graphs purporting to show rising or record air temperatures or ocean heat, are misleading you. This is not actual raw data. It is plots of data that have been "adjusted" or "homogenized" (i.e., manipulated) by scientists – or it is output from models that are based on assumptions, many of them incorrect.
UK Meteorological Office researcher Chris Folland makes no apologies for this. "The data don't matter," he claims. "We're not basing our recommendations [for reductions in carbon dioxide emissions] upon the data. We're basing them upon the climate models."
"Rather than seeing models as describing literal truth," added Oxford University climate modeler David Frame, "we ought to see them as convenient fictions which try to provide something useful."
But models are useful and valid only if their outputs or forecasts are confirmed by real-world observations. What's more, these data plots were prepared by the same organizations that are responsible for producing the model forecasts. The fox is running the hen house.
Actual, original data have been changed so much and so often that they are almost unrecognizable from the original entries. For example, the 0.7 degree Celsius (1.3F) of cooling between 1940 and the 1970s – which had the world worried about another Little Ice Age – has simply "disappeared" in these corrupted-computer-model re-writes of history.
Important Perspectives on Warming Claims
In 1978, the late Leonard Nimoy of Star Trek fame warned audiences, "The worst winter in a century" occurred last year.
Climate experts believe the next ice age is on its way. According to recent evidence, it could come sooner than anyone had expected. At weather stations in the far north, temperatures have been dropping for 30 years. Sea coasts, long free of summer ice, are now blocked year-round.
Within a few more years, though, temperatures began to rise – and suddenly "climate experts" were warning that fossil fuels were going to warm the planet uncontrollably. Arctic sea coasts, they began to say, had far less ice and were in danger of being ice-free year-round.
To underscore their concern, they exaggerate warming charts, by stretching the scale, to make any recent warming look far more significant than it actually is. Moreover, the claimed 1-degree-plus-or-minus warming needs to be put into perspective.
Here in the north, air temperatures often change more than 30 degrees F in a single day, monthly average temperatures vary more than 50F from January to July, and highest and lowest temperatures can vary as much as 125 F.
If you plot these normal temperature variations on a graph that also shows the global temperature change between 1850 and 2015 (based on data gathered by the institution that the UN trusts the most – the UK Hadley Center, or HADCRUT), the asserted average planetary warming is virtually imperceptible. It is certainly not "dangerous.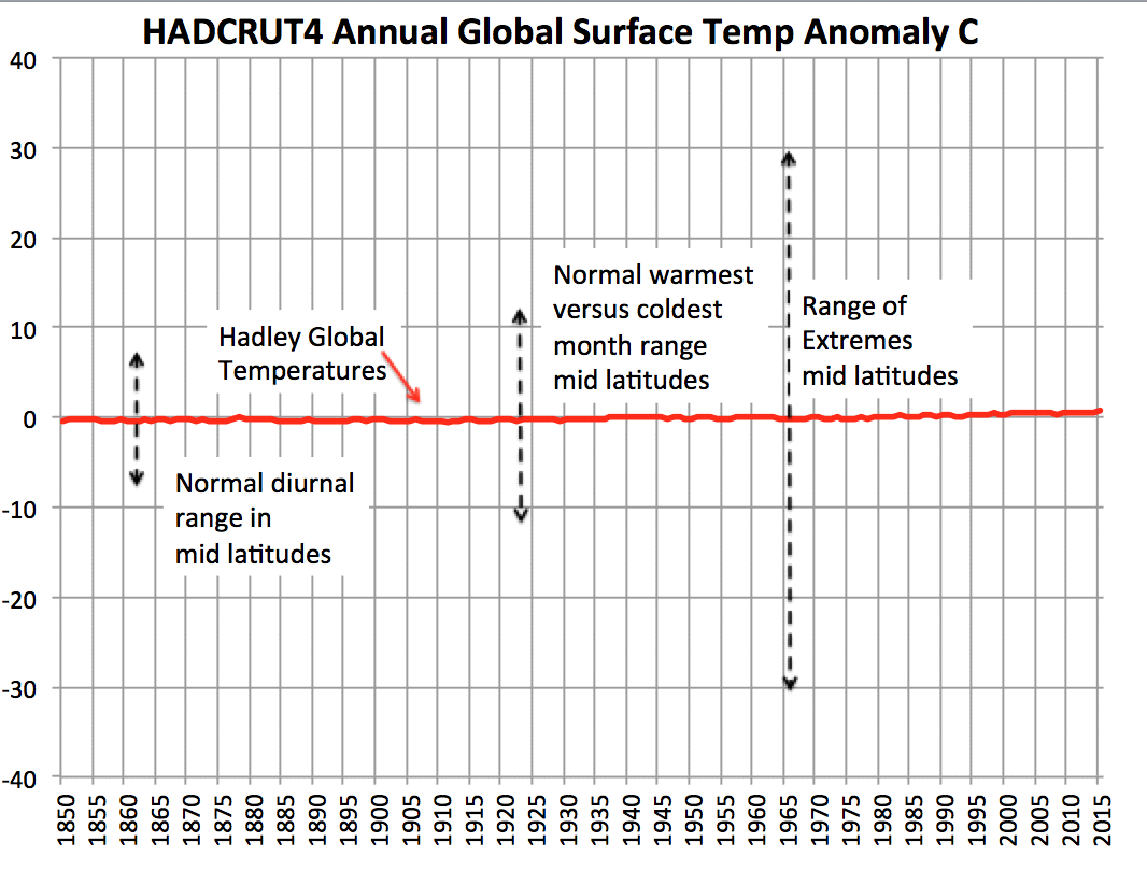 [Part II tomorrow will complete this post]
————
Joseph D'Aleo is a Certified Consulting Meteorologist and Fellow of the American Meteorological Society. He was a college professor and First Director of Meteorology at the Weather Channel. He has authored books and papers on how natural factors drive seasonal weather and long-term climate trends.