Harvesting Eagles: Time for Honesty, Accuracy, and Policy Change (Part I)
By Jim Wiegand -- June 2, 2016
"No individual and no other industry is allowed to kill even one bald eagle, much less 4,200 – much less do so year after year."

"We are witnessing a government wildlife agency that was created to protect highly important species now laying out a red carpet so a devastating industry can kill many more thousands of eagles. The Fish & Wildlife Service might as well be sending an invitation to anyone in the Lower 48 to kill these iconic birds."
Although I had been studying raptors and wildlife for decades, 2008 was the year I first became aware of the terrible fate that the industrial wind power industry was inflicting on our eagles. Since then, I have shared written many articles pointing out how this industry uses bogus research and devious methods to hide its slaughter of bald and golden eagles and other species.
I have made my opinions very clear about the ongoing collusion, now decades old, between the wind industry and U.S. Department of the Interior, especially its Fish & Wildlife Service (FWS).
We have been told that eagle fatalities are relatively uncommon at wind-energy facilities, with the raptor slaughterhouse known as Altamont Pass being a lone aberration.  This industry black eye was said to be the result of small older turbines with lattice towers being wrongly placed in a migration corridor.
In recent years, the industry has replaced these turbines with the new monopole turbines, which, we are assured, are much safer for eagles. The industry also claims it has learned how to site their turbines to avoid fatalities.
For example, the American Wind Energy Association website baldly asserts that "Wind farms impact very few eagles" … "Eagle fatalities are relatively uncommon at wind energy facilities" … and "only a handful of bald eagles have been lost in the history of the industry in the U.S."
All these assertions are blatantly and deliberately false. Worse, in sharp contrast to previous proclamations, the FWS announced on May 6, 2016, that it would allow wind energy companies to legally kill or injure up to 4,200 bald eagles annually without any penalty.
No individual and no other industry is allowed to kill even one bald eagle, much less 4,200 – much less do so year after year. If it gets away with this, the industry would also pocket untold billions in high-cost electricity rate charges and avoid billions of dollars in fines, while slaughtering our eagles, all with the blessing of our federal government.
FWS: It Gets Worse
And as bad as this is, it gets even more despicable. Several newly released deceptive reports pertaining to eagle management were created to help promote this new policy of permitting large-scale wind industry slaughter of eagles.
Because of its subject matter, the obscure Draft Programmatic Environmental Impact Statement (DPEIS) is by far the most important FWS document issued in decades. However, it has an extremely short comment period that ends June 6, 2016, a mere 30 days after the draft is released – virtually guaranteeing that the public and Congress will not know what is going on or have an opportunity to weigh in on the issue.
With these reports, the FWS claims: "We pooled western U.S., Alaska, and eastern U.S. population estimates to develop a total estimate of golden eagle population size for the U.S. in 2014 for the purpose of computing contemporary harvest limits." [emphasis added]
For bald eagles, these reports conclude: "Nationally, the annual bald eagle take limit with these rates would be approximately 6,300 eagles under the liberal alternative and under 4,200 eagles under the conservative alternative." [emphasis added]
For an already rapidly declining population of golden eagles, the "sustainable take under these conditions is close to 2,000 individuals."
The FWS failed to point out that it relied upon outside sources for its current eagle population estimates. These sources have major conflicts of interest – having produced false nonscientific turbine mortality studies for the wind industry since the 1990s.
This incredible allowance of 2,000 golden eagles annually will insure that most of the golden eagles still surviving in the lower-48 states will disappear because of an industry that should not even exist in the first place in consumer and taxpayer welfare was placed first in energy policy.
As wind turbines increasingly encroach on bald eagle habitats, the existence of our magnificent national bird in the Lower 48 states is also threatened. The FWS tactic of including the huge Alaska bald eagle population in its estimate is designed to hide this fact.
The FWS and Interior Department almost never focus on overall national species populations – and ignore the status of small and threatened local bird, bat, and other wildlife communities – when considering permits for activities that could impact local populations. They certainly do not emphasize or even consider Alaskan wildlife populations when Montana, Colorado, Texas, or other Lower 48 species populations are potentially threatened by oil and gas development, for example.
The reality of this dire situation is that we are witnessing a government wildlife agency that was created to protect highly important species now laying out a red carpet so a devastating industry can kill many more thousands of eagles. The FWS might as well be sending an invitation to anyone in the Lower 48 to kill these iconic birds.
A Deceptive History
While the FWS is currently busy selling its eagle slaughter plan to the public, it is also blatantly ignoring what has taken place for years at the "Denver eagle repository."
Through 2015, this location has secretly received over 33,000 eagle carcasses since 1997!
This gruesome number has been growing at the rate of 2500-3000 every year, thanks in large part to the wind industry. Today the majority of these eagle carcasses are bald eagles.
The American public has no clue that this secret Denver facility has become the wind industry's mortuary for eagle carcasses.  But in contrast to other mortuaries, this one never provides autopsy or other information pertaining to the origin and death of these eagles.
Those wanting this eagle mortality information will find that the industry is 17 years ahead of you because this information is now protected by the Freedom of Information Act (FOIA). Obtaining any of this eagle carcass information as it relates to the wind industry ended late in the Clinton administration, when a new FOIA law was enacted on December 1, 1999. Unbelievably, and thanks to the connivance of Clinton officials and members of Congress with the wind industry, the hidden, deceptive slaughter of bald and golden eagles is now treated as a trade secret!

As shown above after more than two decades of hiding carcasses, telling lies and rigging wind industry mortality research, the turbine peddlers were finally able to seal this terrible information from the public.
Years before the Clinton Era, even though protections were put into place for this one industry, information regarding the National Eagle repository (1974-1997) and Denver Eagle repository (1997 to present) was still disclosed by FWS agents. They could speak freely without fear of retribution. What these agents said is very important because it was provided from an era before major wind energy developments across the United States.
One thing that is very clear from reading early FWS statements is that this agency used to be very serious about protecting eagles and knew exactly what was killing America's eagles.
In November 1997, when California still had most of America's installed wind energy and yet still had a healthy golden eagle population, the FWS made an alarming disclosure about the wind industry. It listed wind turbines as a brand new primary cause of death for the repository's eagles. That year the Repository received just over 1,000 bald and golden eagle carcasses.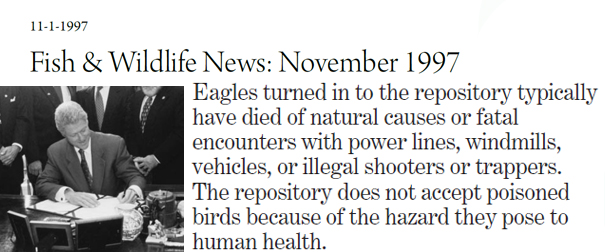 In the 1970's the Repository was receiving about 200-250 eagle carcasses a year.
Today the Repository is receiving thousands of eagles and severed parts of eagles each year. Thanks to the Clinton administration, the autopsy and specific cause of death information for all these eagles will never be released again, because it would incriminate this industry.
This repository recycles eagles and eagle parts to American Indians. One would think the disgraceful way these eagles are being slaughtered and the tainted, secretive way their origins are hidden would greatly diminish their spiritual meaning of eagle parts and feathers American Indian religious purposes. But perhaps these Native Americans are as unaware as the rest of us about the true situation.
Hidden Facts about "Safer" Altamont Pass
In 2007, a National Academy of Sciences report to Congress pertaining to wind turbine impacts noted that "Bird displacement associated with wind-energy development has received little attention in the United States." This statement was true then, and it is even truer today.
This 2007 congressional report also disclosed that in 2005 only 58 nesting eagle territories were occupied within 30 km (19miles) of the Altamont Wind Resource Area. This information is now eleven years old, but even in 2012 proof existed that many of these 58 occupied eagle territories no longer existed.
This golden eagle territory abandonment around this wind farm is extremely relevant, because it coincides with the installation of the industry's new turbines – which the industry falsely claims is safer for eagles.
Today, I would be shocked if even one-third of these originally reported 58 active golden eagle territories (occupied by two adults) remain in the Altamont Region.  
But we will never know, because in this Altamont region there has been a complete blackout pertaining to golden eagle nesting activities and nesting failures due to wind turbines killing adult eagles. I know this impact occurs from talking with an eyewitness and from reading the vague references in wind industry studies to eagle nests described by industry studies as unsuccessful, unoccupied or non-active.
This raptor displacement takes place from the older small turbines and from the newer "safer" turbines. However, research into these impacts has been deliberately avoided for decades all across America. This deception has taken place for the same reasons the public knows nothing about the thousands of eagle carcasses received by the Denver Eagle Repository.
For years, the news media, wind industry and FWS have been claiming that the Altamont region has one of the highest, if not the highest known concentration of golden eagles in the world. If the FWS would ever look at this population using scientific principles – instead of fake data from contaminated sources – for its eagle harvest reports, it would realize that most of these eagles have disappeared.
Instead, the public is being fed statements like this one about golden eagle populations: "Golden eagle abundance in California is unknown."
This information would not be hard to find, and new studies would not even be needed, if the FWS would simply examine, compare and come clean about the golden eagle carcasses that were shipped from California to the Denver Repository between 1997 and 2015.
——–
Part II continues tomorrow, and Part III will be on Monday June 6, the date that comments are due on the FWS proposal. MasterResource thanks Paul Driessen for editing assistance.
———
Jim Wiegand is an independent wildlife expert with decades of field observations and analytical work. He is vice president of the US Region of Save the Eagles International, an organization devoted to researching, protecting and preserving avian species threatened by human encroachment and development.
---
Other important wind energy links
http://www.masterresource.org/cuisinarts-of-the-air/avoiding-science-and-transparency-at-altamont-pass-wind-industry-gets-away-with-shoddy-research/
http://www.masterresource.org/audubon-society/money-dead-eagles-aubudon/
http://www.masterresource.org/cuisinarts-of-the-air/voice-dead-eagles-iii/
http://www.masterresource.org/cuisinarts-of-the-air/windpower-slaughter-shiloh-1/
http://www.masterresource.org/cuisinarts-of-the-air/usfws-special-agents-speaking-truth-to-wind-power-re-shiloh-iv-part-ii/
http://www.masterresource.org/cuisinarts-of-the-air/clean-energy-producers-act-2015-eagle-amnesty/
http://theECOreport.com/exposing-the-wind-industry-genocide/
http://www.MasterResource.org/2013/03/avian-mortality-wind-i
http://www.MasterResource.org/2013/03/wind-avian-mortality-ii/
http://www.EastCountyMagazine.org/node/9011
http://www.EastCountyMagazine.org/node/9174
http://www.masterresource.org/cuisinarts-of-the-air/bald-golden-eagles-court-victory/ \
http://theECOreport.com/jim-wiegands-cheeseburgers-the-wind-industry/