Green Energy's Hidden Eagle Slaughter
By Jim Wiegand -- April 19, 2022
"It's hard to imagine and even harder to stomach, but more than 60,000 eagle carcasses have secretly shipped to this repository, with no cause of death or origin given…. Since 1997, nobody involved with wind energy and its eagle carcasses, has been allowed to disclose the truth."

"America's silenced USFWS agents know exactly what's taking place because they process and arrange FedEx overnight shipping for nearly all the eagle carcasses shipped to the Denver Eagle Repository."
Recently an American wind energy company pleaded guilty to federal criminal charges after at least 150 eagles were killed since 2012. The company has agreed to spend as much as $27 million on efforts to prevent more deaths.
What good are these millions? Except for shutting down turbines, there is no way to prevent eagle deaths from wind blades. This industry and the U.S. Fish and Wildlife Service (USFWS) are very aware of this because wind turbines have been annihilating eagles for decades. It's an open secret that the American Wind Industry Association now has danced around for a decade or more, the subject of tomorrow's post.
Tip of the Iceberg
Truth is, these 150 dead eagles are only the tip of the iceberg–and very likely represent less than one percent of this ongoing carnage.
Back in 1997, when California was the only state with wind turbines in eagle habitat, the Denver Eagle Repository reported wind turbines being one of their primary sources for their yearly 800 eagle carcasses. When compared to 1997, America now has 80 times more installed wind energy than it did back then 1997. Today, based upon Repository records released up to 2014, the Denver Repository now receives over 3000 eagle carcasses a year.
But with this "green energy" expansion came a new era of wind turbines. These new turbines invading eagle habitats were far more deadly. Early turbines had blade tips speeds that were 110–120 mph while tip speeds for new turbines have speeds twice as fast.
Public Is In the Dark
How has the wind industry gotten away with decades of carnage? Back in 1997, the information was out regarding Altamont Pass, as evidenced in five pages of Robert Bradley's Cato study, Renewable Energy: Not Cheap, Not 'Green'." Several reasons are prominent:
1) Wind energy mortality disclosures are not required, scientific research is not required, and all wind industry mortality research being conducted is being staged.

2) In 1997, the Clinton Administration created new laws so this ongoing slaughter could be conveniently considered a business trade secret.

3) In 1997, The Freedom of information Act was changed to protect this industry.

4) In 1997, Interior Department personnel were silenced and their employment required non-disclosure agreements with very strict penalties.

5) In 1997, the Denver Eagle Repository was silenced and no longer allowed to discuss the origin of their eagle carcasses.

6) Leaseholders in partnership with wind energy developers are also required to sign very strict non-disclosure agreements. These leaseholders are never allowed to discuss species mortality taking place from the wind turbines on their property. They're also required to immediately dispose of carcasses. Even with post-construction mortality research, access by leaseholders and wind energy employees has never been restricted during studies.

Since 1997, nobody involved with wind energy and its eagle carcasses has been allowed to disclose the truth.
Dead Eagle Numbers
The Interior Department and USFWS claim that they keep no records for the origin of these eagle carcasses. This email from USFWS agent Jill Birchell in 2016 confirmed a government protocol of secrecy.
Hi Jim,
I checked with our repository and learned that they don't keep detailed records of where the eagles they receive come from."
Up to the year 2014, the Repository did report eagle carcasses being received and processed. For 2014 they reported receiving 2309 eagle carcasses for dispersal to American Indians and noted others that had not been counted, which would likely bring totals to about 2400. Since 2014 the numbers of eagle carcasses being processed for the Native Americans is no longer being given out.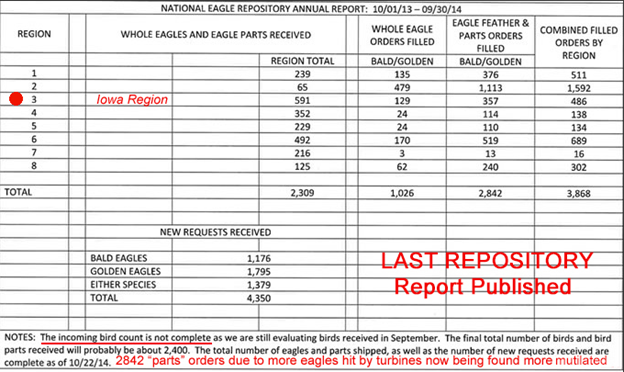 But this eagle carcass story doesn't end with Repository Eagles being processed for American Indians. There are many other carcasses because "clean" eagles are required for ceremonies; eagles that have died as a result of electrocution, vehicle collision, unlawful shooting or trapping, poisoning or from natural causes are unacceptable for ceremonial sacrifice.
In 2014 NBC did a story on the Denver Repository 2014. In this story about recycling eagles to American Indians, the repository reported that they had processed about 42,000 eagle carcasses. This Interior Department facility was opened in 1995.
Discussing Wildlife Repository Specialist Dennis Wiist: "But at last count, almost 42,000, he's touched nearly every eagle that's come through this facility."
Add another eight years of receiving 2,500–3,000 eagles and about anyone past the eighth grade can come up with an estimate of over 60,000 eagle carcasses since 1995. It's hard to imagine and even harder to stomach, but more than 60,000 eagle carcasses have been secretly shipped to this repository, with no cause of death or origin given.
Real Prosecution for Eagle Kills?
The prosecution of 150 eagles killed since 2012 is nothing to get excited about when nothing has been done about tens of thousands of other eagles 'taken' by wind energy. America's silenced USFWS agents know exactly what's taking place because they process and arrange FedEx overnight shipping for nearly all the eagle carcasses shipped to the Denver Eagle Repository.
If federal prosecutors wanted the truth, a look into FedEx records would give investigators a very good idea what's taken place. They would know the origin of shipments, see the proof of millions paid out by the U.S. government for overnight shipping and the weight of crates would indicate eagle numbers per shipment. Surveillance on the Repository site in Denver would also clue investigators in on the number of FedEx shipments coming in per week.
Another way for prosecutors to get to the truth about green energy's eagle carnage: They could start interviewing leaseholders. I know of one case where a dead bald eagle was found near a turbine, and it was reported by someone that hadn't signed a lease. When agents arrived at the property, the eagle was nowhere to be seen because the leaseholder had already disposed of it.
So, until any real investigations take place and it remains legal for everyone involved to lie by omission, any reported wind turbine mortality in the media will be nothing but an exercise "green' collusion.