The UN's Coming Paris Folly: Part 1
By Roger Bezdek and Paul Driessen -- November 24, 2015
"The UN's 'Deep Decarbonization Pathways' … will require a radical transformation of economic and energy systems by 2050, through massive declines in carbon intensity in all sectors. It is not about modest or incremental change [but] … major changes in every country's energy and production systems, over both the mid-term and long-term."
Radical Islamist terrorists just maimed and murdered hundreds of people in Paris, dozens more in Mali, still more in other nations. They promise more atrocities in the United States and around the globe.
Meanwhile some 40,000 bureaucrats, politicians, scientists, lobbyists, activists and journalists plan to enjoy five-star Parisian hotels and restaurants, while attending COP21, the twenty-first UN Climate Change Conference, from November 30 through December 11. Like President Obama, they insist that humanity faces no greater threat than climate change. Some are even saying that ISIS attacked Paris to disrupt the climate confab.[1]
The professed goal of COP 21 is a binding universal agreement on climate from all nations, supposedly to reduce greenhouse gases (GHGs) dramatically and thereby limit any computer-modeled global temperature increase over the next century to just a couple degrees above current levels. Their intention is that, by the end of the Paris meeting, all nations will be bound by the climate agreement, with implementation to begin in 2020.
A number of goals, milestones and schedules are being considered and proposed as mandates, at least for developed countries, to keep "dangerous" manmade global warming below 2° C (3° F). Among them:
The UN is developing "Deep Decarbonization Pathways" to determine how individual countries will supposedly be able to transition to low-carbon economies.[8]  Such "Deep Decarbonization" will require a radical transformation of economic and energy systems by 2050, through massive declines in carbon intensity in all sectors. It is not about modest or incremental change. It requires major changes in every country's energy and production systems, over both the mid-term and long-term.  All of these emissions reduction goals are ambitious in the extreme; for example, by 2050:
The United States would have to reduce GHGs from electricity generation by 95% from 2010 levels. That would mean eliminating coal and natural gas generators that now provide two-thirds of all US electricity, even as nuclear and hydroelectric facilities face cutbacks.[9] (Figure 1)
In California, gasoline- and diesel-fueled vehicles would be eliminated, and GHGs from electricity consumption in the residential, commercial, industrial and electric vehicle fueling sectors would be close to zero, at least from power sources within the state.[10] (Figure 2)
Korea would have to reduce GHGs from industry by 91% below 2010 levels.[11]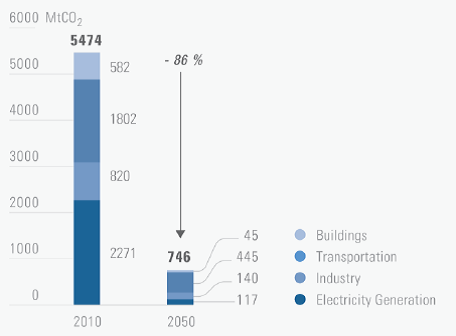 Figure 1:  USA Energy-Related CO2 Emissions Pathway by Sector, 2010-2050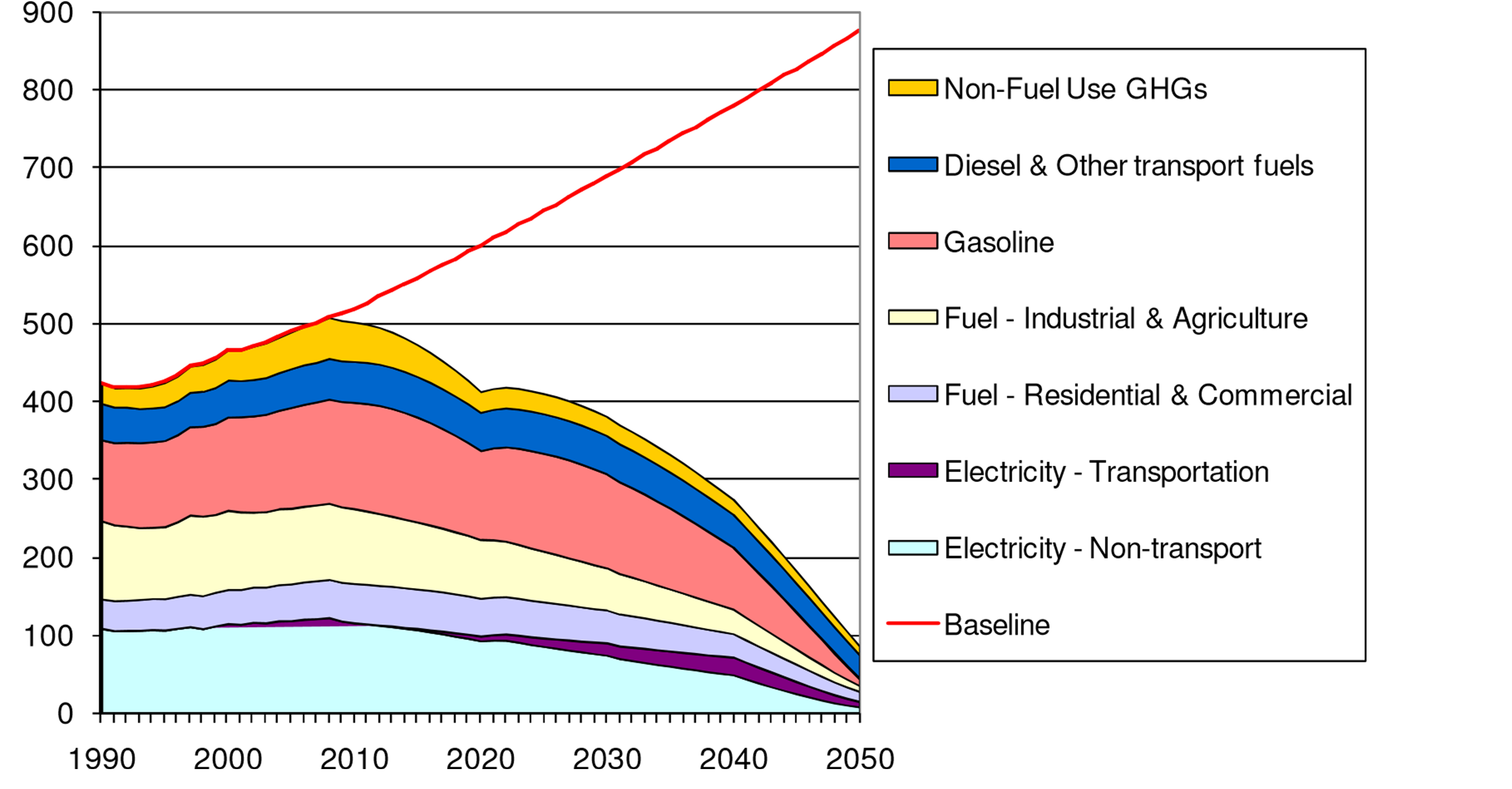 Figure 2:  Required California GHG Emissions Reductions (MMTCO2e)
The essential historical and future necessity of fossil fuels
Without adequate supplies of accessible, reliable, affordable fossil fuels, none of the industrial, economic, health and human progress of the past two centuries would have been possible. Fossil fuels saved whales from extinction, facilitated successive industrial revolutions, created the modern world, shaped advanced technological societies, and enabled the high quality of life many people take for granted.
Over the past 200 years, largely because of hydrocarbon energy, human populations increased eightfold, average incomes rose eleven-fold, and average global life expectancy more than doubled: from less than 30 in 1870 to more than 70 today. A fast-paced video by Swedish physician, statistician and professor Hans Rosling dramatically presents this progress.[12] Concurrently, CO2 emissions increased 2,800-fold, to 8.4 billion tons/year – and atmospheric CO2 concentration rose from 320 ppm to nearly 400 ppm.[13] (Figure 3) This higher carbon dioxide level has improved the growth of food crops, forests and grasslands.
Hydrocarbons still provide 81% of world energy – and the positive relationship between fossil fuels, economic growth and CO2 emissions is strong. In fact, hydrocarbons support $70 trillion per year in world GDP.  Seminal research has concluded that "Ours is a high-energy civilization based largely on the combustion of fossil fuels,"[14] and that "The theoretical and empirical evidence indicates that energy use and output are tightly coupled, with energy availability playing a key role in enabling growth."[15]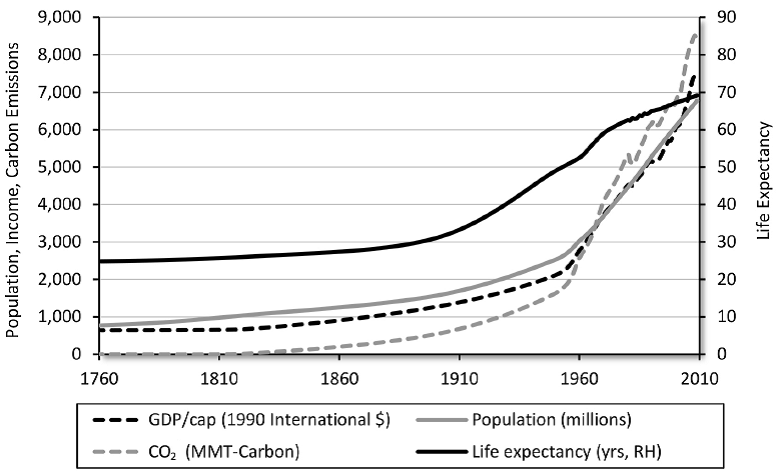 Figure 3:  Global Progress Created by Fossil Fuels, 1760-2009
According to all major forecasts, fossil fuels will remain the principal sources of energy worldwide for the foreseeable future, and will continue to supply 75-80% of the world's energy. Demand for oil, natural gas and coal will increase substantially in both absolute and percentage terms over the next several decades, with China, India, Japan, Southeast Asia, and even Poland and Germany leading the way on expanded coal use in Europe.[16]
Fossil fuel requirements will increase greatly over the next several decades. Continued world economic growth, increased per capita income and rising living standards absolutely require this. All major forecasts, including those of the EIA, IEA and OECD predict that, for decades to come, energy, the economy and CO2 emissions will be closely linked, and fossil fuels will continue to provide about 80% of world energy.[17] (Figure 4)
That means global carbon dioxide emissions, and atmospheric concentrations of this vital plant-fertilizing trace gas, will continue to increase – even if the United States completely eliminates its use of oil, coal and natural gas.
References
[1] Valerie Richardson, "Greens suspect ISIS attacked Paris to disrupt climate summit," The Washington Times, November 19, 2015; http://www.washingtontimes.com/news/2015/nov/19/paris-attacks-threaten-climate-message-cancel-cop2/print/. Now "it's hard to see how sea-level rise and parched farmland – tough media sells at the best of times – will have a hope of competing with rapid military escalation and calls for fortressed borders," two climate activists wrote in the New Yorker.
[2] See European Commission, "Energy Roadmap 2050," Luxembourg:  Publications Office of the European Union, ISBN 978-92-79-21798-2, 2012, and Altiero Spinelli, "EU Energy Roadmap 2050:  EU External Policies For Future Energy Security," presented at the Workshop on Energy Roadmap 2050: EU External Policies for Future Energy Security held on 5 November 2012.  (https://ec.europa.eu/energy/sites/ener/files/documents/
2012_energy_roadmap_ 2050_en_0.pdf .
[3] "We seek to share with all parties to the UNFCCC the vision of […] the goal of achieving at least 50 percent reduction of global emissions by 2050."  G8 statement released July 8, 2008. http://www.theguardian.com/environment/2008/ jul/08/climatechange.carbonemissions.
[4] https://www.whitehouse.gov/sites/default/files/
image/president27sclimateactionplan.pdf.
[5] "2008 Climate Change Act," www.legislation.gov.uk/ukpga/2008/27/contents .
[6] "Germany 2050:  A Greenhouse Gas-Neutral Country," background paper, Federal Environment Agency, Umwelt Bundesamt, October 20, 2013. http://www.umweltbundesamt.de/en/publikationen/germany-2050-a-greenhouse-gas-neutral-country
[7] "California Executive Order S-3-05 (June 2005)," www.dot.ca.gov/hq/energy/ExecOrderS-3-05.htm.  In 2005, California Governor Schwarzenegger's Executive Order S-3-05 committed the state to reduce emissions to 2000 levels by 2010, to 1990 levels by 2020, and to 80 percent below 1990 levels by 2050.  One year later, the Governor signed the "Global Warming Solutions Act of 2006" (Assembly Bill 32 or AB 32), which legally obligates the state to reduce GHG emissions to 1990 levels by 2020. California Environmental Protection Agency, Air Resources Board, "Assembly Bill 32:  Global Warming Solutions Act of 2006, www.arb.ca.gov/cc/ab32/ab32.htm.
[8] See http://deepdecarbonization.org/
[9] See http://unsdsn.org/wp-content/uploads/2014/09/US-Deep-Decarbonization-Report.pdf
[10] See https://ethree.com/documents/2050revised.pdf
[11] http://deepdecarbonization.org/
[12] See Rosling presentation at https://www.youtube.com/watch?v=jbkSRLYSojo
[13] Indur M. Goklany, "Humanity Unbound How Fossil Fuels Saved Humanity from Nature and Nature from Humanity," Policy Analysis, No. 715, December 20, 2012, pp. 1-33. http://www.cato.org/publications/policy-analysis/humanity-unbound-how-fossil-fuels-saved-humanity-nature-nature-humanity
[14] Vaclav Smil, Energy at the Crossroads:  Global Perspectives and Uncertainties, MIT Press, 2005. https://mitpress. mit.edu/books/energy-crossroads
[15] David I. Stern," The Role of Energy in Economic Growth," The United States Association for Energy Economics and the International Association for Energy Economics, USAEE-IAEE WP 10-055, November 2010. https://ideas.repec.org/p/een/ccepwp/0310.html
[16] International Energy Agency, World Energy Outlook, Paris, November 2015. http://www.worldenergyoutlook.org/
 [17] Management Information Services, Inc, "Economic And Social Implications Of Potential UN Paris 2015 Global GHG Reduction Mandates," Washington, D.C., 2015. http://misi-net.com/publications.html
[18] Management Information Services, Inc, "Economic And Social Implications Of Potential UN Paris 2015 Global GHG Reduction Mandates," Washington, D.C., 2015. http://misi-net.com/publications.html.
[19] This is based on the seminal work of Angus Maddison, Contours of the World Economy, 1–2030 AD:  Essays in Macro-Economic History, Oxford University Press, 2007. http://www.ggdc.net/MADDISON/ other_books/Contours_World_Economy.pdf
[20] Amitabh Sinha, "Paris Climate Summit: India To Stay Firm On Use Of Coal," The India Express, November 19, 2015, http://indianexpress.com/article/india/india-news-india/climate-talks-india-to-stay-firm-on-use-of-coal/; "German CO2 emission targets at risk," Deutsche Welle, November 19, 2015, http://www.dw.com/en/german-co2-emissions-targets-at-risk/a-18862708
[21] Timothy Cama and Devin Henry, "Overnight energy: Senators push back against Paris climate talks," The Hill, November 19, 2015, http://thehill.com/policy/energy-environment/overnights/260844-overnight-energy-senators-push-back-against-paris.
—————
Dr. Roger Bezdek is an internationally recognized energy analyst and president of Management Information Services, Inc., in Washington, DC (www.MISI-net.com). Paul Driessen is senior policy analyst for the Committee For A Constructive Tomorrow (www.CFACT.org) and author of Eco-Imperialism: Green power – Black death.