Real Clean Coal: Japan's Unit #2 Isogo Plant
By Robert Peltier -- November 4, 2010
I'm often asked: what is the cleanest coal-fired power plant in the world?  I am also asked: how "clean" is clean coal?
If emissions levels from a gas-fired combined cycle plant are the measure of "clean," then there are emissions control technologies available today for coal-fired plants that can produce comparable emissions. To be sure, low emissions from coal-fired plants isn't a technology problem, it's a political problem.
Unit 2 at J-POWER's Isogo Thermal Power Station is an exemplar for low emission coal-fired plants. The second unit at the plant entered commercial service in July 2009, so the plant has been in operation for about 18 months. The 600-MW ultrasupercritical unit 2 joins an earlier, similar plant built in 2002. Together, these two new plants replaced 1960s-vintage coal-fired plants and doubled power generation from the small project site. In addition, the new unit improves the plant's gross thermal efficiency to about 45%, while reducing air emis­sions to those of a gas-fired combined-cycle plant.
This technology, the real deal, is available today for "repowering" existing coal plants. If the future belongs to the efficient, coal is very much still in the game.
Background
J-POWER was established as a whole-power generator and wires com by the Japanese government in 1952 and was privatized in 2004. Today, J-POWER is owned by Electric Power Development Co., Ltd. (EPDC), which continues to distribute wholesale energy from principally hydroelectric and fossil-fueled plants to 10 utilities located across Japan.
The original Isogo Thermal Power Station (Isogo) consisted of two coal-fired units, each rated at 265 MW, that began commercial operation in 1967 and 1969. After 35 years of service, J-POWER elected to repower the plant, which is located on a peninsula in Yokohama Harbor. The project had three goals: The new plant was to lower emissions levels to those of a gas-fired plant, increase the amount of electricity produced for Japan's second largest city, and improve the plant's oper­ating efficiency (Figure 1).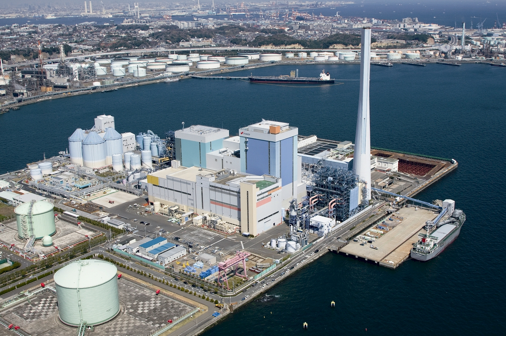 1. The Isogo Power Plant. Courtesy: J-POWER
Build, Scrap, Build
Development of the new facilities on a tight 30-acre site used what EPDC called the "build, scrap, build" approach. First, the new 600-MW Unit 1 was built; then the older two units were shut down and scrapped to free up precious land; then the new 600-MW Unit 2 was built. This approach also ensured that the new Unit 1 re­liably replaced the energy produced by the old plant before decommissioning.
Construction of the new Isogo Unit 1 began in 1998, and commercial operations followed in April 2002. The two older units were decommissioned in November 2001, and the project site was "scrapped" by March 2004. Construction of the new Unit 2 began in October 2005, and it en­tered commercial service in July 2009.
When Isogo Unit 2 entered commer­cial service, power generating capacity was more than double what had been pro­duced by the original plant. In addition to meeting Yokohama's generation needs, Isogo was designed for maximum thermal efficiency.
High efficiency requires high steam pressures and temperatures. The main steam pressure is ultrasupercritical (USC) at 25 MPa (3,626 psi) with a main steam temperature of 600C (1,112F). Reheat is a blistering 620C (1,148F). Unit 1 operates with the same steam conditions, except the reheat temperature is just 10C less, at 610C. The gross thermal efficiency of the new Unit 2 is 45% (LHV).
Clean Sweep
Isogo ranks as the cleanest coal-fired pow­er plant in the world in terms of emissions intensity, with levels comparable to those from a natural gas–fired combined-cycle plant. The air quality control system on Unit 2 is a multipollutant control system, unlike the individual components found on Unit 1 and on most coal-fired plants. Unit 2 uses a unique regenerative activated coke dry-type technology (ReACT) that scrubs SOx from the flue gas but also removes mercury and NOx as a co-benefit (Figure 2). A thorough discussion of this new mul­tipollutant control technology appeared in "ReACT Reduces Emissions and Water Use" in the July issue of POWER available here)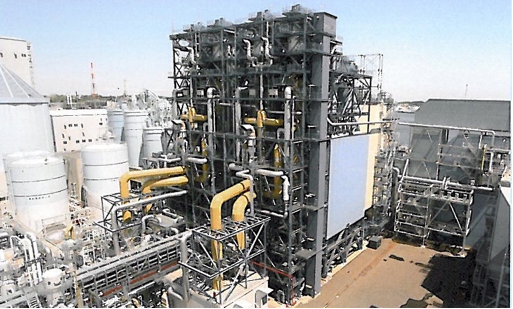 2. In the ReACT multipollutant control system, flue gas passes through activated carbon in the desulfurization tower to adsorb sulfur ox­ides. Spent activated carbon is sent to the regeneration tower, where the SO2 is re­moved and the activated carbon is reused. The SO2 is recovered as a highly concen­trated sulfuric acid that has market value. As a co-benefit, 20% to 40% of the NOx and up to 90% of both elemental and oxidized forms of mercury are removed in the pro­cess. Courtesy: J-POWER
Another very important advantage for the ReACT technology is that it uses only 1% of the water required by conventional wet flue gas desulfurization systems.
The low levels of air emissions reached by Isogo Unit 2 are, quite frankly, phenom­enal and set a new standard for coal-fired power plant design (Figure 3 illustrates the comparison with existing plants). These numbers should interest plant designers and regulators alike:
· Flue gas emissions are first treated by an ammonia selective catalytic reduction de-NOx system before entering the ReACT system. Together, they reduce NOx from 159 ppm to an average of about 16.5 ppm (13 ppm is the permit level for Unit 2). However, operating experience has found that the plant typically operates in the single-digit ppm levels. This equates to an overall NOx removal rate of about 92%.
· ReACT reduces SOx from 60 ppm to an average of 15 ppm (10 ppm is the per­mit level for Unit 2). Unit 2 regularly operates with single-digit ppm levels of SO2, reflecting an almost 98% rate of reduction.
· ReACT removes up to 90% of both elemental and oxidized forms of mer­cury through adsorption using activated coke.
· By using an electrostatic precipitator, soot and dust emissions were reduced from 50 mg/Nm3 to an average of 7.5 mg/Nm3, and Unit 2 operates at less than 5 mg/Nm3 or 0.005 lb/mmBtu). This performance equates to over 99.9% re­moval efficiency. The flue gases are then exhausted to the atmosphere through a common 200-m stack.
· The improved plant thermal efficiency reduced the amount of CO2 released into the atmosphere by 17% on a lb/ kWh basis. J-POWER understands that reducing CO2 reductions from coal-fired plants begins by designing a plant with the highest possible thermal efficiency.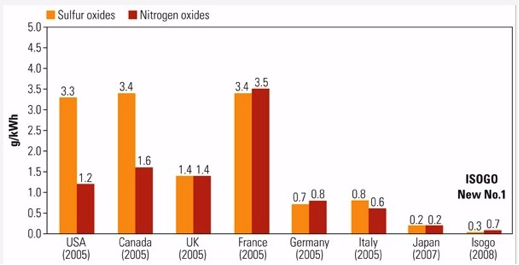 3. Small environmental footprint. ReACT is a regenerative activated coke–based technology that produces saleable by-products (sulfuric acid or gypsum) and, as a dry process, does not require water. The technology should be of special interest to U.S. utilities burning lower-sulfur western fuels, especially at locations where there are significant water supply concerns. J-POWER reports that SO2 and NOx emissions at the Isogo plant are both at single-digit ppm concentration levels—emissions that are on par with a natural gas–fired plant. Data for Japan represent combined data for Japan's 10 regional electric utilities and J-POWER. Figures for Isogo represent actual performance for fiscal 2008. Country figures represent combined emissions intensity for coal-, oil-, and gas-fired thermal power plants. Source: Federation of Electric Power Companies of Japan
Strong Market Plan
Demonstrated single-digit levels of emis­sions could have a profound impact on future permitting of coal-fired plants worldwide, especially in the U.S. Certain­ly, constructing a similar plant in the U.S. would set the benchmark for emissions permits for future coal-fired plants.
J-POWER has also announced that "preparations for environmental impact assessment" have begun for replacement of the two units at the Takehara Thermal Power Station. This 1,300-MW station, built in 1967 and 1974, would remain in service during construction of two like-sized, but much more efficient units with much lower emissions. The two older units would be retired after construction is com­pleted in 2020. Construction is estimated to begin in 2014.
-Portions of this article appeared in POWER magazine