The New MIT Climate Study: A Real World Inversion?
By Chip Knappenberger -- May 28, 2009
Considering that climate models are predicting global temperatures to be rising at a rate far greater than they actually are, you would think that the model developers would be taking a long, hard look at their models to try to figure out why they are on the verge of failing.
In fact, I would expect to soon start to see papers in the scientific literature from various modeling groups attempting to explain why their models have gone awry and to provide an accompanying downward revision of their projections of 21st century temperature change. After all, how long a period of no warming can be tolerated before the forecasts of the total warming by century's end have to be lowered? We're already into our ninth year of the 100 year forecast period and we have no global warming to speak of (Figure 1).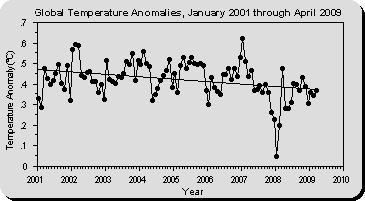 Figure 1. Observed monthly global temperature anomalies, January 2001 through April 2009 as compiled by the Climate Research Unit)
So imagine my surprise when a paper just appeared in the Journal of Climate by a group of researchers at M.I.T. that nearly doubled the existing expectations of the total warming by the year 2100!
This is quite a gutsy group, for not only are they saying that the prevailing model projections—which are already way too hot—are warming things up too slowly, but that when they re-examine the model inputs, they predict a best-guess warm-up that lies very near the current worse-case projections. The research group led by Andrei Sokolov and Ronald Prinn expects that the most likely warming by the year 2100 to be 5.2ºC with a 90% confidence range bounded by 3.5ºC on the low side and 7.4ºC on the high side. Like I said, gutsy.
Just to put that in perspective, I present Figure 2 which shows generally what the temperature rise during the next 90 years, 7 months needs to look like for that prediction to be true.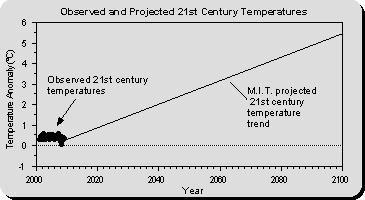 Figure 2. Observed and projected 21st century temperatures and trends.
This is utterly incredible and virtually impossible.
As a picture is valued at about thousand words, I probably couldn't come up with a thousand more choice ones than Figure 2 is worth. So I'll leave it at that.
If you are interested in analysis by someone who is able to conjure up a few words to describe the more blatant problems with the M.I.T. study, Roy Spencer is happy to provide one. He starts out:
Climate science took another step backward last week as a new study from the Massachusetts Institute of Technology was announced which claims global warming by 2100 will probably be twice as bad as the United Nations Intergovernmental Panel on Climate Change (IPCC) has predicted.
He goes on from there to describe what is wrong with the study—foremost in Dr. Spencer's mind being the overly high climate sensitivity term:
But as I have mentioned before, the use of statistical probabilities in this context is inappropriate. There is a certain climate sensitivity that exists in the real climate system, and it is true that we do not know exactly what that sensitivity is. But this does not mean that our uncertainty over its sensitivity can be translated into some sort of statistical probability.

The use of statistical probabilities by the IPCC and the MIT group does two misleading things: (1) it implies scientific precision where none exists, and (2) it implies the climate system's response to any change is a "roll of the dice".

We know what the probability of rolling a pair of sixes with dice is, since it is a random event which, when repeated a sufficient number of times, will reveal that probability (1 in 36). But in contrast to this simple example, there is instead a particular climate sensitivity that exists out there in the real climate system. The endless fascination with playing computer games to figure out that climate sensitivity, in my opinion, ends up wasting a lot of time and money.

True, there are many scientists who really do think our tinkering with the climate system through our greenhouse gas emissions is like playing Russian roulette. But the climate system tinkers with itself all the time, and the climate has managed to remain stable. There are indeed internal, chaotic fluctuations in the climate system that might appear to be random, but their effect on the whole climate system are constrained to operate within a certain range. If the climate system really was that sensitive, it would have forced itself into oblivion long ago.
To read more of Dr Spencer's analysis, check out his article "The Global Warming Climate Gamble."
Ultimately, he arrives at a similar conclusion as do I:
[I]t is only a matter of time before the climate community placing all its bets on the climate models is revealed to be a very bad gamble.
Update: Several commentors have asked to see a longer-term history of observations against which to compare the M.I.T. 21st century projections.
Since the projections only cover the period from 2001 to 2100, I originally only showed the observations that thus far have occurred during that period (Figure 2). But for those want to see a longer perspective, I introduce Figure 3, the observed temperatures since 1900 along with the M.I.T. 21st century projections. To me, this doesn't makes the projection look any better, but you can judge for yourself.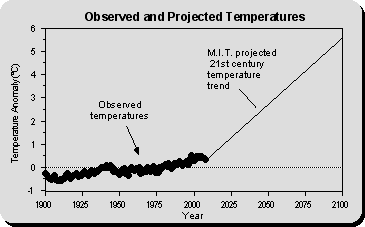 Figure 3. Observed temperatures from 1900 through 2008 along with the 21st century projections from M.I.T.