Is Joe Romm a 'Global Lukewarmer'?
By Chip Knappenberger -- September 24, 2009
"On our current emissions path, we're going to … warm more than 4°C by century's end."

– Joseph Romm, Climate Progress, August 11, 2009

"I will be happy to bet anyone that the 2010s will be the hottest decade in the temperature record, more than 0.15°C hotter than the hottest decade so far using the NASA GISS dataset.  Any takers? Andy [Revkin]?"

Joseph Romm, Climate Progress, September 22, 2009
In a fit of rage, uber-alarmist Joe Romm of ClimateProgress has recently offered a temperature warming bet that he can win even if more than 85% of all climate models are shown to overpredict future warming.
Has Joe seen the light and become a "lukewarmer"—that is, someone who thinks that the human CO2 emissions will result in only a modest rise in global temperature, somewhere at or below the bottom end of the IPCC range of projections? Might he even be a closet 'skeptic'–not a skeptic of climate change or anthropogenic climate change, but a doubter of climate alarmism?
For someone so strident on this issue, I would have thought that Joe Romm, would bet on climate catastrophe, not climate-model catastrophe.
Romm issued his bet after hyperventilating about Andy Revkin's recent article in the New York Times, which suggested that the lack of change in the world's average surface temperature since the turn of the century (or in some instances, a few years prior) has the potential to make it difficult to get CO2 emissions regulated in the name of "global warming."
For what it is worth, I agree with Revkin on this (tune in next week to see why), as do an increasing number of science writers who are hedging their bets in line with recent data and what new peer reviewed articles are suggesting. And Romm is furious that Revkin has 'mainstreamed' lukewarming in the pages of the newspaper of record, the New York Times.
States Romm: "I will be happy to bet anyone that the 2010s will be the hottest decade in the temperature record, more than 0.15°C hotter than the hottest decade so far using the NASA GISS dataset."
Well, many climate realists the world over would feel vindicated if the average temperature of the 2010s was only 0.15°C hotter than the decade of the 2000s (the current warmest decade). For that would provide more strong evidence that the earth's climate was responding to anthropogenic greenhouse gas emissions in a far more benign manner than the ensemble projection of climate models.
In fact, the rejoicing wouldn't be limited to climate realists but to just about anyone overly concerned about the potential for large negative impacts from climate change given a slower-than-model-predicted evolution of global temperatures. I imagine, though, that Joe Romm would be an exception because while he would have won the bet, he would have lost his Hell-or-High-Water war. He is emotionally attached to the issue with a public record of alarmism that is beginning to put Paul Ehrlich in the shade. (John Holdren, with his billion-death climate scare still on the table, might be another story.)
How Will the Bet Play Out?
When the final global temperature numbers are tallied at the end of this year, the hottest decade on record will be the most recent one, that is 2000–2009. The average global temperature anomaly in the GISS dataset for this period will be somewhere around 0.51°C.
Joe wants to bet that the next ten years, the "2010s" (2010-2019) will average at least 0.15°C hotter, or, that the global average temperature anomaly for the period will be at least 0.66°C.
Obviously, there are many ways for this to happen. I'll examine a reasonable and straightforward one—I'll assume that the evolution of global average temperature during the next 10 years will be just like it was during the last 10 years, but that each year will be 0.15°C hotter than the corresponding year 10 years prior. This reasonably captures interannual variability and is as good a guess as any as to how the temperatures could change and Joe could still win his bet. The resulting temperature history, from 2000-2019, is presented in Figure 1.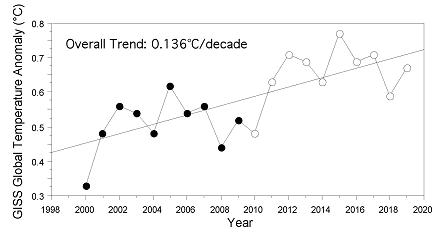 Figure 1. A reasonable temperature evolution in which Joe Romm would win his bet that the decade from 2010–2019 was at least 0.15°C hotter than the decade from 2000–2009. The closed circles are the observed data from the GISS dataset, and the open circles are the temperatures for the period 2010–2019 under the assumption that each is 0.15°C warmer than the corresponding year 10 years earlier.
The trend in global temperatures over the 20-yr period depicted in Figure 1—one in which Joe would win the bet—is 0.136°C/decade.
In Figure 2, I plot the distribution of the temperature trends as projected to occur during the first 20 years of the 21st century by all the climate models included in the IPCC's Fourth Assessment Report when run under the mid-range emissions scenario called A1B (note: Joe thinks that this emissions scenario is far too conservative—which means it produces too little temperature rise for his taste). There are 55 model runs from among the 22 individual climate models.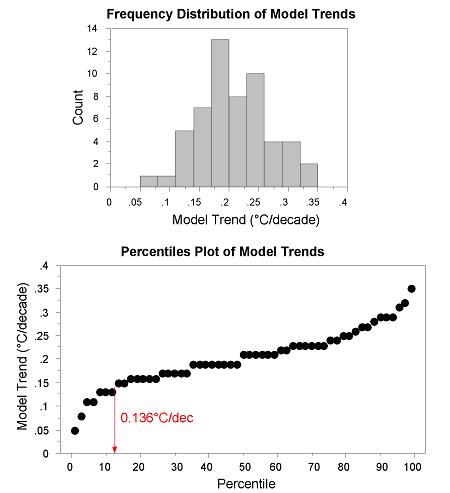 Figure 2. (top) Frequency distribution of climate model projected temperature trends during the first two decades of this century under the SRES A1B emissions scenario (55 model runs in all). (bottom) Percentile plot of the model projected temperature trends from the 55 individual model runs with Joe's winning bet indicated.
I indicate in Figure 2 where the trend 0.136°C (Joe's winner) falls in this distribution. It falls at the about the 13th percentile, meaning that 87% of the model runs project that a greater temperature rise should have occurred during the first two decades of the century.
In other words, Joe won his bet and yet 87% of climate model runs (using an emissions scenario that Joe considers to be too conservative) projected that the climate should have warmed up faster than what occurred. Hopefully, by then, Joe would have reassessed his stance on the pace and impacts of global warming.
If Joe were really serious that he thought that climate models were getting things right (or even underestimating what is to come), then he should not have offered such a wimpy bet.
Man Up: A Real Romm Bet
At the very minimum, Romm should have offered a bet for a temperature rise during the coming decade that would at least have fallen in the middle of the distribution of model projections (if not higher since he considers that A1B underestimates the forcing changes to come). The 50th percentile of the model distribution is a 20-yr trend of 0.21°C/decade. For that to happen, the 2010s need to average about 0.25°C above the average of the 2000s (Figure 3).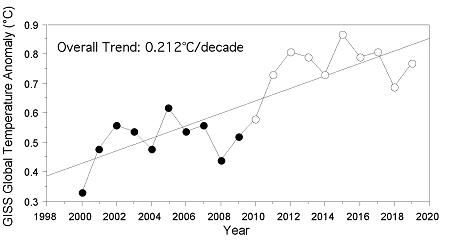 Figure 3. A reasonable temperature evolution in order to bring the overall trend from 2000-2019 up to the model median value of 0.21°C/decade. Each of the coming 10 years would have to be 0.25°C hotter than its counterpart 10 years prior.
Clearly Joe needs to rethink his bet. For I am sure that he doesn't want to include the possibility for it to result in a Pyrrhic victory. So, instead of offering up something on the namby-pamby side of things (which seems to run counter to his character), he ought to put something strong and confident out on the table—at least a bet that the 2010s will minimally average 0.25°C above the past decade's average temperature, but even more impressive would be 0.30° or 0.35°C.
Come to think of it, if he really believes the "doubled" warming projections from the MIT study that his is so keen on touting, he ought to man-up and proffer a 0.50°C average temperature rise during the next decade as a reasonable 50-50 value. That would certainly cement his reputation as a true believer.
Offering anything less, would indicate that Joe really isn't all that convinced that global warming is going to progress at rate leading to "unmitigated catastrophe." Offering to bet on a 0.15°C rise is more like something I would put up (if I were the betting sort)!
So is Romm a closet "lukewarmer?" Or is he starting to become a bit worried that global warming is being a bit overblown? He has already reversed course to endorse a very weak climate bill (Waxman-Markey, what James Hansen called a "monstrosity") as "the only game in town." Perhaps he is unwittenly softening his physical science view as reality too.
So here's a challenge to Joe ('I'm-right-you're-wrong') Romm: will you offer a global warming alarmism bet instead of a 'global lukewarming' one? Will you walk your scary talk?