India's Tripled CO2 Emissions by 2030: A 'Carbon Constrained' World?
By
Marlo Lewis
-- September 4, 2009
India released an analysis on Wednesday projecting tripled carbon-dioxide (CO2) emissions by 2030, the New York Times reports. Taking into account five independent studies, India expects to release between 4 billion and 7 billion tons by 2030, BBC News reports, compared to 1.2 billion tons today.
India released the analysis to strengthen its bargaining position at the December Copenhagen climate summit where delegates will attempt to negotiate a successor treaty to the Kyoto Protocol. The United States and other industrialized nations contend that India should adopt binding emission limits. India refuses, arguing that mandatory restrictions would stifle the country's economic development.
The analysis supports this position, explains Jairam Ramesh, India's minister of environment and forests, because India's per capita emissions in 2030 will still be much lower than that of any developed country today. India's per capita emissions in 2030-31 will be 2.7 tons to 5.00 tons (up from 1.19 tons in 2006).  For perspective, in 2006, per capita CO2 emissions were 19.8 tons in the United States, 10.4 tons in Germany, and 9.7 tons in Japan, according to the U.S. Energy Information Administration. 
The Indian government's analysis inadvertently imparts an inconvenient fact: Even extraordinary parsimony in the use of carbon-based energy is not enough to achieve absolute cuts in CO2 emissions. Too bad Ramesh does not draw out the real lesson: Nations cannot achieve deep cuts in their emissions, or even cap emissions at current levels, without capping and cutting economic growth.
As the world's most populous countries with the biggest "emerging" economies, India and China are uniquely positioned to challenge the moral bona fides of Kyoto-style energy rationing. So far they have not done so. They talk the Al Gore talk, which means they speak and act at cross purposes.
Consider UN IPCC chief Rajendra Pachauri, a prominent Indian citizen. Pachauri defends India's refusal to cut its emissions, noting that millions of Indians still lack electricity. Yet Pachauri was instrumental in getting the IPCC to adopt a CO2 stabilization target of 450 parts per million. That's a very aggressive target requiring, among other things, building new nuclear reactors at the rate of one every other day and covering one million roofs with solar panels every day over the next 40 years, according to Cal Tech chemist Nathan Lewis. Pachauri now calls for stabilizing global CO2 concentrations at 350 parts per million. Maybe a global de-industrialization treaty could lower CO2 levels to 350 ppm by 2050 — then again, maybe not.
'Green' Talk: CO2 Reality
India and China insist on being exempt from binding emission limits, yet they preach the gospel of climate catastrophe. This is untenable. Almost all the emissions growth over the next several decades will come from developing countries. The more they promote climate alarmism, the more pressure they will come under to cap their emissions.
Figure description: CO2 emissions by country and region under "business as usual" from 1990 to 2095.  Approximately 90% of emissions growth over the next several decades is expected to occur in developing countries, those to the left of the long upper bracket. (Click on the Figure to enlarge it.) Source: James Connaughton, Chairman, Council on Environmental Quality, Energy and Climate Policy, December 2007
India and China spout the UN/EU/Al Gore line that the world must reduce its emissions at least 50% by 2050 to "avoid the worst effects of climate change." Do they understand the extraordinary sacrifices they would have to make to achieve this popular goal?
By one recent estimate, global CO2 emissions must decline by 38.3 billion tons below baseline projections to achieve a 50% cut below year 2000 levels.
Source: Steven Eule, Climate Change: Scale and Scope of the Challenge to Reduce Global Greenhouse Gas Emissions, Institute for 21st Century Energy, U.S. Chamber of Commerce, February 2009. (Click to enlarge.)
As the chart below shows, even if developed country emissions miraculously fall to zero, the 50% global reduction target cannot be achieved unless developing countries reduce their emissions 62% below baseline levels. Moreover, if, less unrealistically, developed countries reduce their emissions by "only" 84% — roughly the Waxman-Markey target for 2050 — developing countries will have to reduce their emissions 71% below baseline levels. They'll have to hold their emissions practically flat despite four-plus decades of population growth.
Source: Eule, Climate Change: Scale and Scope of the Challenge to Reduce Global Greenhouse Gas Emissions. (Click to enlarge.)
The bottom line: If global emissions are to decrease 50% by 2050, and industrial countries reduce their emissions by 84%, developing-country per capita emissions may not exceed 1.3 tons. Yet, as noted above, India is projecting per capita emissions of 2.7 to 5 tons in 2030. India cannot stay on the EU/UN/Al Gore bandwagon without building an international framework and ideological crusade inimical to its economic development.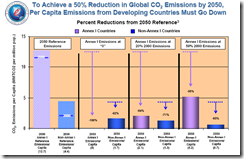 Source: Eule, Climate Change: Scale and Scope of the Challenge to Reduce Global Greenhouse Gas Emissions. (Click to enlarge and focus.)
So far, India and China have escaped Kyoto-style energy rationing. This makes their products more competitive in global markets, and pulls capital and jobs away from CO2-regulated economies.  But we're only two years into the first (2008-2012) Kyoto compliance period. At some point, free riders have to pay up or get off the train. 
The EU, Japan, and the United States (if it ratifies Kyoto II) will not accept a permanent arrangement under which they bear all the costs of energy rationing, fork over billions in technology transfers and climate assistance, and export more jobs to India and China.
The longer the Kyoto project endures, the greater the pressure India and China will face — in the form of carbon tariffs, for example — to join the club of the carbon-constrained. 
Conclusion
If India and China want to protect their right to grow and avert an economically-debilitating era of trade conflict, they should get off the global warming bandwagon as soon as possible. A balanced assessment of the science does not justify alarm. India and China already act on the premise that global warming policy is more dangerous than global warming itself. It's time for their words to match their deeds.