Vegetative Response to Climate Change: Celebrate, Don't Fret
By Chip Knappenberger -- June 21, 2010
A new study has concluded that shifting climate is leading to shifting vegetation patterns across the globe.
My response to this announcement was "Terrific! The biosphere was responding the way it should to changing conditions."
To my surprise, this enthusiasm wasn't shared by the study's authors. In fact, lead author Patrick Gonzalez seemed downright glum:
"Globally, vegetation shifts are disrupting ecosystems, reducing habitat for endangered species, and altering the forests that supply water and other services to many people."
A very negative spin on what should be cause for celebration.
Despite how much we, humans, have sliced and diced the landscape, natural systems are still doing their best to respond to climate changes—just like they always have.
The only way to see this in a negative light would to hold the belief that everything that humans do to the world is bad. This seems like an odd philosophy, for more than likely the holder of such a philosophy wouldn't exist today had it not been for everything that humans have done to make the world a better place and vastly improve our health and welfare. Just 150 years ago, as the industrial revolution was set to take off, the population of the world was about 5 times less than now and the average human lifespan was about 30 years. 
I am not saying that there aren't some negatives for some species when the climate changes. Of course there are. But what I am saying is that there are plenty of positives as well. And it takes no more imagination to come up with positives than it does for negatives.
But for some reason, there is a fixation on the negatives. And it is this fixation, and practically only this fixation, which has led to "global warming" becoming the prominent issue that it has.
Just imagine what the attitude of the day would be like if we were under a constant barrage of all the good things that climate change may bring, instead of the bad. We'd all be driving SUVs, eating platefuls of meat, and keeping our thermostats set to comfortable levels. OK, but, we'd be feeling a bit less guilty about it.
The Gonzalez paper includes a prime example of this pervasive negativity. It quantifies the impacts of future climate change on vegetation biomes in units of "vulnerability"—employing the IPCC definition as "the degree to which a system is susceptible to, and unable to cope with, adverse effects."
Nowhere, however can I find a quantification of "opportunity"—by my definition "the degree to which a system is able to expand or flourish under new conditions."
The word "vulnerability" occurs more than 70 times in the article (including the title) and the word "opportunity" occurs only once.
What Gonzalez and colleagues find so "disrupting," according to their press release is that there is ample evidence that
"over the past century, vegetation has been gradually moving toward the poles and up mountain slopes, where temperatures are cooler, as well as toward the equator, where rainfall is greater."
And,
"Moreover, an estimated one-tenth to one-half of the land mass on Earth will be highly vulnerable to climate-related vegetation shifts by the end of this century, depending upon how effectively humans are able to curb greenhouse gas emissions, according to the study."
This is an example of using "vulnerable" instead of a neutral word like "responsive" or even a positive such as "receptive."
A few years ago, researcher Ramakrishna Nemani and colleagues took a look at global vegetation and found that the combination of increasing atmospheric carbon dioxide concentrations and a changing climate has led to an increase in the "greenness" of the earth.
Carbon dioxide is a plant fertilizer—the more of it there is in the atmosphere, the better plants grow. Aspects of climate can act in a similar way. More sunshine in cloudy areas, more rainfall in dry areas, and higher temperatures in cold areas can all act to boost plant growth. And it is precisely these types of climate changes that have taken place over the past 20-30 years. And as a result, the world's plants have responded positively. Figure 1 shows the trends in net primary productivity (NPP)—the ultimate measure of how much plant growth is taking place. Upward trends in NPP (green areas in Figure 1) mean that plants are growing better. This is occurring across most land areas across the globe.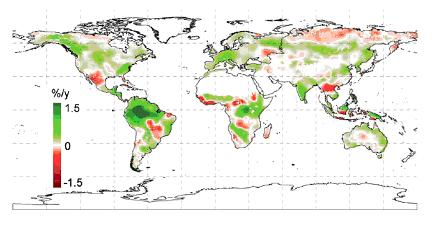 Figure 1. Trends in net primary productivity (NPP) from 1982-1999. Green areas indicate increasing NPP, red areas indicate decreasing NPP (source: Nemani et al., 2003).
So from a global perspective, it doesn't seem like the planet's plant life is responding negatively to climate change. Are some species suffering? Undoubtedly. But, as is also the case, many others are flourishing. And in net, the change in plant growth since the early 1980s is positive.
Gonzalez sums up his "vulnerability" study with this:
"Approximately one billion people now live in areas that are highly to very highly vulnerable to future vegetation shifts… Ecosystems provide important services to people, so we must reduce the emissions that cause climate change, then adapt to major changes that might occur."
He's definitely got the second part of what we need to do right. As to the first—reducing emissions in an effort to stave off future changes in vegetative growth patterns—that one is a value judgment that is comes down to the value placed on change. And as far as the net global vegetative response, that value would seem to be positive.
References:
Gonzalez, P., et al., 2010. Global patterns in the vulnerability of ecosystems to vegetation shifts due to climate change. Global Ecology and Biogeography, doi: 10.1111/j.1466-8238.2010.00558.x
Nemani, R.R., et al., 2003. Climate-driven increases in global terrestrial net primary production from 1982 to 1999. Science, 300, 1560–1563.