Energy Freedom Bus Tour: Hitting the Open Road for Consumers, Taxpayers, and Common Sense
By Robert Bradley Jr. -- August 7, 2012
"We will take the vision for affordable energy, common sense regulation, and safe technology to the American people; then return to Washington D.C. to deliver the message — it's time to free the American people from costly, unnecessary regulations and bureaucracy. It's time for Washington to untie the hands of American energy producers and manufacturers, and free these job creators to put our country back to work again."
Freedom rings! The anti-energy eco-planners used to monopolize the not-for-profit energy dialogue. There was yours truly running the Institute for Energy Research (IER) out of my house, and Jerry Taylor of the Cato Institute carrying the free-market energy torch in Washington, D.C. And then that feisty bunch at the Competitive Enterprise Institute–Marlo Lewis and Chris Horner, et al.–came on the scene.
But now our side has caught up. A lot of 'free-market money' has helped to equalize the playing field to mobilize the mighty limited-government grassroots. And consumers and taxpayers like real energies, and so do admirers of the U.S. Constitution.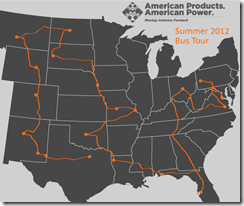 So buckle your seatbelts. The American Products and Power bus tour is coming. It will be fun, productive, and educational. It will remind  many about how energy is the master resource, and industrial energy is what consumers naturally choose without government misdirection to ethanol, wind power, and (on-grid) solar power.
Here is the news release:
On Tuesday, August 7, the American Energy Alliance will launch a six week bus tour to promote affordable and reliable domestic energy sources, free energy markets, and less burdensome regulations on American job creators.
Beginning in Dallas, TX, the "American Products and Power" bus tour will travel through New Mexico, Colorado, Wyoming, Montana, North Dakota, South Dakota, Nebraska, Missouri, Oklahoma, Louisiana, Florida, Ohio, West Virginia, Pennsylvania, Virginia, and end in Washington. D.C. on Sept. 13.
A critical component of AEA's year-long initiative to educate American consumers about the importance of affordable energy for the every day products that make life better, the 2012 "American Products and Power" bus tour will recruit a nation-wide base of informed activists to promote common sense, free market solutions to the nation's energy needs. Stopping at state fairs, refineries, manufacturing facilities, state houses and major national events, the American Energy Alliance will add to a multi-million dollar effort this year that involves radio, television, and print advertising, as well as rallies and aggressive social media campaigns.
Conservative columnist and commentator Michael Reagan, the eldest son of former President Ronald Reagan, will officially launch the "American Products and Power" bus tour at an August 7th rally in Dallas's Flag Pole Hill Park.
"Few others can speak as authoritatively about an American vision for free markets, energy security, and economic growth as Michael Reagan. The American Energy Alliance is pleased to be joined by Michael Reagan as we launch the 2012 "American Products and Power" bus tour," AEA President Thomas Pyle said.
At the core of our mission is to tell the truth to the American people about the vast energy potential that lies under American soil and off our coastline. Developing these affordable resources and manufacturing American-made products is critical to the nation's economy and our future. We cannot compete in the global market as long as Washington has its boot on the neck of hard working men and women who are building our future.

We will take the vision for affordable energy, common sense regulation, and safe technology to the American people; then return to Washington D.C. to deliver the message — it's time to free the American people from costly, unnecessary regulations and bureaucracy. It's time for Washington to untie the hands of American energy producers and manufacturers, and free these job creators to put our country back to work again.
A portion of the American Products and Power bus tour will roughly trace the northern path of the proposed Keystone XL pipeline, which the Obama administration and the U.S. Senate have blocked from final approval though it promises to create tens of thousands of jobs and deliver as much as 700,000 barrels of North American oil to U.S. refineries every day upon project completion.