Category —
Energy Consumerism
Over at Center for American Progress (and Climate Progress), where oil production and oil consumption are considered bads, Memorial Day is not a welcomed time. And so their holiday-weekend message is that oil is not a good buy (it is more expensive thanks to the policies CAP/CP advocate), and "Big Oil" is a culprit. Here is their spin:
Beginning with the Memorial Day weekend and throughout the summer, Americans will spend their hard-earned dollars traveling to visit family, friends, and the great outdoors. Meanwhile, Big Oil will be making huge profits off of these travel expenditures on fuel, while at the same time fighting for decreased public health and climate-change protections.
At MasterResource, we celebrate the beginning of the peak driving season knowing that our free-market philosophy is about energy abundance and affordability. And there is little to apologize for.
Oil, gas, and coal have been/are being technologically transformed into super-clean energy resources. Carbon-based energies are growing more abundant, not less. And energy/climate alarmism is losing steam on all fronts.
The real energy sustainability problem is statism, not free consumer choice. As Matt Ridley recently concluded: "There is little doubt that the damage being done by climate-change policies currently exceeds the damage being done by climate change."
Energy is the master resource. Motorized transportation is freedom-of-movement. So, like the Shell commercial says, Let's Go!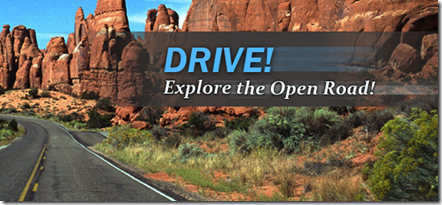 May 25, 2013 3 Comments
Left environmentalists critical of electrified America must have mixed emotions this time of the year. It may be the season of good cheer and goodwill toward all, but it is also the time of the most conspicuous of energy consumption. America the Beautiful is at her best come December when billions of stringed light bulbs on buildings and trees turn the mundane or darkness itself into magnificent beauty and celebration.
Holiday lighting is a great social offering—a positive externality in the jargon of economics—given by many to all. it makes one wish for more lighting all months of the year in urban centers–for ease of movement, for safety, for better moods. "Here Comes the Sun," a favorite of so many, could be joined by "Here Comes the Light."
While energy doomsayers such as Paul Ehrlich have riled against "garish commercial Christmas displays," today's headline grabbers (Grist, Climate Progress, where are you?) have not engaged a public debate over the issue. Yet holiday lighting is a glaring exception to their goal of reducing discretionary energy usage to help save the world. If holiday energy guzzling is forgiven, why not excuse outdoor heating and cooling, one-switch centralized lighting, and instant-on appliances that "leak" electricity, not to mention SUVs?
Prancing around to turn on individual lights or waiting for the paper copier to warm up waste the scarcest and one truly depleting resource: a person's time. Surely extra energy use for comfort and convenience has priority over purely celebratory uses of energy.
What about the holiday humbug that celebratory electricity depletes future fossil-fuel supplies, fouls the air, and destabilizes the climate? Good tidings abound! [Read more →]
December 24, 2010 14 Comments
At the NARUC Winter Meeting in Washington D.C. last week, a Study Group composed of regulatory commissioners, consultants, government and university economists, and non-profit association sponsors released their energy research report: ANALYSIS OF THE SOCIAL, ECONOMIC AND ENVIRONMENTAL EFFECTS OF MAINTAINING OIL AND GAS EXPLORATION AND PRODUCTION MORATORIA ON AND BENEATH FEDERAL LANDS
(Assessment of the Combined Relative Impacts of Maintaining Moratoria and Increased Domestic Onshore and Offshore Oil and Gas Resource Estimates).
The just released study, prepared by Science Applications International Corporation (SAIC) and subcontractor Gas Technology Institute (GTI), makes a resounding case for the federal government to consider exploration and production on land and offshore for the common good.  And far from being an 'industry group', the 'Moratoria Study Group' represented a formidable national body of public and private energy experts whose study found that consumers, the national economy, vast new employment potential  and national defense could benefit from plentiful, affordable and reliable domestic energy resources.
The study makes several important findings and public-policy points.
1. Increased Estimates of Domestic Oil and Gas Resources
The report increased government estimates of the U.S. domestic natural gas resource base from 1,748 Trillion Cubic Feet (Tcf) to 2,034 Tcf, and increased the estimate of crude oil resources from 186 billion barrels of oil (Bbo) to 229 Bbo.   It also revealed that a multi-trillion dollar impact on American citizens of not developing resources could result in increased energy imports; increased gasoline, natural gas and electricity prices; along with decreased jobs, gross domestic product and family disposable income.
2. Congress and President Removed Moratoria, but Resources Still Unavailable
"The previous Administration and Congress removed oil and gas moratoria on public lands over one year ago," Study Group chair O'Neal Hamilton said, "but required actions to access the energy resources thought to exist there have not been taken." (Hamilton is past Chairman of the South Carolina Public Service Commission and Chairman of the National Association of Regulatory Utility Commissioners' NARUC Committee on Gas, which initiated the study in 2007.)
"Whether additional Federal lands should be leased for energy development–and under what conditions leasing should occur–is a matter for national energy policy decision makers," Hamilton said.  "Our research allows policy makers to know the extent of the resource base and the effects that maintaining the restrictions would have on the country. Our public interest work is dedicated to giving decision makers information upon which they can rely in developing America's national energy policy."
3. Dramatic Negative Effects from Not Developing U.S. Resources [Read more →]
February 25, 2010 1 Comment