Category —
American Energy Alliance (IER)
"We will take the vision for affordable energy, common sense regulation, and safe technology to the American people; then return to Washington D.C. to deliver the message — it's time to free the American people from costly, unnecessary regulations and bureaucracy. It's time for Washington to untie the hands of American energy producers and manufacturers, and free these job creators to put our country back to work again."
Freedom rings! The anti-energy eco-planners used to monopolize the not-for-profit energy dialogue. There was yours truly running the Institute for Energy Research (IER) out of my house, and Jerry Taylor of the Cato Institute carrying the free-market energy torch in Washington, D.C. And then that feisty bunch at the Competitive Enterprise Institute–Marlo Lewis and Chris Horner, et al.–came on the scene.
But now our side has caught up. A lot of 'free-market money' has helped to equalize the playing field to mobilize the mighty limited-government grassroots. And consumers and taxpayers like real energies, and so do admirers of the U.S. Constitution.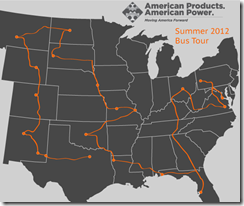 So buckle your seatbelts. The American Products and Power bus tour is coming. It will be fun, productive, and educational. It will remind  many about how energy is the master resource, and industrial energy is what consumers naturally choose without government misdirection to ethanol, wind power, and (on-grid) solar power.
Here is the news release:
August 7, 2012 5 Comments
[Editor Note: Tomorrow's post,"A Free Market Energy Vision," explains the philosophy behind the Institute for Energy Research/American Energy Alliance.]
The New York Times is upset with "Big Oil," including the advocacy group American Energy Alliance (AEA). This is evident in their Saturday opinion-page editorial, Big Oil's Bogus Campaign, subtitled "Industry spends heavily to preserve tax breaks and blame Mr. Obama for rising gas prices."
What is the philosophy behind AEA, what are the Times's complaints, and what is a free-market response?
American Energy Alliance
The American Energy Alliance is the C4 (advocacy) arm of the C3 (educational) Institute for Energy Research. I am founder and CEO of IER.
AEA's "About" section on its website reads as follows:
Founded in May, 2008, The American Energy Alliance ("AEA") is a not-for-profit organization that engages in grassroots public policy advocacy and debate concerning energy and environmental policies.

AEA believes that freely-functioning energy markets provide the most efficient and effective solutions to today's global energy and environmental challenges and, as such, are critical to the well-being of individuals and society. AEA believes that government policies should be predictable, simple and technology neutral.
AEA's mission statement is as follows: [Read more →]
April 2, 2012 1 Comment