Category —
Alarmism
 "Some form of ecocatastrophe, if not thermonuclear war, seems almost certain to overtake us before the end of the [twentieth] century."
Doom and gloom—and falsity—hallmarks the long career of John P. Holdren, neo-Malthusian and now President Obama's initial and still science advisor.
What else has the Assistant to the President for Science and Technology and Director of the Office of Science and Technology Policy said? And can we assume that he still holds and trumpets these views to Obama?
It's Halloween, a good time to refresh memories of the man who just might be the scariest presidential advisor in U.S. history!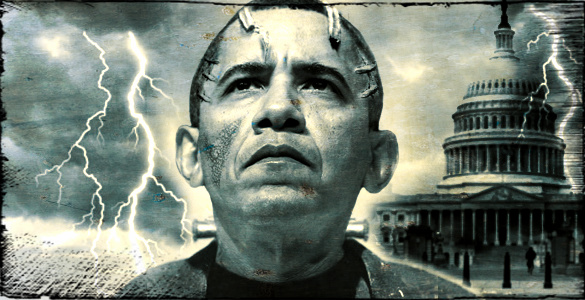 Read—but don't be frightened. The sky-is-falling gloom of Holdren, his mentor Paul Ehrlich, and others is in intellectual and empirical trouble. From Julian Simon to Bjorn Lomborg to Indur Goklany to Matt Ridley, the technological optimists have the upper hand in a debate that continues to be one-sided.
Billion Deaths Possible!
"As University of California physicist John Holdren has said, it is possible that carbon-dioxide climate-induced famines could kill as many as a billion people before the year 2020."[2] [Read more →]
October 31, 2013 4 Comments
"We created a way of raising standards of living that we can't possibly pass on to our children. It has to collapse, unless adults stand up and say, 'This is a Ponzi scheme. We have not generated real wealth, and we are destroying a livable climate.'"
– Joe Romm, quoted in Thomas Friedman, Is the Inflection Point Near?, New York Times, March 7, 2009.
"Is there any more single-minded, simple pleasure than viewing with alarm? At times it is even better than sex."

—Kenneth Boulding (1970), p. 160. [1]
Are free-market optimists the dumb ones who jump off tall buildings and report that everything is fine, even breezy, on the way down? Or are those who fear, rant, and make this analogy bungee-jumping with reality?
The optimists have been jumping off buildings ever since Robert Thomas Malthus's An Essay on Population was published in 1798–and not hitting the ground. More specifically, many in the Julian Simon camp have been jumping in regard to a variety of minerals ever since the 1960s and 1970s when Paul Ehrlich, The Club of Rome, etc. proclaimed the end was in sight.
Just maybe the doomslayers are well grounded with their trust in private property rights and the market process, including "creative destruction" where the better can replace the good. And maybe the neo-Malthusians are lost in a Haunted House with their (feel-good?) fears are joined by dreams of righting under-regulated, under-regimented humankind.
Three 'Fearmongers'
Paul Ehrlich, John Holdren, and James Hansen, among other prominent neo-Malthusians, have made doom-and-gloom predictions about business-as-usual in an attempt to shock humanity into immediate legislative action and lifestyle changes. [Read more →]
October 31, 2012 4 Comments