Category —
Pricing distortions (wind)
"Ignoring how competitive markets operate–and pretending that wind energy is exempt from the basic rules of economics–will not change the fact that windpower is an expensive, unpredictable resource that cannot compete without enormous public hand-outs. If the PTC were permitted to expired today, the wind industry might be forced to increase its efficiencies and lower project costs, but the effect on electricity prices at large would likely go unnoticed."
Last fall, utility-giant, Exelon Corp., encouraged Congress to let the federal production tax credit (PTC) expire, citing the subsidy's distortionary effect on competitive wholesale energy markets. The American Wind Energy Association (AWEA) slapped back by publicly booting Exelon off its board and unleashing an army of surrogates to control the damage and berate the company for putting its interests first.
The latest attack came July 4th when eco-youth Gabe Elsner, a "public interest advocate" of The Checks and Balances Project, accused Exelon of conspiring with Big Oil to squeeze out cheaper competitors like wind in order to drive up consumer electricity prices and increase profits.
The absurd claim exposes Elsner's feeble grasp of how wholesale power markets operate. We examined several characteristics of wind generation in the context of existing market rules in order to demonstrate the flaws in his complaint.
Since Exelon participates in the PJM wholesale market, we focused our attention there. [1] The below table provides quick facts about PJM's 2012 control area.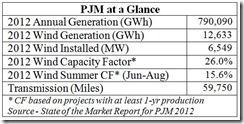 (CLICK for better resolution); Source – State of the Market Report for PJM 2012
Subsidized "Cheapness"
Under PJM rules, wind generators are permitted to offer their energy at zero ($0.00) or negative prices. But don't be fooled into believing wind energy is a low-cost resource. Quite the opposite! [Read more →]
July 23, 2013 5 Comments
This month, unity was shattered within the wind industry when energy-giant Exelon Corporation broke ranks with other renewable-energy developers and asked Congress to let the production tax credit (PTC) expire in December. Exelon rightfully argued that the subsidy was distorting competitive wholesale energy markets and causing financial harm to other, more reliable clean energy sources.
In a fit of fury, the American Wind Energy Association (AWEA) voted Exelon "off the island" for insubordination and dismissed their complaint as self-serving, aimed at protecting Exelon's fleet of Midwest nuclear power plants. AWEA insisted that wind was benefiting ratepayers by driving down consumer electricity prices in the face of "expensive, inflexible generation" like nuclear and coal.
As usual, AWEA position is easily rebutted. Yes, Exelon is concerned about (bizarre) wind pricing on the rates received by its nuclear power plants. But the impact of large quantities of wind generation on energy markets extends beyond nuclear power, and on the whole is placing upward pressure on electricity prices. [Read more →]
October 3, 2012 4 Comments
The coalition in support of wind power's Production Tax Credit (PTC) has always had a bit of a Bootleggers and Baptists flavor: environmentalists making a clean and green argument in favor of wind power and the multinational wind power development corporations funding the political muscle needed to get things done.
The coalition has proven durable even as wind power took a few environmental hits, but now the business side of the coalition is beginning to fray. The PTC will expire at the end of 2012 unless Congress acts to extend it, and some interesting positions are being advertised as the tax-cliff approaches.
For example, the Chicago Tribune reports that Exelon Corp., a large electric power company that owns a significant amount of wind power and is a member of the American Wind Energy Association, is opposing efforts to renew the tax credit (sub. req.).
"The (production tax credit) has been in place since 1992, I believe," Exelon Chief Executive Christopher Crane said in a conference call with investors and analysts Wednesday. "And I think that's enough time to jump-start an industry, 20 years."
The economic logic behind Exelon's position is clear: "with nearly half of its profits coming from its nuclear fleet and low-cost wind power cutting into its margins, Exelon is in Washington leading a fight to kill a tax credit the wind industry says is crucial to its survival."
Note that "low cost wind power" is referring to the low marginal cost of production, not the total cost per MWh of energy produced. Most of Exelon's generating assets are in markets with energy prices driven toward the marginal cost of production, and additional wind power in these markets tends to push average prices down. [Read more →]
August 15, 2012 5 Comments